Certifying your additive manufacturing materials for safety and integrity
The incredibly fast-growing 3D printing — or Additive Manufacturing — industry is challenging plastics manufacturers to consider how this technology will impact their market, operations and products. Unlike traditional manufacturing, such as injection molding, the 3D printing process introduces a new level of variability. These inconsistencies can significantly impact material properties based on how your test specimens are printed.
Our Plastics for Additive Manufacturing Program (Blue Card Program) provides you with data that facilitates preselection of 3D printed materials and components for use in various end-products. It defines the requirements necessary to recognize plastics intended for 3D printing, helping prove the safety, integrity and usefulness of those materials.
Essentially, our Blue Card Program provides third-party certification that you are using a tested and certified material and that your materials are being monitored at regular intervals to ensure ongoing compliance.
When to use the UL Solutions Blue Card Program
The Blue Card Program is to be applied when the material has been processed using one of the following 3D printing technologies:
Material extrusion
Powder bed fusion systems
Vat polymerization
Material jetting
Binder jetting
Sheet lamination
Direct energy deposition
The Blue Card also includes:
Information about the 3D print technology used to process the material
3D printer model designation
Test specimen build-parameters that are specific to the technology, e.g., build plane, raster angle, air gap, etc.
Multiple safety- and performance-related property ratings tested to appropriate standards
Blue Card versus Yellow Card
The Blue Card differs from the Plastics Recognition Program (Yellow Card) in that the Blue Card publishes plastics materials and components intended for use in 3D printing. The Yellow Card is typically applied for traditional manufacturing technologies, such as blow molding, extrusion, film blowing, injection molding, rotation molding and vacuum forming.
IMPORTANT NOTE: None of the performance properties/ratings from a UL Recognized material (Yellow Card) can be applied when that material is used in a 3D printing process to print a 3D part.
How to get a UL Solutions Blue Card
A Blue Card is automatically issued when a material intended for 3D printing receives a UL Recognized Component Mark. Certified materials are added to the UL ProductiQ® and UL Prospector®databases.
UL Solutions Recognized Component Mark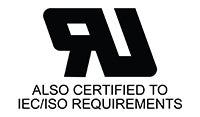 The component recognition marking is found on a wide range of products, including some switches, power supplies, printed wiring boards, some kinds of industrial control equipment – and now also on 3D printed components. Recognized products and materials are permitted to claim compliance with the standards to which they were tested, within conditions of acceptability in the end-application. In Addition, for Plastics Materials the Recognition Mark can be displayed with information regarding testing to international IEC and ISO standards. 
Boost product discoverability – Extend your Blue Card with a White Card
You can add additional value to your Blue Card by increasing coverage to include the performance properties that your international customers are looking for. The White Card, an extension at the bottom of a Blue Card and Yellow Card, relates to global standards, as opposed to those typically relevant in North America. Receiving a White Card enables you to promote your product's performance credentials to the world — giving you the opportunity to reach more markets than ever before.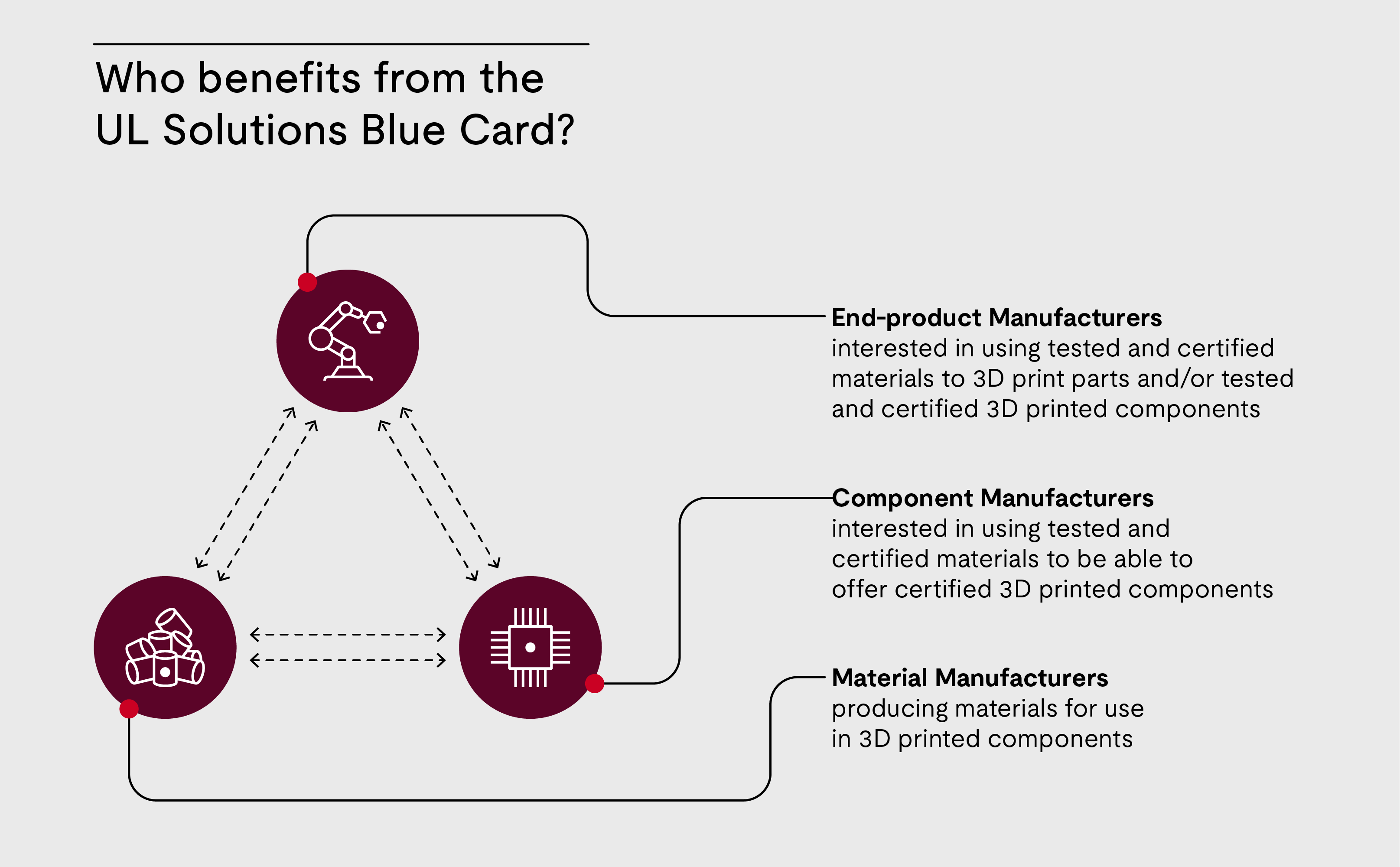 Material and component manufacturers – Since certified materials are added to the UL ProductiQ® and UL Prospector® databases, your Blue Cards are immediately visible to thousands of designers, engineers and suppliers searching for a material or component provider that can meet certain safety and performance requirements.
End-product manufacturers – Our certified plastics services were designed to save you time and money during the certification process and our Follow-Up Services (FUS) help ensure that your products continue to meet our Standards for safety and performance.
Keeping it confidential
If you are looking for a more confidential solution, we offer:
Proprietary Cards – these cards can still be accessed via the above databases, but the only publicly-viewable information is the company name. No product names or ratings are viewable.
Unlisted Cards – these cards are not listed on any database and can only be used by the owner of the card.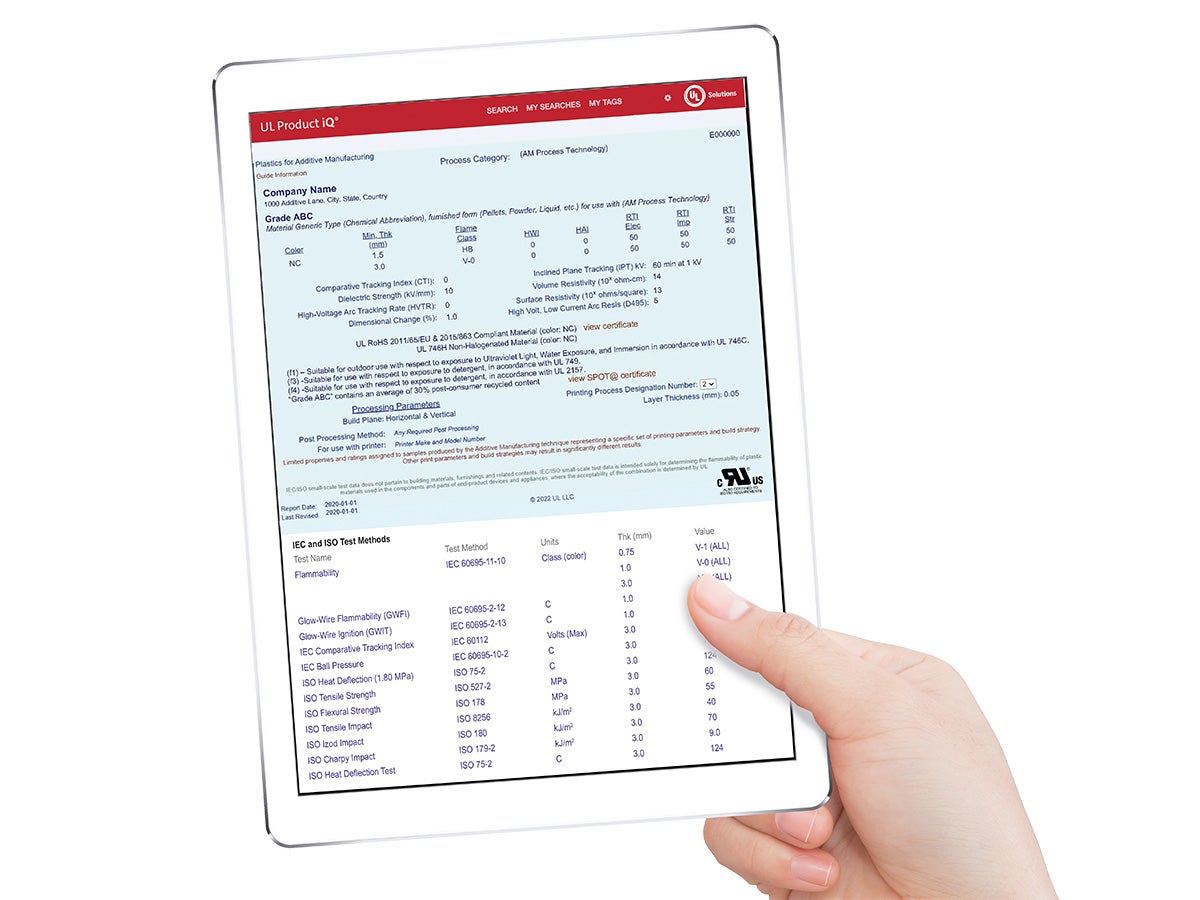 Additive manufacturing materials companies choose UL Solutions
UL Solutions is a leading global provider for the production of test specimens, and testing and certification services for innovative plastics.
We have been testing plastics since 1941 and are proud to serve all of the world's top plastics manufacturers. We work closely with plastic industry stakeholders to maintain and enhance existing UL Standards, establish new Standards, and develop certification and testing programs that address emerging technologies and product applications.
We are uniquely positioned to provide a complete view of how your products will function within a given system. This is particularly critical in the plastics and components industry. Interactions between substances, parts, systems and the environment can be the cause of a significant number of hazards and failures, which are rarely apparent when components are tested individually.
Most importantly, we support your drive to protect public safety and brand value by mitigating your risk with quality assurance and supply chain compliance services. Our trustworthy reputation provides an important product differentiator in a crowded marketplace, communicating safety and quality to original equipment manufacturers (OEMs), purchasers and regulatory authorities.
How to Read the UL Solutions Blue Card
Download our e-guide to understand our Plastics for Additive Manufacturing Recognition Program.
Learn more