3D Printed vs Injection Molded – What's the difference?
3D printing – or additive manufacturing (AM) – offers unprecedented versatility to manufacture complex parts and products directly from digital files. Printing parameters can be changed during the process, tailoring material properties to perfectly fit any given portion of a printed product. This incredible versatility, however, introduces a new level of complexity not seen in conventional manufacturing.
In the AM industry, the mechanical properties of a material, such as tensile and impact strength, will vary considerably more when 3D printed than molded by conventional methods, such as injection molding. Less commonly understood, however, is that 3D printing may influence a material's safety-critical performance properties, such as ignition, flammability and dielectric strength.
UL's plastics experts conducted a systematic research study to fill in the knowledge gap. This white paper provides a summary of their findings.
Download this white paper to learn more about 3D printed material properties:
Get an overview of our research study investigating the effects of 3D printing versus material extrusion on safety critical performance properties
Understand why performance ratings from traditional manufacturing techniques cannot be applied when that same material is used in a 3D printing process to print a 3D part
Find out how our research findings were used to establish our certification program for Plastics for Additive Manufacturing (Blue Card)
Learn how the UL Blue Card program can accelerate the adoption of 3D printing into serial production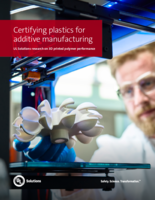 Certifying plastics for additive manufacturing
8.3 MB
White paper download
To access the white paper, "Certifying Plastics for Additive Manufacturing," please fill out the form below: