Our commitment to a sustainable future
UL Solutions is on a shared mission with our customers and stakeholders to work for a safer, more secure and sustainable world. We are a Signatory to the United Nations Global Compact, upholding the Ten Principles of Responsible Business, and we are committed to progressing the Sustainable Development Goals (SDGs). We apply our human, brand and financial capital toward positive actions that benefit our planet, its people and the prosperity of future generations.
2022 Sustainability Report
2022 showed us that increased cooperation, caring and competency play essential roles in solving our shared challenges and ensuring thriving communities. In this report, you'll see how UL Solutions partners with purpose, sharing our mission to make an impact on planet, people and prosperity.
Explore the report
Elevating equity with Watts of Love
In 2020, UL Solutions provided pro bono Certification and funding for a renewable solar-powered light developed by Watts of Love, a nonprofit organization bringing safe, clean lighting to energy-poor communities around the globe.
Watts of Love solar lights eliminate dependency on dangerous and toxic kerosene as a light source, improving the health and well-being of each recipient and their family. Every light is distributed in tandem with a financial literacy program that teaches how to convert the resulting kerosene savings into sustainable income.
With this one innovative tool, UL Solutions and Watts of Love can help protect children and adults from dangerous fires and toxic fumes, secure a safe and productive home environment, elevate equity, and reduce GHG emissions and indoor air pollution, impacting all of our targeted Sustainable Development Goals.
Aligning to the United Nations Sustainable Development Goals
We are committed to contributing toward and aligning with the United Nations Sustainable Development Goals (SDGs) through our Corporate Sustainability efforts and our services and offerings.
In 2018, we conducted a materiality assessment to identify which of the 17 SDGs most closely align with our mission, values, business and Corporate Sustainability objectives. This analysis resulted in the selection of these goals as our priority focus areas moving forward:
Goal No. 3 – Ensure healthy lives and promote well-being for all at all ages.
Goal No. 11 – Make cities and human settlements inclusive, safe, resilient and sustainable.
Goal No. 12 – Ensure sustainable consumption and production patterns.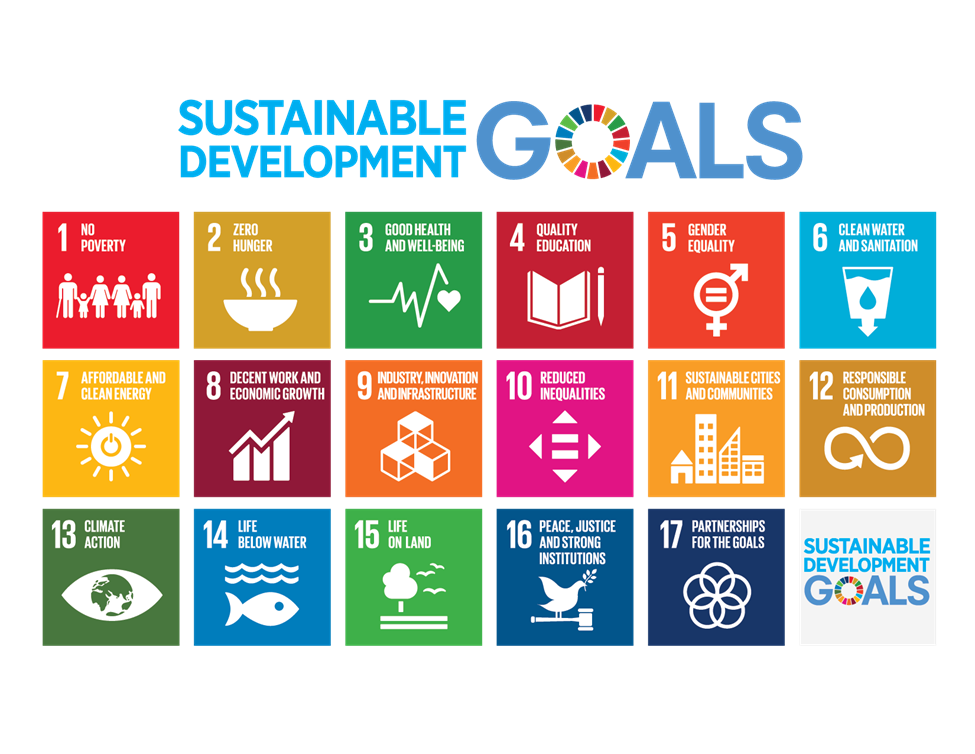 We've been committed to our mission of working for a safer world since our founding in 1894. We mobilize and share our mission through Corporate Sustainability. Our global reach and safety science expertise position us to have a profound and positive impact on the world.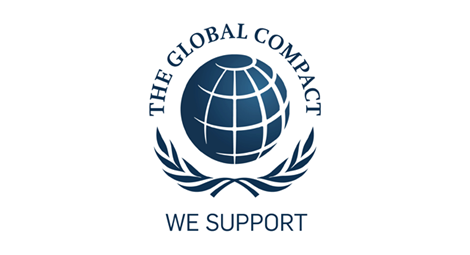 UL Solutions completes first Communication on Progress (CoP) for the United Nations Global Compact
On Aug.1, 2021, Corporate Sustainability submitted UL Solutions' first CoP to the UN Global Compact, featuring our 2020 Sustainability Report and relevant supporting policies. Due to UL Solutions' close alignment to the Ten Principles of the Compact, we qualified for the Global Compact Advanced-level designation.
UL Solutions became a Signatory to the Compact in 2019, joining the more than 12,000 companies who have stepped up to commit to responsible business and to take strategic action to help meet the global challenge issued by the UN Sustainable Development Goals (SDGs).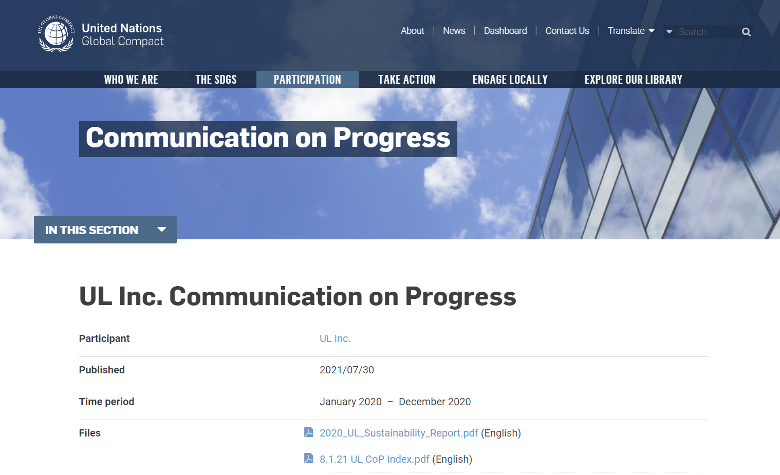 From volunteering and making financial donations to reducing our environmental impact and providing sustainability services, we provide opportunities for everyone at UL Solutions to engage in Corporate Sustainability.
Planet
At UL Solutions, we strive to minimize the adverse impacts our global offices and operations have on the environment. We make a concerted effort to responsibly manage our utility usage, reduce the waste we generate and engage our employees in innovating creative solutions to environmental challenges in their locations and communities.
People
Our commitment to people means taking care of our employees, as well as the public we serve. By prioritizing initiatives like employee volunteerism, nonprofit partnerships, disaster relief and charitable donations, we strive to improve lives and elevate equity.
Prosperity
We are proud of the fact that our services and offerings help make the world safer, more secure and sustainable. But the positive impact we have on society does not end with us. It grows with every company that employs our services, in every geography where we are located and with every person that utilizes UL Certified products. The inherent goodness of our work provides us the unique opportunity and ability to promote sustainability every day, in everything we do.
At UL Solutions, Corporate Sustainability is not a project, program or campaign — it's a way of life. It is our normal.

Barbara R. Guthrie, VP Corporate Sustainability
UL Solutions
Sustainability Policy
For more on our commitment to securing a sustainable future, please explore our Sustainability Policy.