Our responsibility to people means caring for the needs and interests of our colleagues, customers and stakeholders, including the public we serve. We take action to elevate the safety, security and sustainability of people's lives everywhere as a valued service to society, and to positively impact health and well-being. We apply our purpose with passion to advance diversity, equity and inclusion; reduce harm and improve safety; address mental health; provide professional development and training; participate in volunteer opportunities; and offer donations to help our people and the people we serve.

Fulfilling William Henry Merrill, Jr.'s founding legacy, to "do something for humanity" means that we extend our purpose beyond the work and projects we undertake. Our people help mobilize our mission through general and skills-based volunteerism, donations to non-profit organizations, pro-bono initiatives and more. 
As a Participant in the United Nations Global Compact, we apply their definition of social sustainability to our own strategy and actions:
"Social Sustainability refers to the proactive way a company identifies and manages business impacts on employees, workers in the supply chain, customers and communities."

United Nations Global Compact​​​​​​​
Social sustainability acts as a strategic arm of our Corporate Sustainability team to promote social responsibility initiatives and collaborate with our Corporate Sustainability Council (CSC), HR, DEI, Talent & UL University (TULU), Ethics and Compliance (E&C), Global Sourcing and Environmental Health and Safety (EHS) teams to make a positive impact on human rights, labor, the environment, anti-corruption and our communities. They do this through:
Volunteering
We connect the positive impact of volunteerism to our mission to make the world a safer, more secure, sustainable and inclusive place to live. All full-time employees receive two paid volunteer time off (VTO) days per year. Regular part-time salaried employees can take advantage of prorated VTO based on the number of hours the employee works.
Nonprofit partnerships
We partner with global nonprofit organizations to advance the missions of both organizations and make a difference in the communities where we work and live.
Responsible sourcing
We expect our suppliers to practice responsible sourcing, foster safe work environments, exhibit transparency and help enable the secure distribution of goods.
Disaster relief
When a disaster or crisis occurs, we mobilize our mission by helping those affected recover and rebuild in a safe, secure and sustainable way. UL Solutions donates to various nonprofit organizations that provide disaster relief and through employee matching campaigns.
Anti-counterfeiting
UL Solutions collaborates with law enforcement agencies around the world to combat counterfeit goods to help protect the public and the supply chain.
Philanthropy
We donate to important causes that progress the United Nations' SDGs, such as Habitat for Humanity, which aligns with Goals No. 6, 7 and 17. All organizations that we support financially must have 501(C)3 tax-exempt status or be the equivalent of a U.S. charity as outlined in UL Solutions' Corporate Giving Guidelines.
Our social sustainability efforts connect local and global issues directly to our mission and provide volunteer engagement opportunities for our people to make a personal and lasting impact on advancing social progress. This deepens our connection with each other and with the communities where we work and live.
---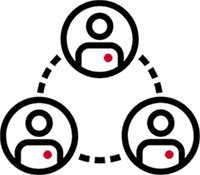 Community Connections™ VTO Program
Our employees connect with each other and their communities through our signature volunteer program Community Connections™, which provides every full-time employee at UL Solutions two paid days off a year to volunteer for the causes and communities they care about. Supporting volunteerism allows us to partner with purpose to better sustain each other and the places where we work and live. The paid volunteer time off (VTO) we provide every UL Solutions employee demonstrates our commitment to driving social impact through employee engagement, resulting in thousands of dedicated acts of caring, education and collaboration annually.
The VTO policy: 
Meets our commitment to diversity, equity and inclusion
Supports our Corporate Sustainability mission to positively impact our planet, its people and prosperity
Advances the UN SDGs
Provides employees with satisfying work/life integration and meaningful opportunities to make a difference in their community
All UL Solutions employees worldwide can take part in the Community Connections program. Full- and part-time employees can utilize up to two paid time off days per year to volunteer virtually or in person with the organizations and causes that matter most to them and their communities.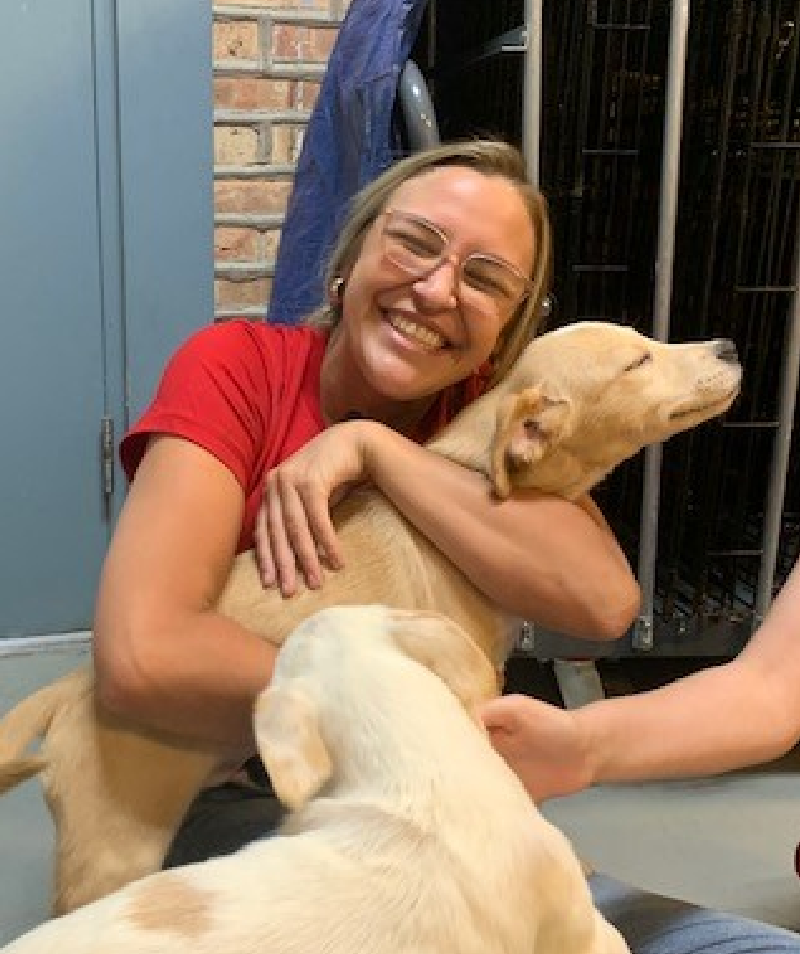 Colleagues may volunteer individually or together in groups as teambuilding and skill-sharing exercises. Through our sustainability engagement platform, colleagues can search for opportunities, record their efforts and upload and share their stories of impact.
Sustainability Regional Leads - Around the world, we've activated a network of highly engaged and committed employees to progress social and environmental impact in our communities. Regional leads operationalize our sustainability champion network and represent our employees on the CSC. They are led by representatives of our Corporate Sustainability team.
Sustainability Champions - Our global Sustainability Champions support our company-wide volunteer initiatives and lead their colleagues in local efforts to improve their communities and advance progress on the SDGs.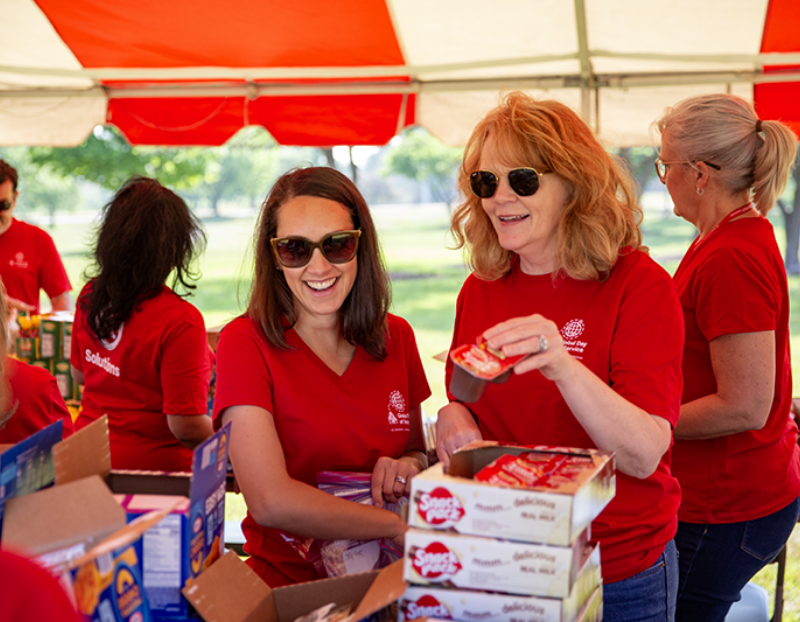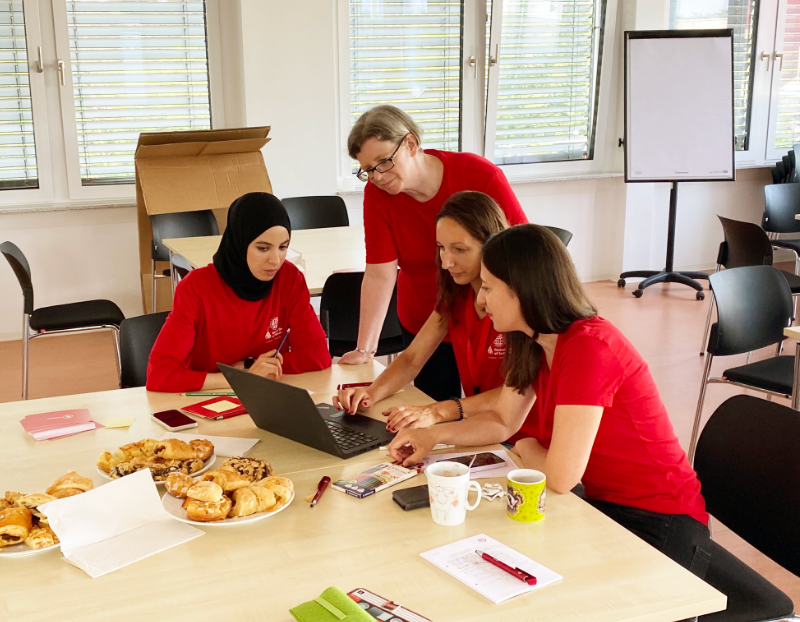 Our social sustainability initiatives support a positive and engaging work culture where our colleagues can thrive. We believe that giving back fosters personal growth, well-being and kindness. We apply our human, brand and financial capital to local and global issues relating to our mission of working for a safer world so that we can achieve progress on the United Nations Sustainable Development Goals. Outside our walls, our people mobilize our mission and make personal connections with their communities. We think that a fulfilling career also includes purpose-driven, individual opportunities to make a positive impact.
Our global sustainability partnership with Ronald McDonald House Charities®
Since 1974, Ronald McDonald House Charities® (RMHC®) has helped families stay together through their toughest times when facing a child's medical crisis. This global nonprofit organization provides housing, food, and emotional and financial support for families with children receiving medical care at more than 260 RMHC Chapters around the world. RMHC provides the comforts and cares of home so that families can focus on supporting their child on their medical journey.
In 2022, UL Solutions launched our partnership with RMHC as the organization's first partnership solely dedicated to supporting the charity's global sustainability efforts. We are proud to provide pro bono Verified Healthy Building services at select RMHC Chapters, global skills-based training to RMHC employees and volunteer opportunities for all our employees. This multifaceted partnership helps fulfill UL Solutions' mission of working for a safer world while helping RMHC further its mission to improve the health and well-being of children and their families during their medical journey. Our work with RMHC aligns with our strategic partnership strategy to optimize our human, financial and brand capital and advance the United Nations (UN) Sustainable Development Goals (SDGs), specifically goal #3, "ensure healthy lives and promote well-being for all at all ages," and #11, "make cities and human settlements inclusive, safe, resilient and sustainable." 
Pro bono Verified Healthy Building and training services
Experts in our Verified Healthy Building services use established testing methods to verify indoor air quality (IAQ) at select RMHC Chapters. These methods are aligned with such industry-recognized, third-party organizations as the U.S. Environmental Protection Agency (EPA), the National Institute for Occupational Safety and Health (NIOSH), the World Health Organization (WHO) and the American Society of Heating, Refrigerating and Air-Conditioning Engineers (ASHRAE), among others. Training provided to global RMHC staff and volunteers teaches how to identify potential indoor air quality concerns at the Chapters they serve, helping promote the health of the high-quality, supportive environment RMHC provides.
"UL Solutions Healthy Building services are aligned with the RMHC sustainability program goals. This partnership supports our global mission to provide comforting and supportive programs for RMHC families, and we are grateful to offer this critical service to our system," said Katie Fitzgerald, RMHC Global President and CEO.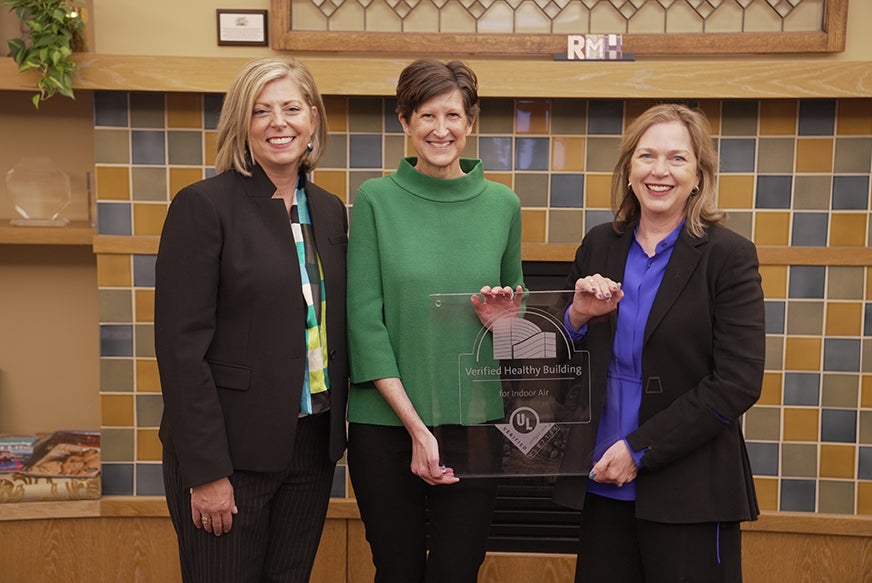 Read more

 

 

 

Volunteerism

Alongside our pro bono work with RMHC, we launched a global volunteer initiative activating our UL Solutions' family of dedicated employees to help support RMHC families in more than 60 countries and regions.  

The flexible global volunteer initiative allows our employees to provide support individually or in teams, in person or remotely. UL Solutions team members may prepare meals, offer words of encouragement for families staying at RMHC programs through cards and artwork, organize essential supplies, help with local Chapter events and more. Our employees are also making an impact through donations of everyday items to keep Ronald McDonald House programs running and help families feel at home. In 2022, we set our goal to support at least 1,000 RMHC families in 2023.

"We are so fortunate to have a strong work family at UL Solutions," reflected Linda Chapin, executive vice president and chief human resources officer at UL Solutions, "and we can come together and grow even stronger as we lend our strength to our communities."

Our UL Solutions family came together to launch the Families Helping Families global volunteer initiative at the RMHC chapter near the Lurie Children's Hospital in downtown Chicago, baking cookies for more than 80 RMHC families.

Impacting our communities 

Supporting our communities is core to our mission. As a purpose-driven organization, our commitment to social impact enriches our employees' experience and fosters positive relationships with each other and our communities. 

"I'm so proud that we're able to bring together our employees in support of this partnership," said Tina Vaughn, social sustainability senior manager at UL Solutions. "Whether it be providing the pro bono services, educating and sharing our sustainability knowledge, or mobilizing our employees around the same cause: through this partnership, we're making an impact." 
When investing in our communities, whether through volunteerism or charitable donations, we apply our corporate sustainability strategy, which focuses on optimizing our human, brand and financial capital to progress the SDGs. We identify and partner with nonprofit organizations that can help us meet local community needs.

We aim to focus our investments in areas and with groups where we believe we can make the greatest impact and help achieve our purpose to positively impact people, planet and prosperity. Through our regular stakeholder interaction and ESG materiality assessments, we work to understand pressing global and local issues and align them with our mission, values, business and corporate sustainability objectives.   
UL Solutions' Corporate Giving Guidelines govern our community investments. These guidelines:
Support UL Solutions' commitment to improving the quality of life in communities where our employees live and work
Sponsor organizations that share UL Solutions' deep commitment to promoting safe living and working environments for people
Reflect UL Solutions' commitment to science, technology, engineering and mathematics (STEM) education
Advance diversity, equity and inclusion
Align with UN SDGs and the Ten Principles of the United Nations Global Compact
Promote corporate social responsibility and sustainability
UL Solutions' Community Investment strategy operationalizes through employee-led teams, beginning with the Corporate Sustainability team, the CSC, our Social Sustainability Region Leads and Champions and sustainability task forces. 
Community Investment Task Force: The Community Investment Task Force works to optimize community investments to align with corporate giving guidelines.
"Nearly 1 billion people around the world are without electricity and live in darkness. They spend up to 30% of their income on dangerous fuel sources just to have light, and it keeps them in a cycle of poverty. It leaves them powerless."
---
Partnering with purpose
Watts of Love
Watts of Love's UL Solutions-certified solar lights eliminate dependency on dangerous and toxic kerosene as a light source, improving the health and well-being of each recipient, their family and their community.
Watts of Love's impact is self-sustaining. Through the Watts of Love financial literacy program, every light recipient learns how to save and redirect the funds they previously used for kerosene to invest in themselves, their families and their businesses. As a result, whole communities can create a better future for themselves and generations to follow. The Watts of Love financial literacy program empowers independence and alleviates poverty, while the solar light powers innovations, small businesses and education and improves health and safety outcomes.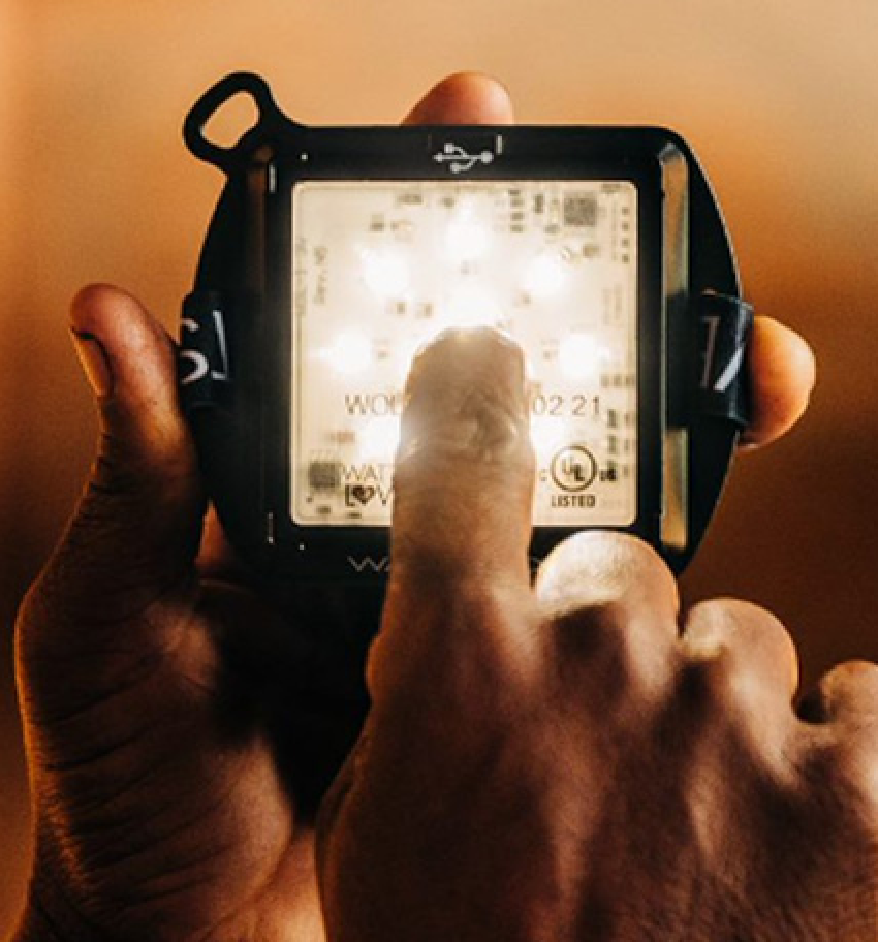 One gift of a UL Certified Watts of Love solar light helps: 
Protect children and adults from dangerous fires and toxic fumes 
Secure a safe and productive home or working environment 
Elevate equity through savings and financial literacy education 
Reduce greenhouse gas emissions and indoor air pollution 
Progress all 17 Sustainable Development Goals 
To date, UL Solutions has provided three countries with $200,000 and 5,080 lights helping empower 1.2 million hours of study, 11.1 million hours of productivity and improving an estimated 35,000 lives. Each light impacts an average of seven people — in this rural community, households often contain large multi-generational families. For those living on less than $2 (USD) a day in Malawi, these lights change lives.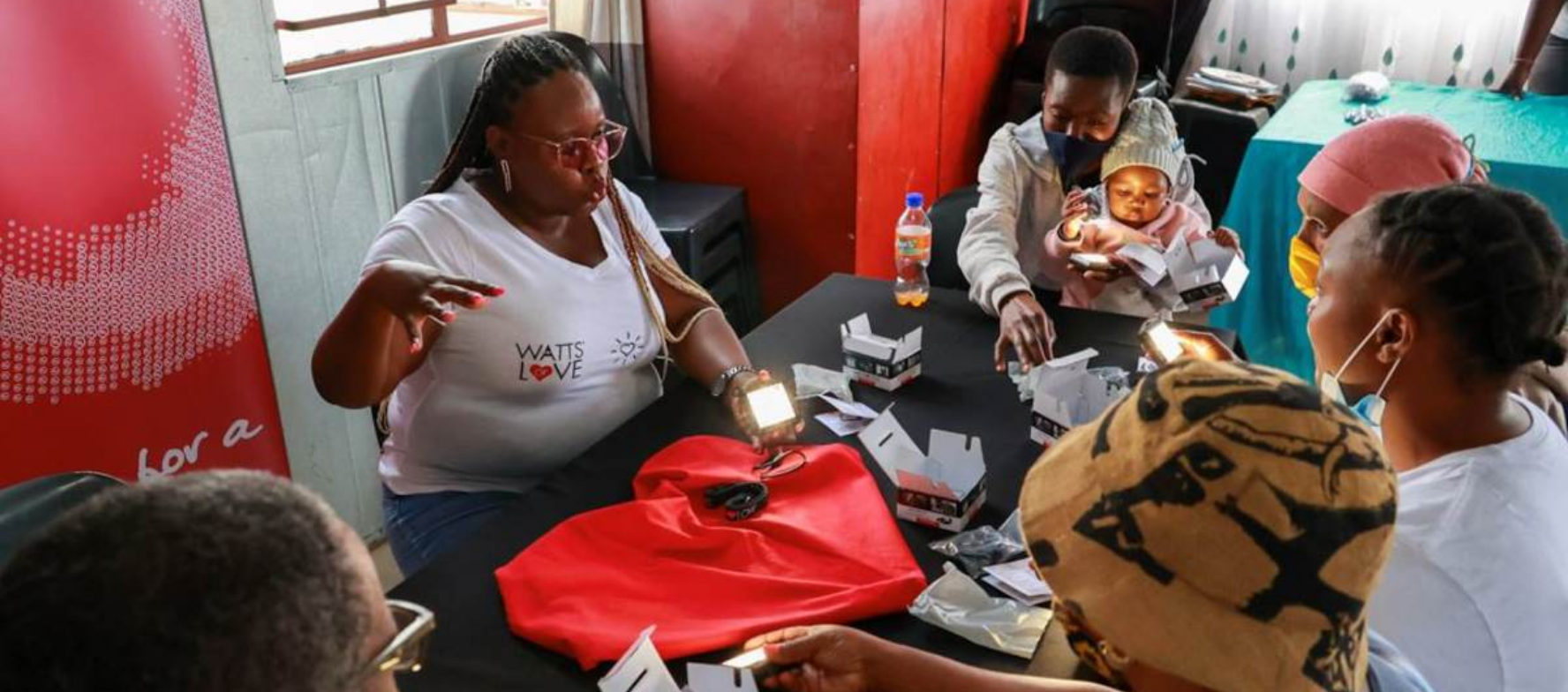 UL Solutions Joins Watts of Love and the Acorn Foundation To Elevate Equity in South Africa Communities | UL Solutions 
UL Solutions provides pro bono testing and evaluation and offers ongoing follow-up services to promote the safe operation, compliance and longevity of Watts of Love renewable solar-powered lights.  
Our partnership with Watts of Love intertwines deeply with our identity as a company, our founding history in helping enable safe lighting, our ongoing work in fire safety, and our safety expertise in lithium-ion batteries and renewables. Most importantly, this partnership helps fulfill our shared mission with our customers and stakeholders to work for a safer, more secure and sustainable world. 
FIRST® Robotics inspires young people to become science and technology leaders and innovators by engaging them in exciting mentor-based programs that build these skills and foster self-confidence, communication and leadership.  
UL Solutions and FIRST Safety Learning Portal 
We partner with FIRST Robotics to promote inclusive and equitable quality safety education, helping progress SDG No. 4, Quality Education. With support from UL Solutions' LearnShare platform, we provide in-kind safety training and educational courses to all FIRST Robotics and FIRST Tech Challenge students and teams through the UL Solutions and FIRST Robotics Safety Learning Portal.
Since the portal's launch in 2020, FIRST teams have completed almost 20,000 safety learning courses, preparing them with the safety skills required for many STEM-related careers. Courses include Fire Extinguisher Safety Awareness, Hand and Power Tool Safety Awareness, Hearing Conservation Awareness, Personal Protective Equipment (PPE) Awareness, the FIRST Robotics Safety Manual training and more. 
Safety Animation Award
Each year, UL Solutions challenges all FIRST Robotics teams to develop their technical skills by competing in the Safety Animation Award competition. FIRST teams work together to create short, animated videos focused on various safety topics.  
2022 Winner: Team 1939, The Kugnigits, from Kansas City, Missouri, USA
A team of UL Solutions volunteers review more than 100 submissions annually select the Safety Animation Award winners, choosing the entries that best meet the competition criteria. UL Solutions provides grants to the winning teams, and all FIRST competitions during the season showcase the overall winner. 
In 2022, the Safety Animation Award theme was, "Faster, Farther, SAFER!" FIRST teams' animations explored how new transportation technologies could remain safe and sustainable for people and planet.
Habitat for Humanity 
We consistently support Habitat for Humanity's work through volunteer efforts and charitable contributions, donating to fund employee build days at Habitat for Humanity homes around the world. 
UL Solutions partnered with Habitat for Humanity Northern Fox Valley to sponsor building an entire, duplex home to house two families in Carpentersville, IL. In May 2022, both families of first-generation immigrants received the keys to their new homes.
Our employees are vital to our shared prosperity and critical stakeholders in our sustainability strategy.
Talent attraction and engagement; DEI and gender equality and customer satisfaction are among the top-tier strategic priorities identified by our materiality assessment. These ESG priorities align with our operational pillars to be the employer of choice for top talent and to create exceptional customer relationships through customer centricity. Attracting and engaging the highest-quality, diverse talent is foundational to our continued success as the global safety science leader and vital to providing the best experience for our customers.  
We are committed to the safety and security of our people at work, including their psychological safety and comfort. We believe that diversity is a force multiplier and support a welcoming workplace that allows our talent to thrive with authenticity, accountability and empathy. We've earned recognition as one of the HR Asia Best Companies to Work for in Asia 2022 and we achieved a perfect score on the Human Rights Campaign's Corporate Equality Index for best places to work for LGBTQ+ employees. As described in our Standards of Business Conduct, we do not tolerate any form of discrimination; we actively manage discrimination risks while providing myriad opportunities for employees to increase their education and awareness and take meaningful action to advance an inclusive culture. We require all employees to complete SoBC training on an annual basis.
---
Communicating with each other
Treating our employees with respect and integrity requires open and honest conversations and communication through many channels and on many platforms, from informal employee social platforms to enterprise-wide town halls and surveys. Our CEO shares her weekly blog on relevant organizational topics and insights, and all global colleagues are invited to participate in quarterly meetings and regional and divisional town halls and meetings. In addition, employees meet regularly with their managers locally. When we shift course to meet new or additional strategic objectives, we strive to inform all our people about changes well before implementation. As well as ongoing employee surveying, we conduct employee focus groups to gather insights and capture feedback on significant changes before, during and after implementation.
As a company with global representation, we observe the different notification periods required by law in various countries insofar as local legislation regulates them. For all countries with binding collective bargaining agreements or similar arrangements in place, we specify and include notice periods and provisions for consultation. In countries with national legislation about freedom of association and collective bargaining, we take action to adhere. As part of our procurement and sourcing procedures, our Ethics and Compliance (E&C) department, in conjunction with the Global Sourcing team, reviews and assesses and conducts a risk rating for potential new suppliers with which any one part of the company wishes to do business in the future. Our Global Supplier Standards of Conduct policy states, "Suppliers will respect the rights of employees to lawfully associate or not to associate with groups of their choosing. Suppliers will recognize the lawful rights of their employees to choose or not choose collective bargaining representation. Suppliers should not interfere with, obstruct or prevent legitimate related activities." At-risk suppliers identified by our sourcing procedures are asked to sign our Supplier Standards of Conduct.
In 2022, we welcomed just over 3,000 new hires to our sites around the world. We benefit by learning from each other's different generational experiences, racial/ethnic backgrounds, geographies, sexual orientations and physical abilities, all of which strengthen our organizational culture as we work toward a more equitable workforce, workplace and marketplace.
Total 2022 employee turnover occurred at a rate of 13.7%. As employees leave the organization through retirement or termination, we provide outplacement services for qualifying employees around the world according to local needs and requirements to help prepare them for the transition.
Our Total Rewards and flexible work programs offer benefits to meet our employees' needs and support a better work/life balance. 
All of our employees are entitled to parental leave. In 2022, 895 employees took parental leave.
Total number of employees that took parental leave, by gender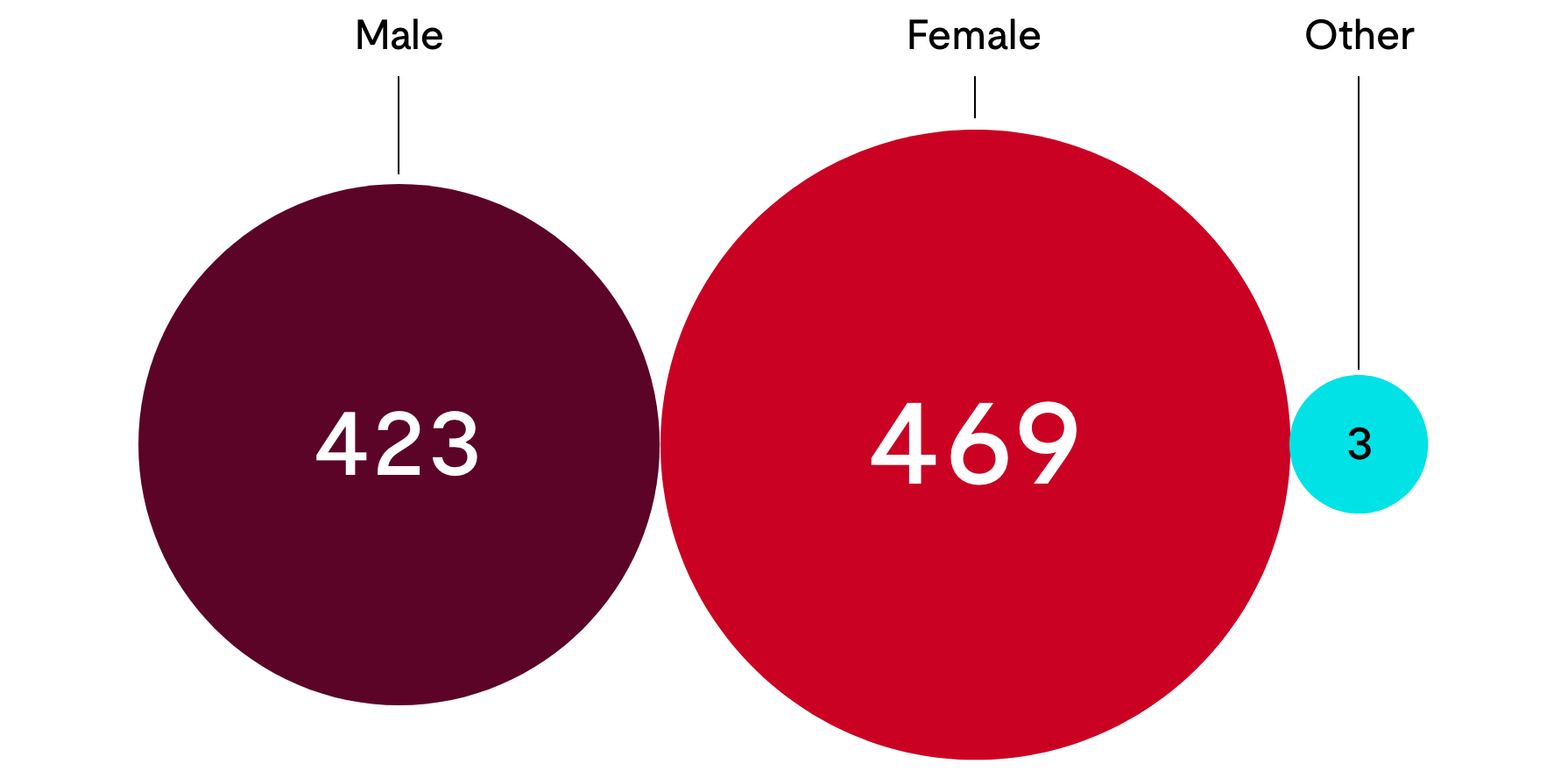 ---
Business resource groups (BRGs) 
Employees around the world develop and lead our ever-expanding and highly active BRGs. These organizations help employees connect and help UL Solutions foster a more diverse and inclusive workplace. BRGs improve our workplace culture and help inform business strategy and growth. Each BRG has a stated goal related to progressing the shared UL Solutions commitment to community outreach and investing in and advancing DEI. Our BRGs include more than 2,800 members worldwide.
Disability inclusion at UL Solutions
Newly formed and chartered in 2022, the Disability Alliance BRG (DABRG) was forged by a group of passionate employees eager to build awareness around disabilities and offer resources and a welcoming space for employees with disabilities and their allies. The DABRG alongside key stakeholders in HR, DEI and marketing educates colleagues with lunch-and-learn sessions dedicated to best practices on aspects of disability equity and inclusion.
"The naming of this BRG was intentional. We are inclusive of all in the greater disability community, including those in the neurodiverse, physical, and caregiving for people with disabilities space."

Amy Forando
Senior software engineer and co-founder of the DABRG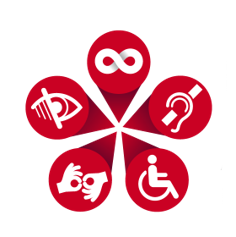 One of the goals of the DABRG is to promote employee wellness by offering helpful information on topics like stress management, caregiving, and inclusive design and accommodations. The DABRG aligns with other internal groups to share information across our employee intranet and internal social networks. They also ally with other BRGs to partner on projects and panel discussions. 
Longer-term goals include identifying key areas and metrics for improvement to better serve employees and stakeholders with disabilities and helping the workplace to be a positive, attractive and accommodating place for employees with disabilities.
Explore our BRGs

Black BRG (BBRG) 

The BBRG drives inclusion by accelerating UL Solutions' commitment to engaging African American/Black employees. The BBRG is focused on furthering commitment to corporate social responsibilities in African American/Black communities and developing and retaining African American/Black employees by developing skills, increasing representation in leadership and executive-level roles and growing the talent pipeline among prospective candidates.

Disability Alliance BRG (DABRG) 

Chartered in 2022, the mission of the DABRG is to foster a safe, empathetic, and inclusive environment at UL Solutions for people with disabilities and those who support them through education, building awareness and advocacy to create real change. The DABRG is committed to solving workplace issues that affect people with disabilities, improving inclusive hiring efforts, and increasing UL Solutions' attractiveness to recruit, retain and advance talent.

Military BRG (MBRG)

The MBRG consists of a global community of employees who either served in the military or are affiliated with someone who has served or still serves, as well as other members supportive of military and veteran issues. The MBRG provides its members with meaningful networking opportunities, positively promotes UL Solutions' culture through veteran career fairs, honors our veterans for their service and supports veteran causes.

 

PRIDE BRG 

PRIDE stands for People Recognizing Identities and Differences for Equality. PRIDE works to increase awareness and understanding of our LGBTQ+ community. This BRG strives to create a positive and supportive work environment and helps deliver UL Solutions' commitment to DEI through recruiting and retaining LGBTQ+ talent and supporting customer engagement.

Latino BRG

The Latino BRG promotes the heritage of Hispanic and Latinx employees by sharing their culture through educational opportunities, networking, cultural events and social gatherings. This BRG also supports professional development and leadership opportunities for Latinx and Hispanic team members to help recruit and retain top talent.

Working Parents BRG

Working parents make up a large contingency of UL Solutions' employee population. The Working Parents BRG encourages a workplace where caregivers can find support and expert guidance while advocating for a healthy work-life balance. This supportive community helps increase employee engagement, productivity and retention, all of which have a positive impact on business goals.

 

Tribal Voices BRG

Tribal Voices supports the needs and identities of American Indians/Native Americans at UL Solutions. By sharing stories about identity, history and connection; Tribal Voices aims to promote awareness, foster allyship and support career development for Native American employees.

Women in Leadership BRG (WILBRG)

The WILBRG helps accelerate the advancement of women working at UL Solutions by cultivating a strong community of female leaders. The BRG helps members develop their leadership skills and personal and business networks. Members share business best practices and thought leadership and promote career opportunities for women.

Young Professionals BRG 

The Young Professionals BRG seeks to build and nurture an inclusive environment that engages young professionals in support of UL Solutions' mission and business. The group aims to attract, develop and retain young professional talent, build an internal support system for young professionals, develop personal and professional growth opportunities and help grow and digitize the business.
Safely working for a safer world
---
Honoring our public safety mission means making an equally strong commitment to protecting the health and safety of our employees, customers and other stakeholders. Every day, our colleagues come to work with the understanding that Safety Starts Here, which is our operating philosophy and a Key Result. All meetings at UL Solutions are intended to begin with a Safety Moment, where we educate each other on safety topics and share ideas. The health, safety and well-being of all our stakeholders, including the public, is a recognized strategic top priority in our materiality assessment.

---
Management systems
UL Solutions implements Environmental, Health & Safety (EHS) Management Systems Programs to manage health and safety impacts from our operations. Our EHS Management System applies to all locations where we conduct work and for those who conduct work on our behalf, including employees, customers, visitors and contractors. We are in the process of standardizing our written EHS Management Systems Programs, with an emphasis on implementing stringent compliance policies at all global sites. 
UL Solutions EHS programs address potential risks in the performance of services, offer training and safety programs, and govern incident reporting and investigation. We have implemented global health and safety management systems programs to manage health and safety impacts from our operations, such as: incident reporting and investigation; Safety Moments, Health and Safety Committees; culture-based safety training (Mindset Module); risk-based safety programs (powered industrial vehicles, fire safety, chemical safety); Stop Work Authority; COVID-19 Health and Safety Program; confined spaces, compressed gases, cranes & hoists, electrical safety, emergency response, and more. EHS management systems meet legal and regulatory requirements and our own Environmental, Health and Safety Policy consistent with our public safety mission.
Employees participate in safeguarding themselves and protecting their colleagues. Operations personnel, with the assistance of EHS, complete Job Safety Analysis so that tasks are performed safely and to evaluate new tests so that potential risks are identified, and the appropriate controls are established. Regular communications inform and encourage employee engagement in EHS activities and functions. 
Our Safety Committees and Safety Council meet regularly to discuss safety measures at their site or in their business. These groups support our Safety Starts Here key result and help model and maintain a safe workplace.  
---
Training 
Directly supervised contract employees (including managed temporary and contingent workers) follow the same training program as UL Solutions employees, which is based on the risks that they face during the course of their work. In addition to our proprietary UL University ("ULU"), discussed in further detail below, training is conducted via our Learning Management System (computer-based) or instructor-led by the Site Safety Officer, the person's supervisor or other competent vendor. Training is conducted on paid time. Training effectiveness is confirmed by testing understanding during the training (quiz) and/or a demonstration of the acquired learning. Training competency is further monitored by the supervisor and by EHS through analysis of leading and lagging indicators of Health and Safety performance.
Risk assessments and employee job categories identify which employees are placed in a particular occupational health program (respiratory protection, hearing conservation, laser, etc.). EHS contacts the identified employees to set up the necessary testing during normal work hours. The information is used to promote the safety of the participants only. Training and acknowledgements are required for those who participate in these programs which includes how to access their records and how they are stored. Employee health records are kept by our Occupational Health vendor partners in strict confidentiality on a secure server with limited access to only those who need to see the records in the course of performing their duties.  
In 2021, Training Industry recognized us as a top employee health, safety and wellness training company in recognition of our global training library. This resource offers more than 1,500 employee health and safety training courses in more than 18 languages to help our people preserve their and each other's safety at work. 
---
Incident reporting 
Around the world, we work to exemplify leading operational health and safety practices with improved incident reporting and investigation. To identify incident trends, track incident action items and generate meaningful metrics, EHS has acquired and implemented a digital Incident Management System (IMS) to effectively manage EHS and Security incidents. In combination with safety audits and inspections, we produce and analyze trend reports and dashboards to identify improvement areas.
UL Solutions provides training for employees and supervisors to report health and safety risks, near misses and unsafe conditions or behaviors. Reports move from the supervisor to EHS and are managed in our IMS reporting tool. Corrective actions are immediately identified and implemented to promote a safe environment. Our Stop Work Authority Program empowers employees to take action and stop work if an unsafe condition develops and to work with their supervisor and EHS to rectify the situation before work continues. The Stop Work Authority Policy explains how employees have the authority to not start or to stop any unsafe work. All UL Solutions employees are trained in incident reporting and are protected from reprisals for stopping work to make it safe or reporting health and safety risks by our strict anti-harassment policy.  
Visitors at our global sites are also required to report any observed health and safety issues to their UL Solutions contact to be properly addressed. Our field employees who visit customer sites are required to follow strict health and safety guidelines to keep themselves and their customers safe. Field employees are instructed to stop work or not perform their work if they deem it to be unsafe, and to work with the customer so that the risk is corrected prior to beginning or continuing the work. 
We apply progressive disciplinary action procedures for those who allow unsafe situations to occur or who fail to correct health and safety issues.
---
Hazards 
Workplace hazards have been identified by Risk Assessments, Job Safety Analyses (JSA) and Management of Change Assessments. We apply the National Institute of Occupational Health and Safety's Hierarchy of Controls to address hazards in the workplace such as noise issues, air contaminant exposures, vibration and fall from height issues. Inattentiveness and not following proper procedures may cause or contribute to high-consequence injuries from hazards. To address and mitigate these risks, we retrain employees on proper procedures and topics like safe driving.
---
Safety data
The reporting organization shall report the following information:
For all employees: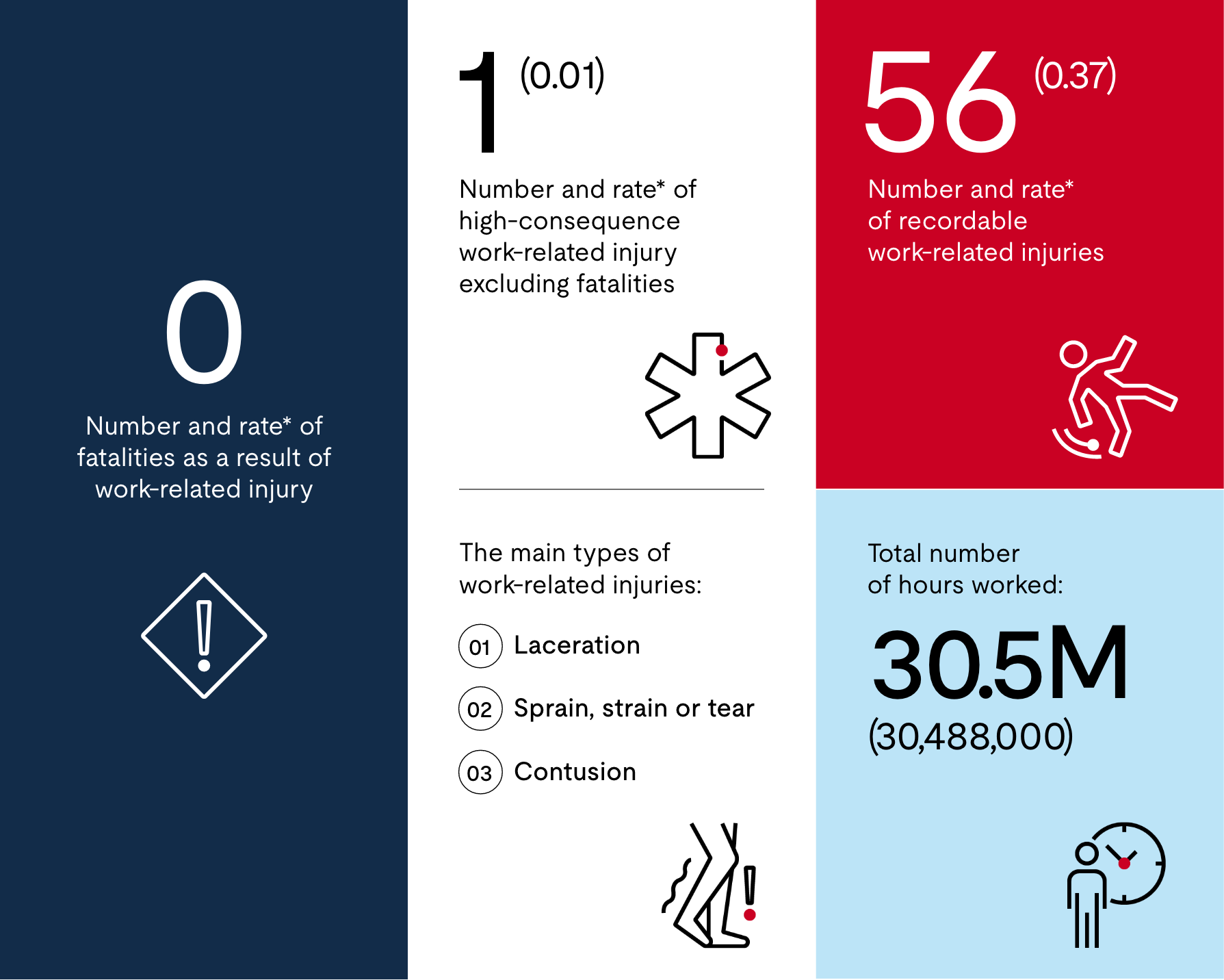 For all workers who are not employees but whose work and/or workplace is controlled by the organization: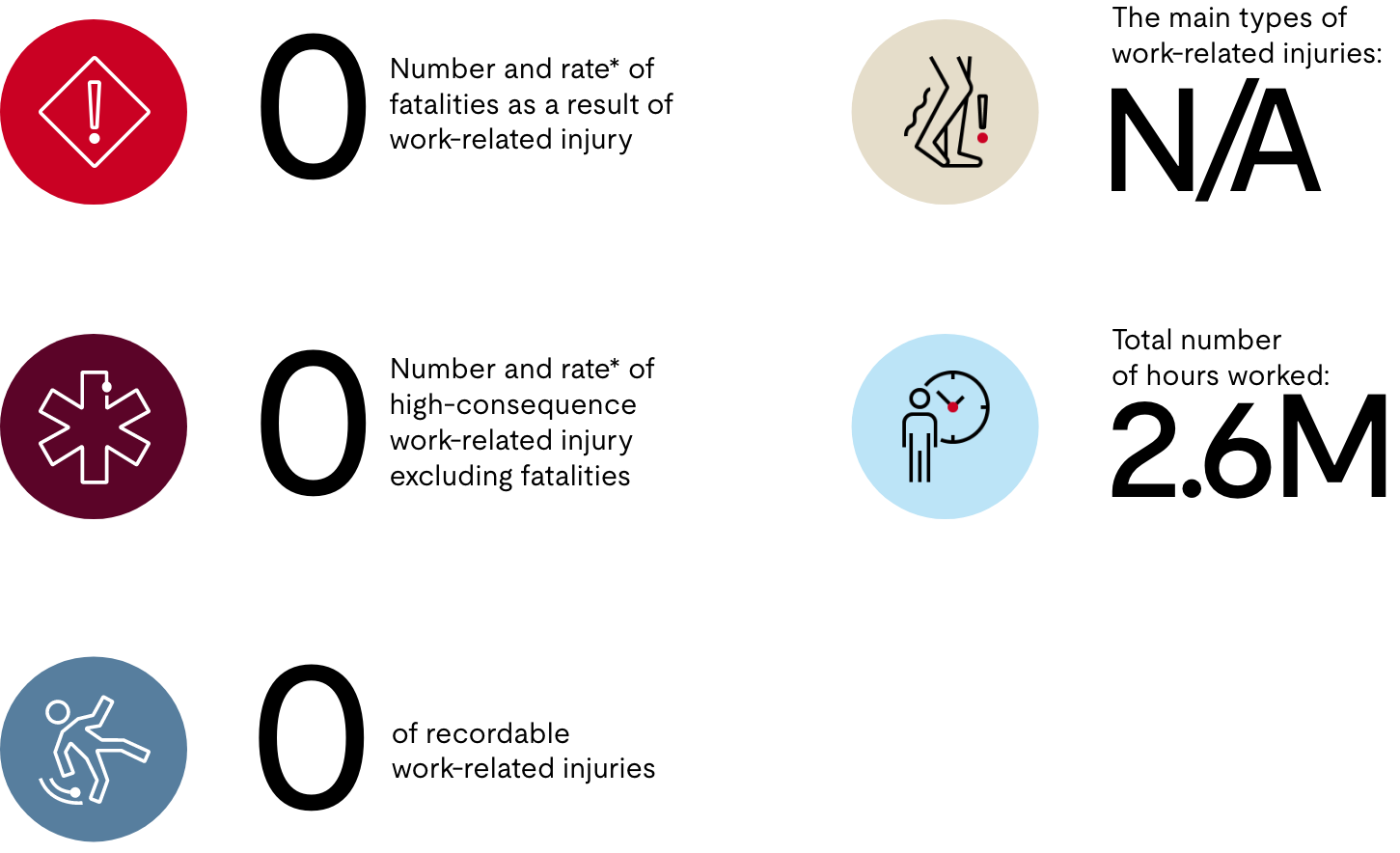 To the best of our knowledge, no workers have been excluded from this data.
Our EHS team collaborates with our insurance manager to seek to maintain customary amounts of liability insurance. Compliance liabilities are evaluated during the due diligence phase of future potential acquisitions.
---
Health and well-being 
In 2022, UL Solutions launched Healthy Minds, a global employee intranet resource providing access to services for improving health, safety and well-being and ongoing mental health support. Volunteers from around the world came together to plan ways to support this effort with a shared goal to help erase the stigma of mental health problems and promote learning. Topics addressed in 2022 included: burnout, mindfulness, anxiety, self-harm, suicide, relaxation, sleep, depression, caregiving, resilience and coping. 
UL Solutions offers smoking cessation, weight loss, mental health awareness, and additional health and well-being programs through our Employee Assistance Program. Non-occupational treatments are handled through employee benefits and medical insurance plans where the company covers the majority of the costs. In line with our culture of care, we promote initiatives to enhance the physical and mental well-being of our employees and help promote their fitness for work. This includes the provision of preventative health measures, such as vaccinations. 
Employees may request to participate in a quality dedicated health program at any time, and EHS contacts those colleagues to set up the necessary testing.
Through public health guidance and evaluation of our workplaces we've determined that COVID-19 remains the greatest risk to health in the workplace. We continue to update and share our Start Safe Playbook to address and mitigate this risk.
---
Health data
For all employees: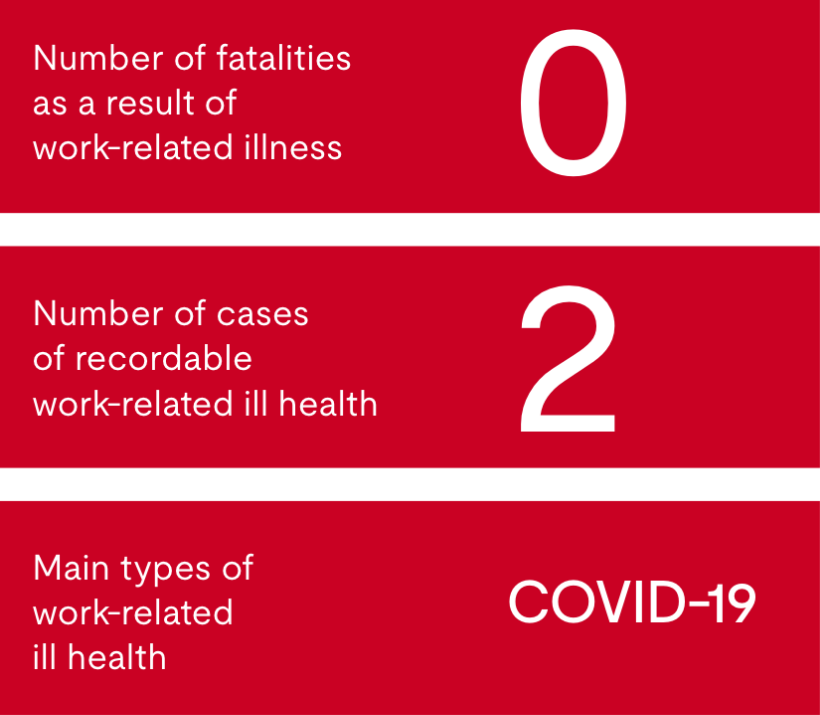 For all other workers: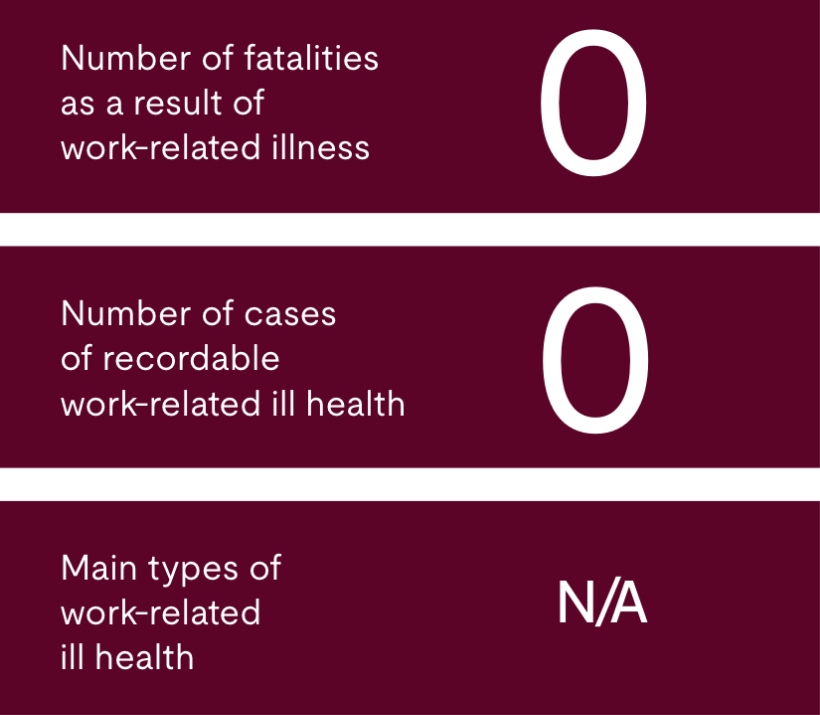 ---
Security
Keeping our people safe at every site requires managing security needs while maintaining respect for individuals. Our security personnel, including third-party security personnel, have received training on human rights policies and procedures.
---
Talent and UL University (TULU)
TULU is dedicated to providing world class education and training for all employees. In 2022, ULU piloted new Learning Journeys and training programs, and continued expanding and improving virtual instructor-led and self-directed learning opportunities to make more training available to more employees.
Learning Journeys are unique career development experiences designed to help employees find success in their current role and achieve their full potential for future roles. The content is progressive and meets employees at every career stage, offering insights, skills and behaviors for success.
​​​There are five Learning Journeys each aligned to five career stages: Aspire, Transition, Strengthen, Strategic, and Executive. The skills and capabilities individuals learn within each career stage progress in terms of complexity, aligned to where they are in their career path. Learning journeys are effective because they provide longer-term, goal-based education. They help employees build a network of colleagues in their same career stage with similar aspirations.
Essential to our Leadership and Management Framework is a robust blend of live and virtual programs for leadership training and education, our Global Leadership Development Program (GLDP). The GLDP engages leaders with an action learning project and was collaboratively designed with the University of Chicago Booth School of Business.
The Leadership and Management Framework includes targeted development programs through partnerships with Leading Women Executives, Bonfire, Chicago Urban League Impact, and Chicago United Corporate Inclusion Institute. These trainings support the growth and development of underrepresented groups.
In Beijing, China we partner with Tsinghua University to offer virtual learning opportunities. In our Technical Leadership Development program, we partner with the Massachusetts Institute of Technology (MIT) to provide training on digitization and focused technical development. Our sales leadership development training programs are designed to deliver sales readiness skills, all of which demonstrate ULU's contributions to helping create a welcoming and inclusive environment where everyone can thrive in their career.
Average hours of training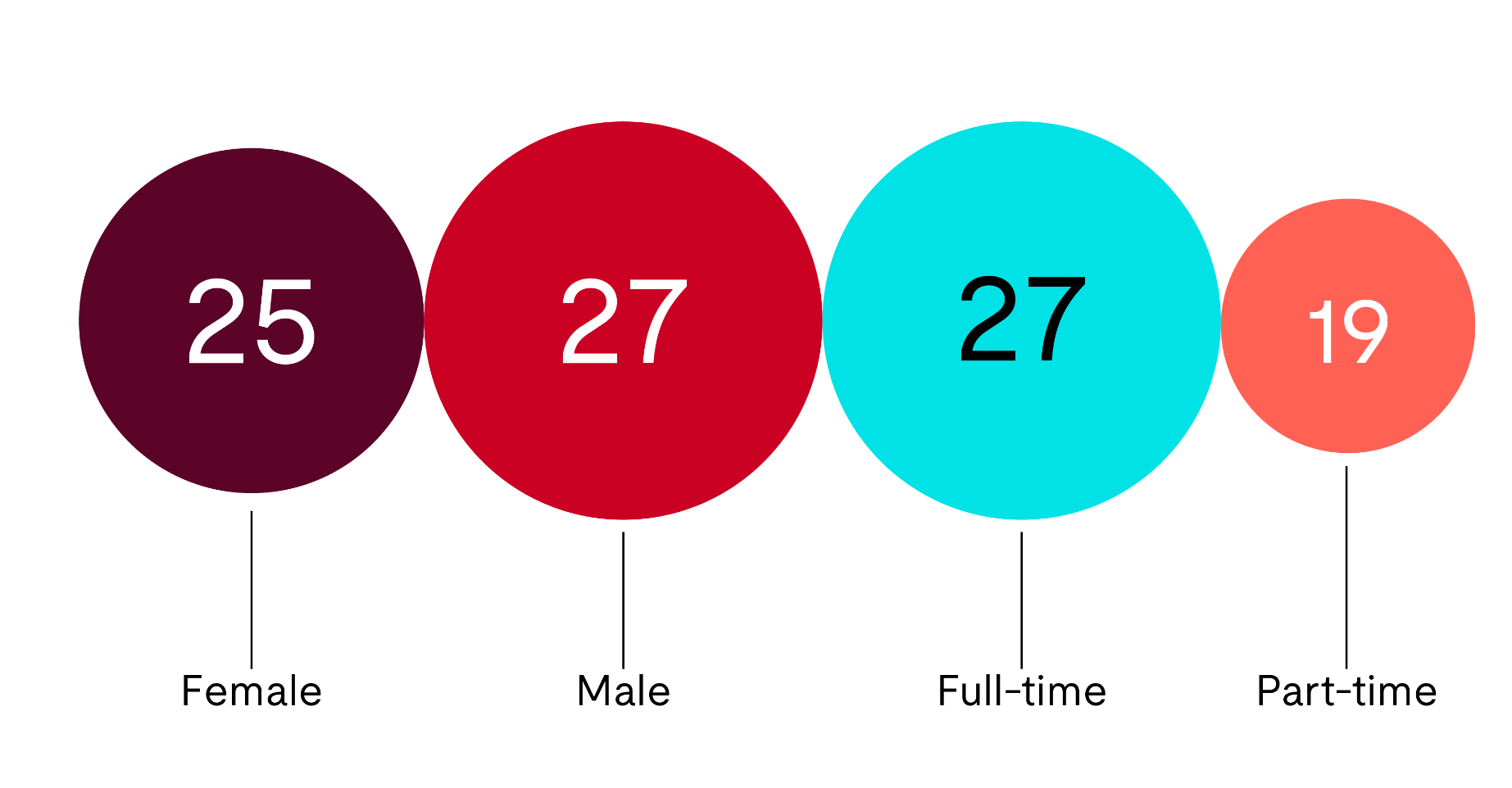 Navigate My Career (NmC) represents our global approach to performance management. The program provides regular quarterly performance check-ins, a clear goalsetting process with strong alignment with our operational strategy, key results and identified behaviors for success. NmC allows for continuous feedback and meaningful dialogue to support optimal career development and employee engagement.
Employee Check-ins