In November 2022, UL Solutions and Ronald McDonald House Charities® (RMHC®) announced a partnership, making UL Solutions the first-ever partner solely dedicated to supporting RMHC's global sustainability efforts. As part of this work, UL Solutions, a leader in applied safety science, agreed to provide pro bono UL Verified Healthy Building services at select RMHC chapters as well as skills-based training to RMHC staff globally. This partnership will also offer volunteer opportunities for UL Solutions employees, furthering the company's mission of working for a safer world while helping RMHC advance its work in improving the health and well-being of children and their families.
First Ronald McDonald House®

program earns UL Verified Mark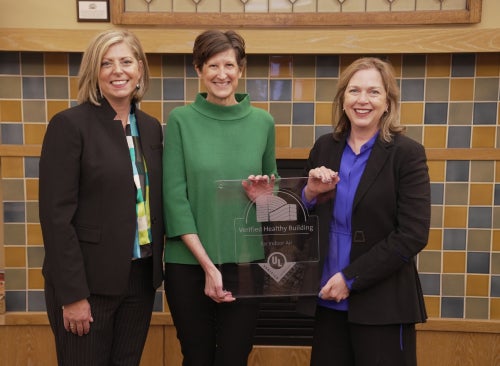 UL Solutions recently completed a building assessment evaluating the conditions and indoor air quality (IAQ) of a Ronald McDonald House program in Chicago. This House program, located near the Ann and Robert H. Lurie Children's Hospital of Chicago, achieved the UL Verified Healthy Building Mark for Indoor Air. While this is the first RMHC building to earn the UL Verified Mark, UL Solutions is evaluating other RMHC programs nationwide.
To mark the occasion, Jennifer Scanlon, president and CEO of UL Solutions Inc., presented a plaque displaying the UL Verified Healthy Building Mark to Ronald McDonald House Charities of Chicagoland and Northwest Indiana during an event in Chicago on March 29. Scanlon noted that this plaque symbolizes the partnership's impact in making the world safer and healthier for families with children receiving medical treatment.
UL Verified Healthy Building Mark for Indoor Air
The UL Verified Healthy Building Mark for Indoor Air evaluates IAQ as well as policies and plans for the continual advancement of IAQ. UL Solutions teams inspect heating, ventilation and air conditioning (HVAC) systems, focusing on ventilation, filtration and hygiene to help verify continuous IAQ and that preventative maintenance is up to date.
The indoor air assessment measures specific factors throughout the building, such as temperature, humidity, particulate levels, carbon dioxide and combustion gases like carbon monoxide. Test methods align with industry-recognized, third-party organizations, including the Environmental Protection Agency (EPA), National Institute for Occupational Safety and Health (NIOSH), World Health Organization (WHO) and American Society of Heating Refrigerating and Air-Conditioning Engineers (ASHRAE).
Like the Ronald McDonald House near Lurie Children's in Chicago, facilities meeting these established criteria earn the UL Verified Healthy Building Mark.
Families Helping Families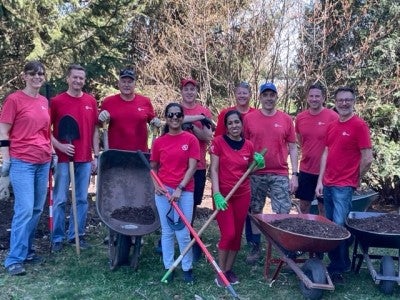 UL Solutions launched an employee volunteer campaign called Families Helping Families as part of its work with RMHC. Employees can support RMHC families and programs in more than 60 countries and regions globally by volunteering through Families Helping Families. Volunteer opportunities include cooking meals or baking cookies at a Ronald McDonald House, creating cards for RMHC guest families, helping with maintenance, assisting with fundraisers or craft days, and packing supply bags for guest families at a local RMHC chapter.
As a signatory to the United Nations (UN) Global Compact, UL Solutions is committed to taking positive actions to benefit our planet, people and future generations. We believe volunteerism and nonprofit partnerships are essential to our mission of working for a safer world. At UL Solutions, we believe in promoting well-being and improving people's lives. We're proud to partner with RMHC to help provide healthy environments for families with children in the hospital.
Learn more about our partnership with RMHC and the UL Verified Healthy Building Mark program.