Yellow Card™ benefits in plastics and polymer identification 
You can use our Yellow Card™ to promote the safety and quality of your products to existing and potential customers. Yellow Cards are listed in the UL Product iQ® database and UL Prospector® database, which are used by thousands of designers, engineers and suppliers to find providers of recognized materials and components. Using UL Solutions tested and certified components, identifiable through the UL Recognized Components Mark on the Yellow Card™, can also save you time and money. By eliminating the need for further material testing, it can shorten your path to certain certifications.
The UL Solutions Plastics Recognition Program (Yellow Card™) can be your product differentiator
We are a leading global provider for the production of test specimens, and testing and certification services for innovative plastics. 
We have been testing plastics since 1941 and are proud to serve many of the world's top plastics manufacturers. We work closely with plastic industry stakeholders to maintain and enhance existing UL Standards, establish new Standards, and develop certification and testing programs that address emerging technologies and product applications.
With vast expertise in safety science and in-depth experience across numerous industries, we are uniquely positioned to provide a complete view of how products function within a given system. This is particularly critical in the plastics and components industry. Interactions between substances, parts and systems and the environment they are expected to function in can be the cause of a significant number of hazards and failures that are rarely apparent when components are tested individually.
Our worldwide presence allows us to provide local services with a global outlook and enables access to a network of experts in our customers' target markets. We support our customers in their drive to protect public safety and brand value, mitigating their risk with quality assurance and supply chain compliance services. Our trustworthy reputation provides an important product differentiator in a crowded marketplace, communicating safety and quality to original equipment manufacturers (OEMs), purchasers and regulatory authorities.
Demonstrate the international compliance of your plastic
Our UL Recognized Component Mark allows you to demonstrate your plastics' compliance to UL standards and to ISO and/or IEC requirements. The use of the latest UL Recognized Component Mark is voluntary in the QMFZ2 and QMTC2 categories. The material designation serves as a representative of the Recognition Mark and can be found in the UL Product iQ® database. UL Solutions has made revisions to the UL Recognized Component Mark for Recognized Plastics to include the statement demonstrating when materials have also been evaluated with international requirements.
Use this mark when the material is certified with IEC and ISO requirements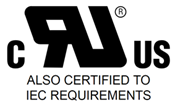 Use this mark when the material is certified with IEC requirements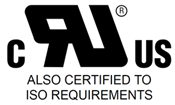 Use this mark when the material is certified with ISO requirements
Your benefits
Standout and differentiate your plastics. The UL Recognized Component Mark differentiates your product as being certified by a worldwide leading safety testing and certification company.
Demonstrate safety. You are displaying the fact that your material meets stringent guidelines to maintain the certification through periodic surveillance.
Help others find your products. The UL Solutions Recognized Component Mark makes your product easily identifiable.
Protect your brand. The UL Solutions Recognized Component Mark enables authorities to easily identify certified products and it can help in identifying counterfeit products.
Demonstrate your plastics' performance—globally. A UL Recognized Component Mark on a product means the product has undergone rigorous testing to ensure it meets high level of standards for performance. This assures consumers and regulators that the products will function as described.
Understanding the UL Solutions Plastics Recognition Program
Plastics need to be tested for compliance to regulatory safety standards and the performance expectations of original equipment manufacturers (OEMs).
The UL Solutions Plastics Recognition Program (Yellow Card) is a globally recognized program that helps you demonstrate safety, quality and performance of plastics through third-party certification. Plus, it can be used as a low-maintenance marketing tool.
Specifically, the UL Solutions Yellow Card lists multiple safety- and performance-related properties for a polymeric material tested by us to appropriate standards. It can also include additional performance credentials, e.g., Restriction of Hazardous Substances (RoHS) or Non-Halogenated (non-Hal), which verify industry requirements. Our card substantiates that a material is appropriate for defined applications and helps provide assurance that you are using a tested and certified material that will be monitored at regular intervals by an independent test laboratory.
Features of our Yellow Card Plastics Recognition Program include:
A globally respected safety certification and quality information card
Additional performance credentials, e.g., RoHS or non-Hal, that verify industry requirements
An attached White Card, which relates to international standards, that can be used for global promotion
A digital version of your card available via UL Product iQ® and UL Prospector®
How to get a UL Solutions Yellow Card
A Yellow Card is issued when polymeric materials have successfully undergone our testing procedures and received a UL Recognized Component Mark. Our tests include:
Ignition and burning characteristics from thermal and electrical sources
Electrical, physical and mechanical characteristics
The effect of exposure to elevated temperatures, cold, water, ultraviolet rays, chemical fluids, etc.
The White Card — boosting product discoverability
Our Yellow Cards are not limited to safety certifications. You can add value by increasing their coverage to include the performance properties that international customers are looking for. The White Card, an extension at the bottom of a Yellow Card, relates to global standards, as opposed to those only relevant in North America. In other words, receiving the White Card will enable you to showcase your product's performance credentials on a worldwide scale.
Material Substitution and Modification for Plastics
When supply chain or regulatory challenges cause plastic material shortages and disruptions, discover how UL Solutions helps manufacturers and end users get back on track.
Learn more
Download our brochure
Learn how to add performance credentials and boost your visibility.
UL Yellow Card for Plastics Brochure
1.34 MB