Overview
In this digital age, there is an increasing demand to integrate information technology with industrial controls, processes, monitoring and manufacturing. With the advancement in the architecture of these industrial controllers and monitors, electronic controls have evolved and the demand to market globally is within reach. Ranging from motor drives, watt meters, industrial routers/hubs/computers, human machine interfaces, programmable logic and process controllers and functional safety, we have been working with manufacturers, retailers, consumers, inspectors and other stakeholders for more than 125 years providing solutions and services to your regulatory needs.
Services
We provide the following services for electronic controls:
North America
UL Certification Safety Mark for the U.S. and Canada
Accuracy evaluation according to applicable standards such as American National Standards Institute (ANSI)/National Electrical Manufacturers Association (NEMA) C12.20 for energy monitoring equipment
Hazardous Locations Certification Mark referenced in Equipment for Use in and Relating to Class I, II and III, Division 1 and 2 Hazardous Locations
Electromagnetic compatibility (EMC) testing services such as U.S. Federal Communications Commission (FCC)
Cybersecurity to UL 2900-1 and UL 2900-2-1
UL Functional Safety Mark according to applicable standards
Europe/international
CB Report with CB Certificate and International Electrotechnical Commission (IEC) Test Report
Type Test Certificate and Technical Document File
EMC testing services
Restriction of Hazardous Substances (RoHS) evaluation services
Radio and wireless type approval for international markets
Accuracy evaluation according to applicable standards, such as IEC 61557-12 for energy monitoring equipment
Global Market Access services for specific markets, such as China, Russia, India and Brazil
Cybersecurity to IEC 62443, International Organization for Standardization (ISO) 21001 or ISO 27001
Functional safety according to applicable standards, such as IEC 61508
Why UL
We're dedicated to helping customers navigate the complex technical and regulatory challenges of today's ever-evolving and growing electronic-based landscape. With our extensive certification expertise and holistic approach to safety engineering, we look to collaborate with you to access markets in a streamlined approach.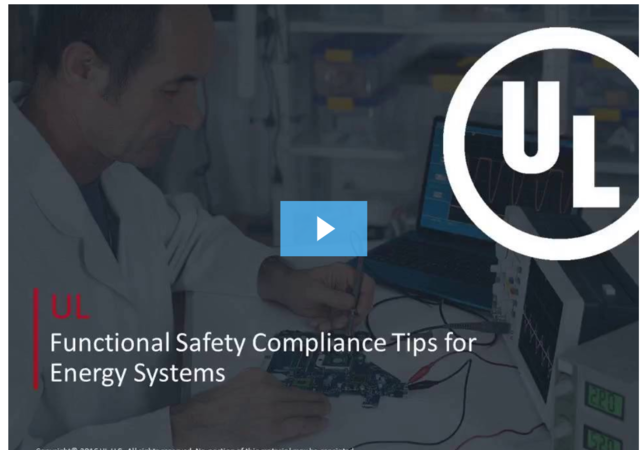 Functional Safety Compliance Tips for Energy Systems
The webinar covers safe operation of embedded electronics and software products within energy systems.
Watch our webinar