Northbrook, IL - December 5, 2011 - UL (Underwriters Laboratories) is notifying retailers and consumers that the power strip identified below bears unauthorized UL Marks for the United States and Canada.  The power strip has not been evaluated by UL to the appropriate Standards for Safety and it is unknown if this power strip complies with the UL safety requirements for the United States or Canada.
Name of Product: Wet Circuits 4-Outlet Power Strip, Model GF-3401
Number of Units: 1,000
Date of Manufacture: 2010
Manufacturer: Shohero Technologies LTD.
8F, No.150, Chang-An W. Rd.,
Datong District, Taipei City 103
Taiwan (R.O.C.)
Identification:
On the Product: The product bears an unauthorized UL Marks and the following: 
Wet Circuits Power Strip
Model: GF-3401
Voltage:  110-240V
Current:  15A
Capacity: 1650W
Caution:  NOT FOR USE UNDERWATER
Shohero Technologies Ltd


Manufactured in Taiwan
On the Packaging: Super Safe 4-Outlet Power Strip
Photos of the Product: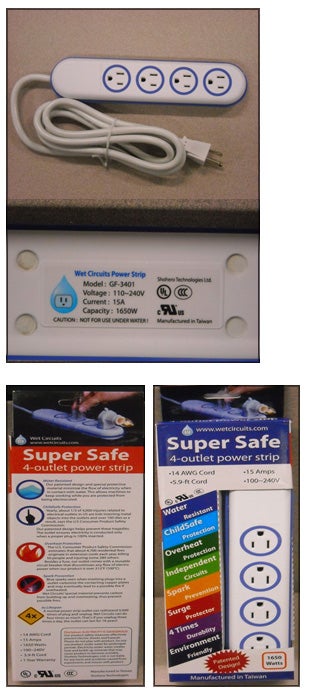 Sold at: Known to be sold at: http://www.wetcircuits.com/, may have also been sold at other locations.