Northbrook, Ill., April 9, 2009 -- Underwriters Laboratories (UL) is notifying consumers that the under-cabinet lighting identified below may pose a fire hazard. These lights have not been evaluated for safety by UL and are not eligible to bear the UL Mark.
Name of product:  Item No. ALFT4-24-4100
Number of units:  Unknown
Manufacturer:  EXTRA LIGHTING MFG LTD, Hong Kong
Hazard:  Units may overheat, posing a fire hazard.
Identification:  On the product: The Product has a white paper label with the following information:
Model No. ALFT4-24-4100
Electrical Rating: 120V, 24W, 60Hz, 1PH
Made in China / Fabrique en Chine
UL Label Info: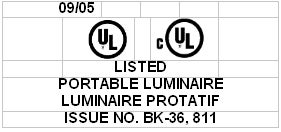 Sold at:  Unknown
What you should do:  UL recommends that consumers stop using this product immediately and return it to the place of purchase. 
Consumer contact:
Extra Lighting Mfg Ltd.
Company Website: http://www.meek-lighting.com/
Phone: +86.20.3849.3486
Email: [email protected]
Photo of product: