NORTHBROOK, IL - September 17, 2012 - UL is notifying consumers, retailers, manufacturers, regulatory agencies and Authorities Having Jurisdiction (AHJs) that the communications cable identified below bears a counterfeit UL Mark for the United States and may pose a fire hazard.  The communications cable has not been evaluated by UL to the appropriate Standard for Safety for the United States, and is not authorized to bear the UL Mark or any reference to UL.
Name of Product: Communications Cable, Type Cat 5E
Hazard: This communications cable employs copper-clad aluminum conductors, which may cause an increased risk of fire.
Identification: On the cable: The surface of the cable jacket displays the following description:
"CAT5E 350 MHz CMR RISER UTP 4-PAIR 24AWG EIA/TIA-568-B.2-1 (UL) E302757"
Identification: On the box:
SKYLITE COMMUNICATIONS
800-SKY-SALE
759-7253

ISO9001-2000 Certified, ETL, TIA, EIA, UL, ROHS
1000FTcables
Label on the box: 
ITEM: 24AWG-4UTP, UL, CMR
PART NO: SKCAT5E-601CMR
TYPE: CAT5E, SINGLE, EASY PULL BOX
COLOR: YELLOW
SIZE: 1000 FEET
BATCH NUMBER LSPl12040401-0512
Photos of Product: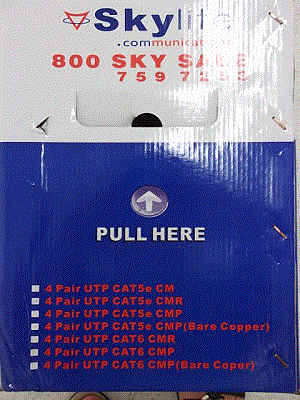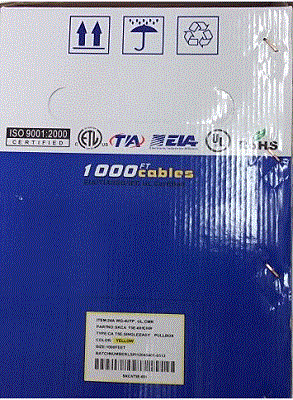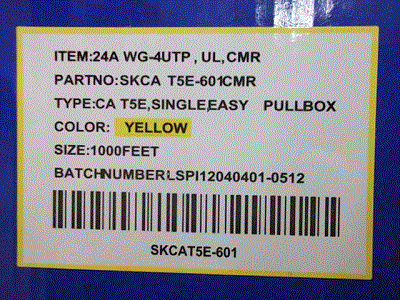 Known to be sold at: http://www.1000ftcables.com/