Northbrook, IL - September 30, 2013 - The following is a notification from UL to consumers and retailers that the USB power adapter Model A1265 identified below bears a counterfeit UL Mark for the United States and Canada. This USB power adapter has not been evaluated by UL to any Standards for Safety and it is unknown if this power adapter complies with any safety requirements.
Note that the Model A1265 with the counterfeit UL Mark is similar to a Model A1265 that is authorized to bear the UL Mark. The counterfeit Model A1265 USB power adapter is marked "Power adapter Made in china", "E231288" and "ITF", which are different than the authorized model which is marked "Designed by Apple in California", "E233466" and "ITE".
Name of Product: Model A1265
Identification: On the product: This Adapter bears counterfeit UL Listing Mark and the markings below.
Power adapter Made in china
Model No.: A1265
Input: 100-240V~ 50/60Hz 0.15A
Output: 5V 1A
 

54PT

 

E231288

ITF

LISTED

Power Supply

Flextronics
CAUTION: For use with information technology equipment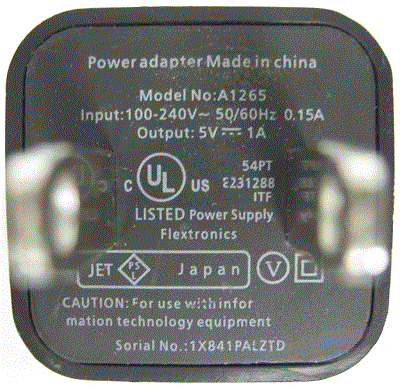 Photographs of the product with authorized UL Mark: