NORTHBROOK, Ill., January 26, 2009 - Underwriters Laboratories, Inc. (UL) is notifying consumers that extension cords, identified below, bear a counterfeit UL Mark for the United States and Canada. These extension cords have not been evaluated for safety by UL and are not eligible to bear the UL Mark.
Name of Product: Extension Cord, models EE6W and EE9W
Units: Unknown quantity
Manufacturer: Unknown
Date of Manufacture: Unknown
Identification of Counterfeit Product: On the product: These products, which come in different lengths, have a label with a counterfeit UL Mark and the following information:
Cord Set
BX-3834
13A
125 V
1625W
E-233301

Photo of product with counterfeit UL Mark: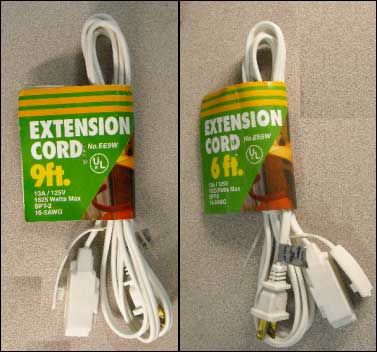 Photo of label with counterfeit UL Mark:

Sold at: The products are known to be sold at HD Supply Repair and Remodel stores, and may be sold by other retailers.
What You Should Do: UL recommends that users stop using the product immediately and return it to the place of purchase.