Northbrook, Ill., February 20, 2009 -- Underwriters Laboratories (UL) is notifying consumers that compact fluorescent lamps, identified below, bear a counterfeit UL Mark for the United States and Canada. The products also have a counterfeit EMC mark. These lamps have not been evaluated for safety by UL and are not eligible to bear the UL Mark.
Name of Product: Compact Fluorescent Lamp
Number of Units: Unknown quantity
Manufacturer: Unknown
Date of Manufacture: Unknown
Identification of Counterfeit Product: On the product: The product is marked with a counterfeit UL Mark and the following information:
LISTED
14CW
PF>0.9
The lamps also have the following markings:
8W A19 110-130 V CL 50/60 Hz
Dimmable
SH O12807
CONTAINS MERCURY
NOT FOR AMERICA
EMC
EUR-USA-JPN-AUS
Sold at: The products are known to be sold by Blanchard Distributing and may also be sold by other retailers.
What You Should Do: UL recommends that consumers stop using the product immediately and return it to the place of purchase.
Photo of product with Counterfeit UL Mark: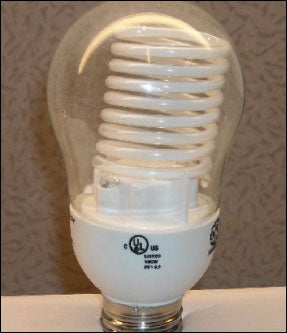 Photo of product with Counterfeit EMC Mark: