NOTE: This information is from a previously printed press release, newsletter, or other dated document. It is presented here for archival purposes only.
NORTHBROOK, Ill., Feb. 1, 2008 -- Underwriters Laboratories (UL) and Underwriters Laboratories of Canada (ULC) are notifying consumers that oil-fired furnaces manufactured by INOV8 International Inc. have not been evaluated for safety by UL and ULC and bear unauthorized UL and/or ULC Marks for the United States and Canada.
Name of Product: INOV8 Oil-Fired Central Furnace Model F Series
Units: Unknown quantity
Manufacturer: INOV8 International Inc.
Date of Manufacture: Unknown
Identification: On the product: The side of the housing has an adhesive label with the following marking: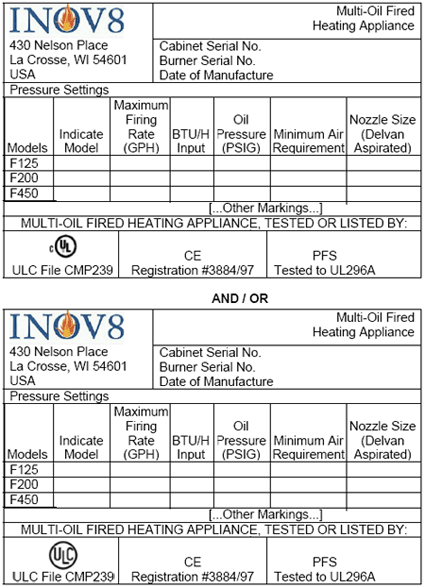 What you should do: UL recommends that users stop using the product immediately and return it to the place of purchase and contact your local gas utility company.
Consumer contact: INOV8 International Inc.
430 Nelson Place
La Crosse, WI 54601.
Phone +1 877 684-6688
fax +1 608 785-2868
E-mail: [email protected]
Website: http://www.inov8-intl.com/.