Certification services for wind turbines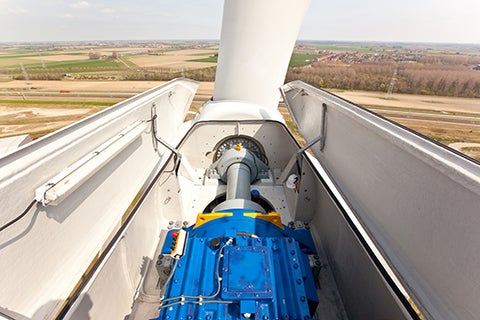 The type and component certification process provides confirmation that the wind turbine type, components and systems have been designed, manufactured and tested in conformity with the requirements as mandated by international standards and site-specific conditions.
Wind turbine type certification for design, documentation and manufacture
The purpose of type certification is to confirm that a wind turbine type is designed, documented and manufactured in conformity with specific standards and site conditions. In addition, type certification covers the erection procedures, installation and maintenance of the wind turbine. A type certificate denotes a fully independent assessment of the completeness, correctness and safe functioning of a wind turbine for its design lifetime. Finally, a type certificate provides the traceability for the applicable documentation for design, testing and manufacturing. 
Certification for structural, mechanical and electrical components
A component certificate is applicable to the major structural, mechanical and/or electrical components of the wind turbine, e.g., the frequency converter, transformer, generator, tower, rotor blade and gearbox. UL Solutions confirms that the specific component is designed, documented, manufactured and tested in conformity with the applicable design requirements, specific standards and other technical requirements. Component certification is a useful tool for component manufacturers to provide OEMs traceability to their design assumptions, testing and manufacturing processes and sites. A certified component can easily be integrated into the supply chain of OEMs.
The wind turbine type certification process

Design evaluation 
The purpose of the design evaluation is to evaluate the wind turbine type as designed and documented in conformity with design requirements, specific standards and other technical requirements including:
Load assumptions 
Safety systems
Rotor blades
Mechanical and structural components
Electrical systems
Tower
Foundation
Manufacturing evaluation
The manufacturing evaluation is to ensure that a specific wind turbine type and its components are manufactured in conformity with the certified design. It is also a useful tool to provide traceability between designer, supplier and manufacturing sites. Evaluation includes:
Components, including gear boxes, generators, nacelles, towers, rotor blades, etc.
Substructure and foundation
Wind turbine type testing evaluation
The purpose of the type testing evaluation is to verify such variables as wind turbine function, safety, structural integrity, power performance, power quality, and acoustic noise emission characteristics.
Services include:
Mechanical load measurements
Power performance measurements
Safety and function test
Power quality measurements
Low voltage ride-through (LVRT) test
Acoustic noise measurements
Inspection includes:
Static and dynamic blade test
Gearbox field test
Converter and generator type test
Commissioning
Final evaluation and certificate
UL Solutions issues a specific type/component certificate once the certification process is complete and the final evaluation is satisfactory.
Testing to other standards, certification schemes and requirements for wind turbines:
UL type and component certification scheme for wind turbines
532.03 KB