Polymeric materials and PV module certification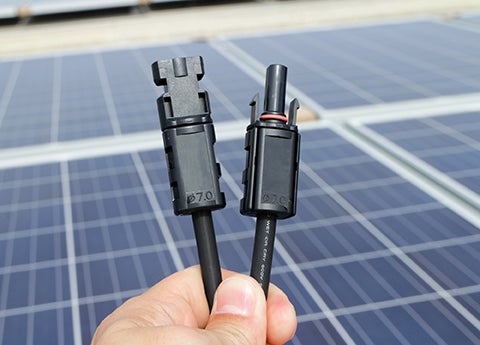 Polymeric materials are essential to the fabrication of PV modules and used in critical components such as substrates, encapsulants, back sheets and adhesives. Safety compliance with established standards minimizes risk of failure and helps ensure safe operation, covering such areas as flammability, resistance to ignition, thermal endurance and electrical properties. We can run separate investigations, as well, to evaluate the properties of critical module components. Customers also benefit from services such as joint UL/IEC and other international certifications, and ongoing R&D support from our PV materials experts.
UL Solutions offers streamlined testing and certification of PV materials to:
PV module testing: Wiring and harnesses
PV modules operate at high temperatures and are exposed to a variety of environmental conditions. As a result, the insulation of module interconnection wiring may be required to be sunlight resistant and rated for wet locations at a temperature rating of 90ºC or above. UL Solutions provides testing and certification to:
UL 854, the Standard for Standard for Service-Entrance Cables
UL 4703, the Standard for PV wire, which offers superior sunlight resistance
UL 9703, the Outline of Investigation for Distributed Generation Wiring Harnesses. The wiring system and harnesses UL Solutions is also the first in the world to offer an NEC-mandated certification program for North American market access.
PV module components
Critical components of a PV module must be individually assessed to determine safety and performance compliance. Noncompliance may delay product certification, increasing time-to-market as well as costs for design changes – and results in additional testing.
UL Solutions evaluates and certifies components to national and international standards:
UL 3730, the Standard for Photovoltaic Junction Boxes
UL 6703, the Standard for Connectors for Use in Photovoltaic Systems and UL 6703A for PV connectors
To assist manufacturers, UL Solutions also offers the UL Solutions Component Recognition program, which allows quicker and easier sourcing of known components as well as enhanced supply chain management.