Inverters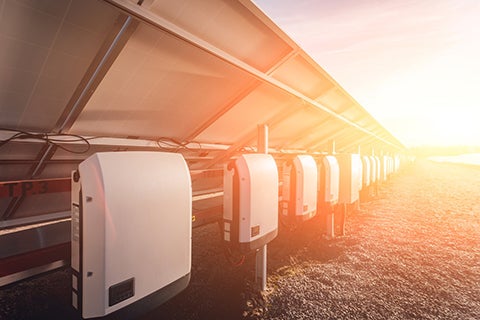 UL Solutions provides inverter certification and evaluation services for compliance with a wide range of local, national and international standards. The extent and scope of the testing are determined in part by whether the product is a standalone unit or intended for interconnection with a local utility. UL Solutions tests power inverters, converters and controllers to the requirements of all key international and local grid standards, including:
UL 1741, the Standard for Inverters, Converters, Controllers and Interconnection System Equipment for Use With Distributed Energy Resources
IEC 62109
IEEE 1547
UL Solutions has expanded its PV inverter testing capabilities in Asia, Europe and North America to provide broader global conformity assessment services, including safety, performance and EMC testing.
PV Electronics Safety Standards – IEC 62109 based certifications with national differences and also most nation specific safety standards
DC Arc-Fault Circuit protection – evaluated to UL 1699B, the Standard for Photovoltaic (PV) DC Arc-Fault Circuit Protection
EMC Requirements – FCC, IEC, EN, CISPR, R&TTE and IEEE
Performance Evaluations (efficiency and communications) – IEC, ISO, EN, ANSI, IEEE and local electric grid utility defined
Utility Grid Interconnection Performance – extensive international coverage, global IEC, country specific as well as individual electric grid utility compliance
Software/firmware – IEC and UL Solutions functional safety standards
Inverter Training – certification, evaluation, testing and standards related training – national and international.