Overview
Global certification is necessary to compete in today's modern world. Fortunately, Global Market Access is UL's specialty, making us experts on HazLoc certification requirements.
By combining our hazardous locations services, we can help you accelerate the certification process and achieve worldwide product acceptance. We have the expertise and know-how to pull our resources and create solution bundles that can ultimately help you reduce costs and minimize time to market.  
We can help you create market-specific certification roadmaps:
By acquiring the certifications noted above, you will gain access to a majority of the world markets. However, many regions have local requirements. We can create a global certification solution for those as well. 
Benefits
Our specialty is to provide global certification solutions with a roadmap for market acceptance in each region of the world. We have a memorandum of understanding (or letter of intent) with many local organizations to ease your market access. Our relationships with local certification staff help us understand local regulations and our brand recognition helps us obtain local certification marks using your UL, C-UL, INMETRO, ATEX or IECEx certifications.  
Areas of expertise
UL provides Global Market Access solutions for the following HazLoc product categories:
Gas detectors
Heaters
Industrial and process controls
Intrinsic safety
Luminaires
Motors
Plant oil extraction equipment
Programmable logic controllers
Robotics
Sensors
Signaling equipment
Wearable technologies
Wireless communication
UL HazLoc services
Why UL
We drive global standards to continually advance and meet ever-evolving product safety, performance and interoperability needs. Our network of technical experts and state-of-the-art facilities, along with our long-standing relationships with regulatory authorities, partner laboratories and industry technical leaders, enables us to help you gain the compliance credentials you need to compete in a more complex global supply chain. 
Single source provider
Located around the world, our certification staff can help save you time and money with a single, local point of contact for your global certification needs. 
Knowledge and speed
Our technical experts are versed in a variety of protection methods that translate into actionable business efficiencies. With a U.S. based certification officer (CO) on staff and competent engineers to perform Quality Audits, we can help reduce your certification time.
Global market access
We are an active participant and leader in the global standards writing process — not only do we understand the requirements, we helped develop them. In fact, we participate in more than 50 standards writing committees, including TC31 (IECEx), STP (North America), NFPA, API and BSEE and CFR. 
Regardless of your location, UL can provide a single, streamlined process that reduces administrative and project management costs, accelerating your global market access.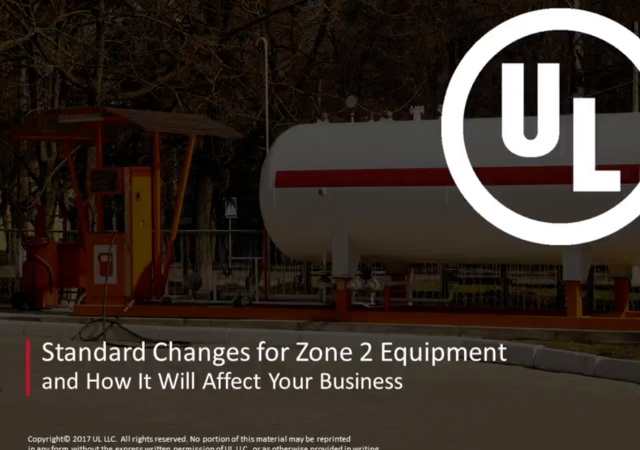 Standard changes for zone 2 equipment & how it will affect your business
Potentially explosive atmospheres requirements evolve continuously and keeping up to speed can be challenging.
Watch our webinar