Overview of building envelope services
The building envelope is comprised of all the systems that enclose the building to separate indoor and outdoor environments. The control of air, water and heat flow is of paramount importance, therefore we offer an array of services to assess and validate the design and performance of building envelope components, products and systems.
Our team of highly specialized professionals operate out of centers of excellence locations based in Chicago, Montreal, Toronto and the U.K., including the centers formerly known as Wintech Testing and Certification, a Telford, U.K.-based firm (acquired by UL in 2019) and CLEB, the leading Canadian Building Science and Building Envelope service provider (acquired by UL in 2017).
With this global expertise, we provide a wide range of testing and certification services to architects, building owners, manufacturers and others across the built environment community, including services in:
Building envelope testing
Fire testing
Building forensic services
Building system commissioning services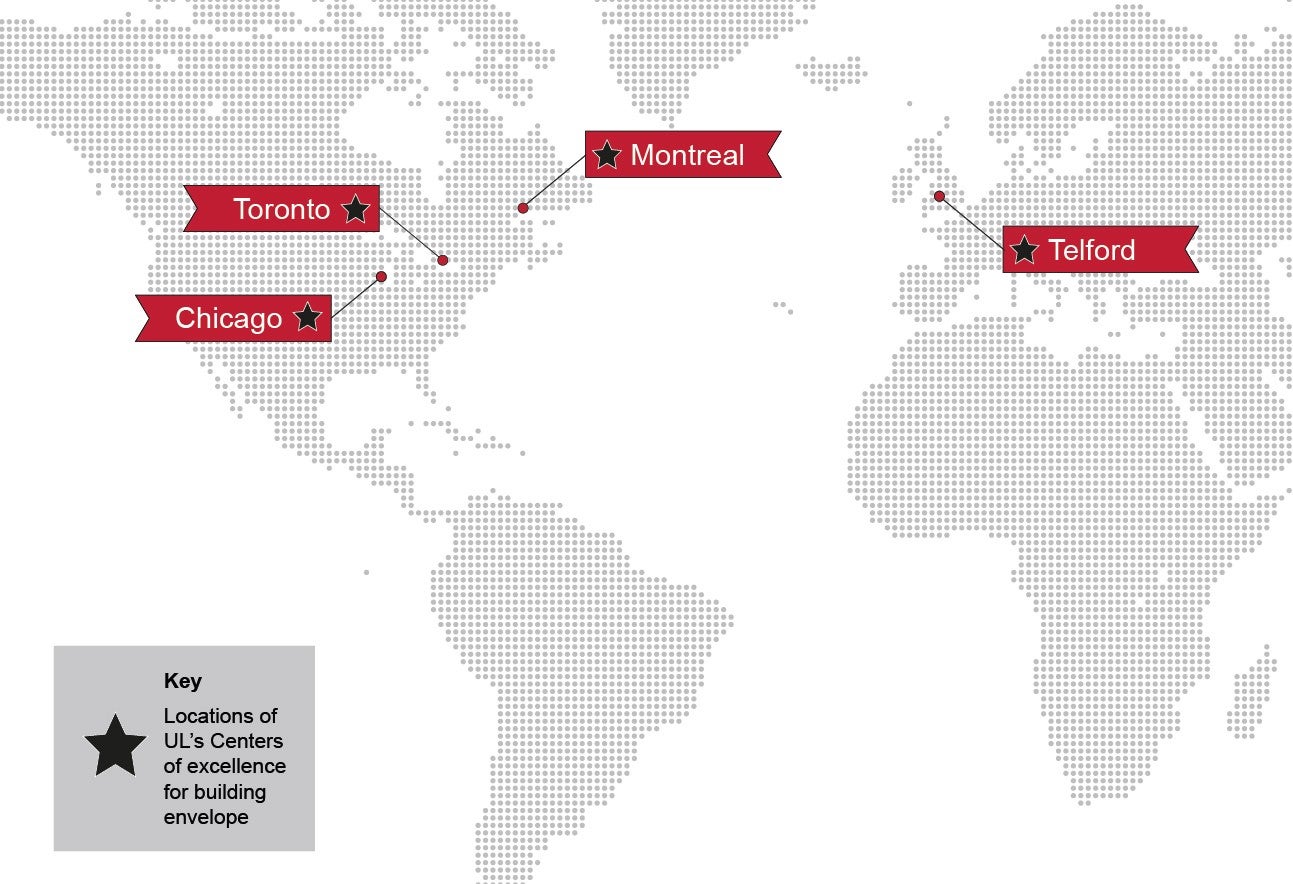 Benefits of building envelope services
Assessment, validation and problem solving
Our team of experts is comprised of engineers, architects, technologists and specialists who are recognized as industry leaders in the field of building science. Our state-of-the art testing laboratories offer a wide range of professional services including laboratory and field testing, technical assessments, and forensic investigations.
Performance testing of building envelope assemblies
Testing helps enable product manufacturers to meet market and regulatory requirements. It also helps construction and design professionals to validate the performance of products and systems.
Recognized by Fenestration and Glazing Industry Alliance (FGIA), National Fenestration Rating Council (NFRC), CSA Group, Window and Door Manufacturers Association (WDMA), Keystone, National Accreditation and Management Institute (NAMI) and Miami-Dade County's Department of Regulatory and Economic Resources, our fully accredited testing laboratories can provide performance testing for:
Windows

Doors

Skylights

Curtain walls

Wall systems

Full building envelope assemblies
During testing, we can evaluate:
Air infiltration

Water penetration

Thermal and structural performance

Impact from hurricane and tornado winds

Fire resistance
We can test products and systems in the laboratory, as well as on-site during and after installation.
Advisory services
Our building envelope advisory services include technical assessments and construction commissioning services. Building owners and managers can rely on comprehensive information on the condition of the building envelope, future performance expectations and solutions to maintain acceptable performance for an extended service life.
Why UL for building envelope services?
UL offers the complete package of  building envelope testing. We maintain a global network of technical experts, state-of-the-art test facilities, and longstanding relationships with the design and construction community, regulatory authorities, industry technical leaders, trade associations, and universities. Knowledge from this network helps manufacturers gain the compliance credentials they need to compete in a complex global supply chain. It also supports the design and construction community to assess and verify building envelope products, systems and structures before, during and after construction.
Building Envelope Performance Laboratory
"Based upon my experience having been in labs all across the country, the UL lab is state-of-the art. It has the equipment, the people, the overhead cranes and access to Chicago. It has everything you need to test any type of building."

Mark Meshulam
Chicago Window Expert