Overview
The majority of everyday chemical exposure in people occurs through the air we breathe in our homes, offices, schools and other indoor environments. These airborne chemicals are commonly referred to as volatile organic compounds (VOCs), which are used to manufacture and maintain building materials, interior furnishing, cleaning products and personal care products.
Studies by the U.S. Environmental Protection Agency (EPA) and other researchers have found that VOCs are common in indoor environments and that their levels may be two to a thousand times higher than outdoors.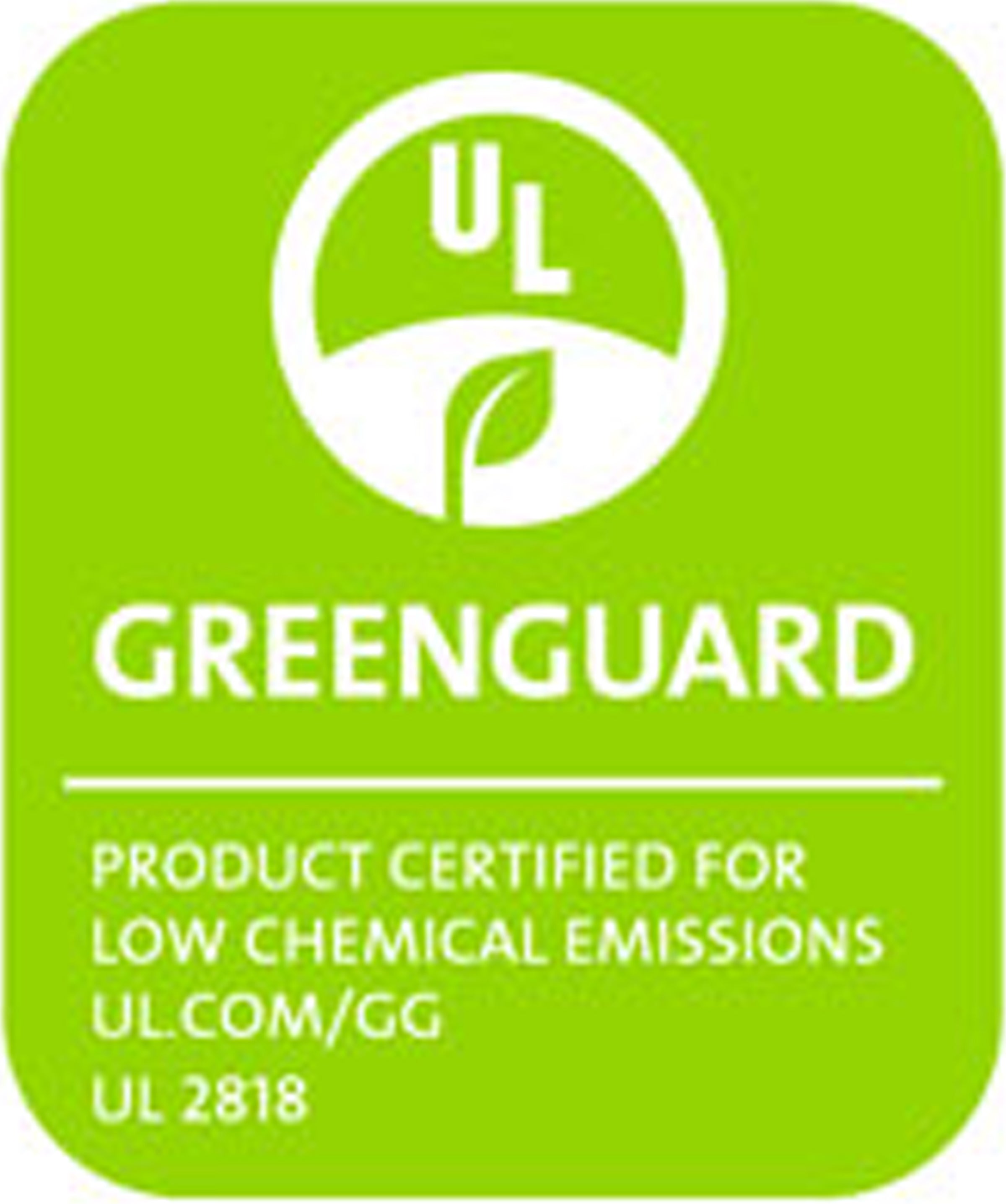 There may be anywhere from 50 to hundreds of individual VOCs in the indoor air at any one time. Some may produce objectionable odors at low levels, but many have no noticeable smell. Many VOCs are irritants and can cause headaches, eye, nose and throat irritation, and dizziness. Long-term exposure to certain VOCs may lead to chronic diseases or cancer. At high concentrations, some VOCs are toxic.
The products that we use to build and furnish our indoor environments can have a significant impact on indoor air pollution levels. Products that have achieved GREENGUARD Certification are scientifically proven to meet some of the world's most rigorous, third-party chemical emissions standards, helping to reduce indoor air pollution and the risk of chemical exposure, while aiding in the creation of healthier indoor environments.
Our UL GREENGUARD Certification Program has established test methods and emission limits for these product groups:
Building materials, furniture and furnishings
Electronic equipment
Cleaning and maintenance products
Medical devices for breathing gas pathways 
Building products and furnishings
We offer two tiers of certification:  GREENGUARD Certification and GREENGUARD Gold Certification. All certified products are subject to a review of the manufacturing process and routine testing to help ensure minimal impact on the indoor environment.
GREENGUARD Certification
GREENGUARD Certification emissions limits were first used as purchasing specifications for the EPA and the state of Washington for furniture and commercial building products. GREENGUARD Certification criteria have been the basis for the LEED credit for low-emitting furniture since 2002. Office furniture products that are GREENGUARD Certified are also compliant with the Business and Institutional Furniture Manufacturers Association (BIFMA) X7.1 standard and BIFMA e3 credit 7.6.1.
GREENGUARD Gold Certification
The GREENGUARD Gold Certification standard includes health-based criteria for additional chemicals and also requires lower total VOC emissions levels to help ensure that products are acceptable for use in environments like schools and healthcare facilities. In addition to limiting emissions of more than 360 VOCs and total chemical emissions, GREENGUARD Gold Certified products must also comply with requirements of the state of California's Department of Public Health (CDPH) "Standard Method for the Testing and Evaluation of Volatile Organic Chemical Emissions from Indoor Sources Using Environmental Chambers, Version 1.2 (2017)" (also known as California Section 01350). Office Furniture products that are GREENGUARD Gold Certified are also compliant with the BIFMA X7.1 standard and BIFMA e3 credits 7.6.1, 7.6.2, and 7.6.3.
A summary of the allowable emission limits for GREENGUARD Certification and GREENGUARD Gold Certification is available.
Both the complete UL GREENGUARD Standard and Test Method for Building Materials, Finishes and Furnishings are available for free on UL Solutions' Standards site, COMM2000. The links below will take you to an external website where the documents can be downloaded.
Electronic equipment
Both the complete UL GREENGUARD Standard and Test Method for Electronic Equipment are available for free on COMM2000. The links below will take you to an external website where the documents can be downloaded.
Non-industrial 3D printers:
Medical devices for breathing gas pathways
UL GREENGUARD Certification for Medical Devices includes testing for VOCs, particulates and leachables in condensate, as well as a complete risk assessment that models expected exposure during use. This certification Standard was developed to be compliant with the ISO 18562, Biocompatibility Evaluation of Breathing Gas Pathways in Healthcare Applications, series of standards.
The ISO 18562 standard upon which the certification program is based is available from ISO.
Cleaning and maintenance products
The complete UL GREENGUARD Standard and the Test Method for Cleaning and Maintenance Products are available for free on COMM2000. The links below will take you to an external website where the documents can be downloaded.
Benefits
By choosing products with GREENGUARD Certification, you are creating a healthier indoor environment for your home, office or institution and reducing chemical exposure. GREENGUARD Certification Standards are among the most rigorous in the world, so you can be confident that these certified products live up to their claims.
Why UL Solutions
UL GREENGUARD Certification program is recognized and referenced in numerous building programs, standards and specifications around the world. Products with GREENGUARD Certification or GREENGUARD Gold Certification can contribute to the achievement of points in established green building rating systems, such as LEED, BREEAM, Fitwel and others, and satisfy code or ordinance criteria and meet indoor air quality specific request for proposal (RFP) requirements.
UL GREENGUARD Gold Helps Precision Textiles with Low VOCs of Their Mattress Sock
Precision Textiles was intent on delivering a mattress sock using fibers that were low-emitting. For this reason, IQFit Natural mattress sock is now UL GREENGUARD Gold Certified, demonstrating that the product supports healthier indoor environments.
Learn more