Northbrook, IL - January 12, 2012 - UL is notifying consumers, retailers and distributors that the toaster manufactured by Ningbo Dazhi Electrical Appliance Co Ltd, identified below, may pose a fire and shock hazard. The toaster does not comply with UL's safety requirements for the United States or Canada and is not eligible to bear the UL Mark.
Name of Product: Premium 2 Slice Toaster, Model PT228
Number of Units: Unknown
Manufacturer:
Ningbo Dazhi Electrical Appliance Co Ltd
East Position Development Area
Zhouxiang Town
Cixi, Zhejiang 315000 China
Date of Manufacture: 03/11 (March 2011)
Hazard: The toaster may overheat posing a risk of fire and shock.
Identification:
On the product: The product bears an unauthorized UL Mark, date code: 03/11 (March 2011) and the following:
Premium
E175578


US
LISTED
28EX
2 SLICE TOASTER
MODEL PT228
120V/60HZ/750WATT
DO NOT IMMERSE IN ANY LIQUID
HOUSEHOLD USE ONLY
MADE IN CHINA
Photographs of the product and packaging: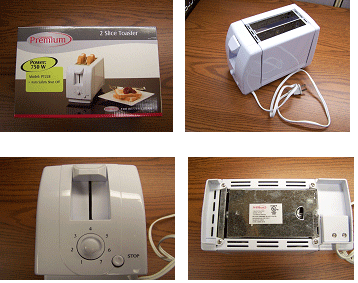 Sold at: This product is known to be sold at BrandsMart.com (http://www.brandsmartusa.com/) and may have been sold by other retailers. BrandsMart has indicated that they have removed these products from sale.