NOTE: This information is from a previously printed press release, newsletter, or other dated document. It is presented here for archival purposes only.
NORTHBROOK, Ill., May 30, 2008 -- Underwriters Laboratories (UL) is notifying consumers that the AC adapters identified below bear a counterfeit UL mark for the United States and Canada. These AC adapters have not been evaluated for safety by UL. The adapters are known to be sold with Nintendo Wii game players in Hong Kong.
Name of Product: AC Adapter, model PG-WIG17
Units: Unknown quantity
Date of Manufacture: Unknown
Manufacturer: Unknown
Identification: The counterfeit adapters are similar to adapters authorized to bear the UL Mark. The counterfeit products have a plug that has rectangular blades and a non-standard configuration. The plug on the authorized products uses the familiar parallel blade configuration.
Identification: On the product: The product has a label with a UL Mark for Canada and the United States. It also lists the following information: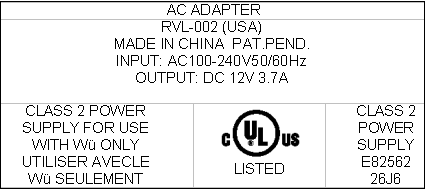 Identification: On the packaging: The packaging has the following information:
PEGA
Wü
AC ADAPTER
MODEL PG-WIG17
MADE IN CHINA
What You Should Do: UL recommends consumers stop using the product immediately and return it to the place of purchase.
Counterfeit Product and Packaging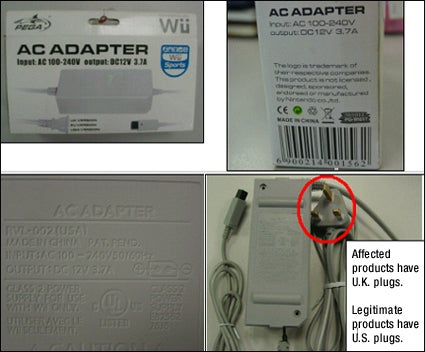 Product Authorized to Use UL Mark