NOTE: This information is from a previously printed press release, newsletter, or other dated document. It is presented here for archival purposes only.
NORTHBROOK, Ill., October 8, 2008 -- Underwriters Laboratories (UL) is notifying consumers that AC adapters identified below bear a counterfeit UL Mark for the United States and Canada. The adapter has not been evaluated for safety by UL and is not eligible to bear the UL Mark.
Please note that this counterfeit product is similar to an AC adapter that is authorized to bear the UL Mark.
Name of Product: Model NSA-0121F12US
Units: Unknown
Manufacturer: Unknown
Date of Manufacture: Unknown
Identification of Counterfeit Product: On the product: The product has a label with a counterfeit UL Mark and the following information: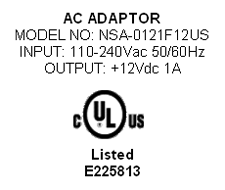 Identification of Authorized Product: On the product: The following is the label information on the product authorized to bear the UL Mark: The product is identified as an ITE Power Supply and displays the UL Control Number 43CG. Products with authorized UL Marks have been discontinued and are no longer available in the marketplace.
What You Should Do: UL recommends that users stop using the product immediately and return it to the place of purchase.
Photo of product with Counterfeit UL Mark: