Northbrook, Ill., - July 14, 2011 - UL is notifying retailers and consumers that the Cordless Drill and Power Adaptor, identified below, bear unauthorized UL Marks for the United States and Canada.  The Cordless Drill and Power Adaptor have not been evaluated by UL to the appropriate standard for safety for the United States or Canada, and are not authorized to bear the UL Listing Mark.  It is unknown if the Cordless Drill and equipped Power Adaptor comply with United States or Canadian safety requirements.
Name of Product: 18V Cordless Drill
Number of Units: Unknown
Manufacturer: Unknown
Date of Manufacture: A production date shown 1/34/08 is marked on the packaging and 8/2008 on the power adaptor, but other production dates may be marked on the product.
Identification: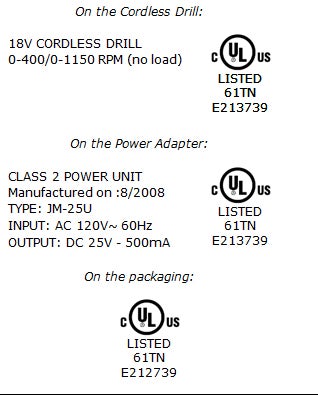 Photos of the product:

Sold at: This product is known to be sold at http://www.greatnecksaw.com/product_info.php?products_id=91532, and may have been sold by other retailers.