Do you need to submit a Poison Centre Notification?
In an attempt to harmonise Poison Centre information across the EU, Annex VIII to CLP was published in March 2017, and included a number of key processes, obligations, and deadlines relating to Poison Centre Notifications.
Our checklist will help you understand the key requirements of Annex VIII. These requirements—which must be satisfied to avoid the financial and legal costs of non-compliance—depend on the products you supply and your role in the supply chain.
Please Note: The first amendment to Annex VIII to CLP was published in the Official Journal on 10th January 2020, which postponed the first compliance deadline for mixtures placed on the market for consumer use to 1st January 2021. This replaces the original deadline of 1st January 2020 (shown in the Checklist below). There has been no change to the deadlines for mixtures placed on the market for professional use (1st January 2021) and industrial use (1st January 2024). More information on this amendment can be found here.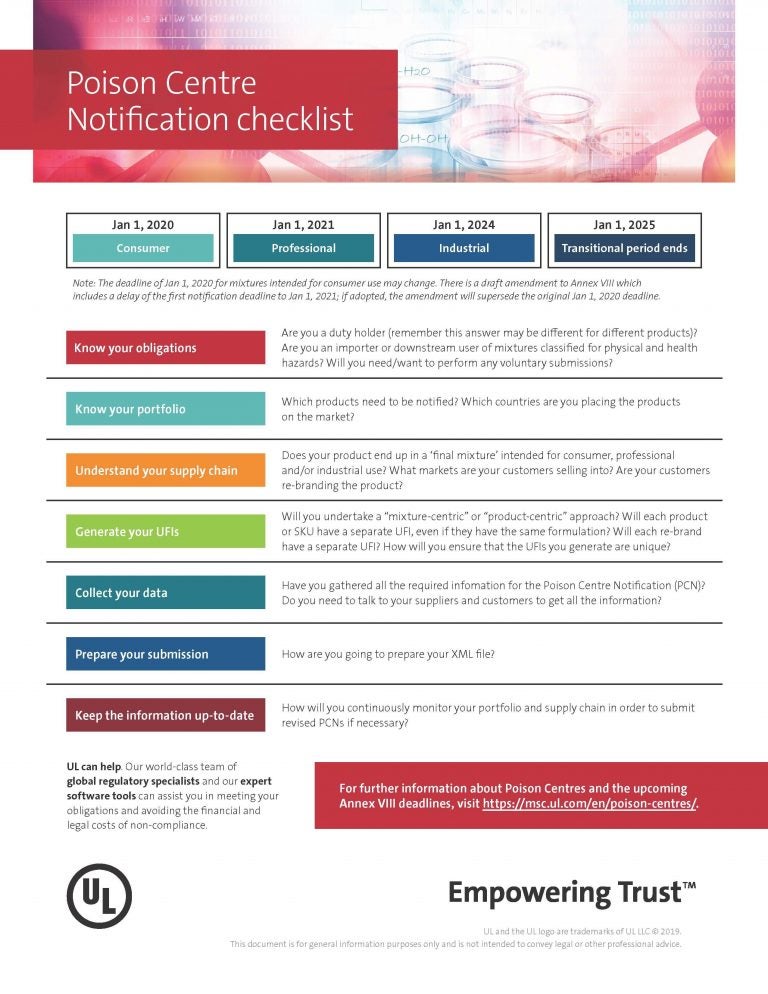 For complete details, download the free White Paper—co-authored by UL Regulatory Specialists Dr. Charlotte Blackburn and Dr. Rebecca Pickering.
Poison Centres: What You Need To Know
For more information about Poison Centres, check out our dedicated Poison Centres Homepage, where you can find the latest resources, including White Papers, FAQs and Expert Articles to help you understand your obligations under Annex VIII. You can also learn more about our expert tools and services to help you meet your compliance requirements.