Overview
UL Solutions can help evaluate the biological safety of a medical device through analytical Chemistry for medical devices. This includes testing for devices that have direct or indirect body contact in accordance with the relevant standards. These include ISO 10993-1:2009 Biological evaluation of medical devices – Part 1: Evaluation and testing and ISO 10993-18:2005 Biological evaluation of medical devices – Part 18: Chemical characterization of materials. 
Analytical chemistry procedures performed
We use numerous modern analytical test procedures, like GC/MS, HPLC, FTIR, ICP, XPS and SEM/EDX to help you perform the required physicochemical analyses. 
UL Solutions can perform the following: 
Material characterization of medical devices 

Physicochemical analyses of polymeric materials 

Metal and ceramic analyses 

Residue analyses 

Toxicological evaluation of leachables and degradation products 
Why UL Solutions
We offer a full range of medical device testing to support your needs and a comprehensive portfolio of testing and certification services. From design to aftermarket, our engineers can test the safety and help mitigate the risk for your medical devices.
Evaluation is one of the key steps in the medical device and laboratory equipment life cycle, and we can help you evaluate your medical devices in accordance with national and global standards. Our familiarity with these standards makes for a seamless and trustworthy evaluation process. 
We have been a trusted resource since 1894, and our certifications are recognized and accepted around the world. 

Operating in more than 143 countries, UL Solutions has issued more CB Test Certificates than any other body and our Marks appear on more than 22 billion products globally.

Our seasoned engineers work with you from beginning to end, offering field evaluations, on-site training and personalized solutions. 

Our company portfolio includes 11 industry business units and covers various markets, including the U.S. Food and Drug Administration (FDA), the Korean Ministry of Food and Drug Safety (MFDS), the European Union's (EU) In Vitro Diagnostic Directive, EU Medical Devices Directive (MDD). 

Partnering with the Association for the Advancement of Medical Instrumentation (AAMI), American National Standards Institute (ANSI) and other government bodies, our engineers have helped set more than 1,600 standards defining safety, security and sustainability. 

UL Solutions has 159 state-of-the-art testing and certification facilities around the world, including 10 accredited facilities.
Related standards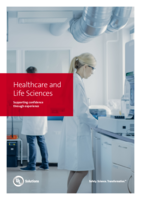 Medical Testing Services Overview Brochure (English)
7.72 MB