Overview
Our services include validation for packaging processes, such as the forming and sealing process of sterile barrier systems, pursuant to ISO 11607-2:2019 Packaging for terminally sterilized medical devices — Part 2: Validation requirements for forming, sealing and assembly processes. We apply validated test methods to support your equipment qualification and process validation.
According to ISO 11607-1:2019 Packaging for terminally sterilized medical devices — Part 1: Requirements for materials, sterile barrier systems and packaging systems, the specific properties of medical devices and their packaging systems must remain stable during their shelf-life. Your product packaging can be subjected to various test systems in order to evaluate their stability and performance, aseptic presentation and microbial barrier properties, as well as the performance of the containing medical device, functionality and biocompatibility.
In the course of a combined stability and performance packaging validation study, sterilized and final-packed test devices are subjected to both accelerated and real-time aging as well as to transport simulation, pursuant to ISTA or ASTM standards.
The following test systems may be applicable for the packaging system:
Visual inspection (ASTM F1886/F1886M)
Dye penetration testing (ASTM F1929, ASTM F3039, Ph.Eur. 3.2.9)
Determination of seal strength (ASTM F88/F88M, EN 868-5 Annex D)
Peel characteristics and seal width measurement (EN 868-5 Annex E)
Burst test (ASTM F1140) and bubble test (ASTM F2096)
Determination of air permeance (ISO 5636-5, ISO 11607-1 Annex C)
Microbial ranking (ASTM F1608) and testing for germ-proofness (DIN 58953-6)
Accelerated and real time aging (ASTM F1980)
Transport simulation (ASTM D4169, D7386 and ISTA)
Qualification of packaging materials
Validation of the forming, sealing and assembly processes of packaging for terminally sterilized medical devices
Validation of final packaging systems for sterile medical devices
Evaluation of the shelf-life of the sterile-packed medical device
Why UL Solutions
We offer a full range of medical device testing services to support your needs. From design to aftermarket, our scientists and toxicologists can help you demonstrate safety and mitigate the risk for your medical devices.
Evaluation is one of the key steps in the medical device life cycle, and we can help you evaluate your medical devices in accordance with national and global standards. Our familiarity with these standards makes for a seamless and trustworthy evaluation process.
We have a strong team of professionals in diversified domains, building on our 25 years of expertise in non-clinical medical device testing.
We have experience working with multiple regulatory bodies worldwide.
Our senior toxicologists are American board-certified.
Our scientists participate in developing the standards related to ISO 10993, ISO 18562 and more.
We have a presence in more than 100 countries.
Related standards
ISO 11607-1:2019
ISO 11607-2:2019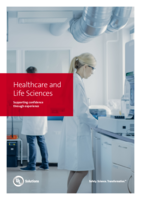 Medical Testing Services Overview Brochure (English)
7.72 MB
UL Solutions non-clinical services infosheet
521.82 KB
X
Get connected with our sales team
Thanks for your interest in our products and services. Let's collect some information so we can connect you with the right person.