Overview
Adequate risk assessment requires the characterization of toxicological hazards and exposures, as well as other potential biological responses to medical devices. A major component in hazard identification is chemical characterization. The characterization information generated can be used as part of an assessment of the overall biological safety of a medical device and the toxicological risk assessment in accordance with ISO 10993-17. Chemical characterization and toxicological risk assessment may also be used to determine whether further biological testing is needed.
UL Solutions can evaluate medical device compliance with biological safety requirements through analytical chemistry testing of devices that have direct or indirect body contact in accordance with harmonized (EU) and recognized (FDA) standards. These include ISO 10993-1:2018 Biological evaluation of medical devices – Part 1: Evaluation and testing within a risk management process and ISO 10993-18:2020 Biological evaluation of medical devices – Part 18: Chemical characterization of medical device materials within a risk management process.
The data obtained from analytical chemistry testing (chemical characterization or extractable/leachable studies) can be evaluated applying requirements from ISO 10993-17:2002 Biological evaluation of medical devices – Part 17: Establishment of allowable limits for leachable substances. Our team of toxicologists is ready to also apply requirements from the second edition of ISO 10993-17 Biological evaluation of medical devices – Part 17: Toxicological risk assessment of medical device constituents, once published.
Analytical chemistry procedures performed
We use numerous modern analytical test procedures, like GC/MS, LC/MS QTOF, FTIR, ICP, XPS, SEM/EDX and TOC, to help you perform the required physicochemical analyses.
UL Solutions can perform the following:
Material characterization of medical devices
Chemical characterization of medical devices
Physicochemical analyses of polymeric materials, metals, and ceramics
Residue analyses
Toxicological risk assessment
Why UL Solutions
We offer a full range of medical device testing services to support your needs. From design to aftermarket, our scientists and toxicologists can help you demonstrate safety and mitigate the risk for your medical devices.
Evaluation is one of the key steps in the medical device life cycle, and we can help you evaluate your medical devices in accordance with national and global standards. Our familiarity with these standards makes for a seamless and trustworthy evaluation process.
We have a strong team of professionals in diversified domains, building on our 25 years of expertise in non-clinical medical device testing.
We have experience working with multiple regulatory bodies worldwide.
Our senior toxicologists are American board-certified.
Our scientists participate in developing the standards related to ISO 10993, ISO 18562 and more.
We have a presence in more than 100 countries.
Related standards
ISO 10993-1
ISO 10993-18
ISO 10993-17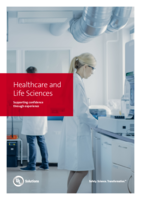 Medical Testing Services Overview Brochure (English)
7.72 MB
UL Solutions non-clinical services infosheet
521.82 KB
X
Get connected with our sales team
Thanks for your interest in our products and services. Let's collect some information so we can connect you with the right person.