Overview
Medical device manufacturers that manufacture sterile devices must produce their products under adequate and microbiologically monitored conditions. Furthermore, the final products, including their packaging, must be subjected to bioburden determinations in order to support the later sterilization success. For devices with an invasive application, endotoxin testing is necessary in order to evaluate the related risk.
Medical devices that are intended for reuse and require processing to take them from their state after clinical use to the state of being ready for their next use, which may include one or more cleaning, disinfection and sterilization or single-use medical devices that require processing before use and are intended to be used in a clean, disinfected or sterile state need to be supplied with detailed processing instructions in order to minimize the risks of transmission of infectious agents.
Microbiological testing for medical devices is important as medical devices contaminated with pathogens may be a source of infection for humans. According to the Medical Device Regulation, devices and their manufacturing process shall be designed in such a way as to eliminate or to reduce as far as possible the risk of infection to patients, users and, where applicable, other persons.
The requirements of cleaning, disinfection, and sterilization processes for medical devices can be divided into two product categories:
Cleaning as part of production and sterilization of medical devices delivered in a sterile state
Processing (cleaning, disinfection and sterilization) of reusable or single-use medical devices at the point of use
Based on ISO 13485, all these processes need to be subjected to validation studies.
Processing validation — cleaning, disinfection and sterilization
With our validated tests methods, which we perform in an accredited UL Solutions laboratory, we can support your validation studies and work with you on a combination of different tests, as needed. Our team offers expert evaluations in:
Cleaning and sterilization process validation of medical devices delivered in a sterile state
Processing validation (cleaning, disinfection and sterilization) of reusable medical devices
Bioburden determinations
Sterility test
Differentiation and detection of pathogenic microorganisms
Bacterial endotoxin testing (LAL tests)
Particle determination
Antimicrobial activity testing
Microbiological monitoring of production
Why UL Solutions
We offer a full range of medical device testing services to support your needs. From design to aftermarket, our scientists and toxicologists can help you demonstrate safety and mitigate the risk for your medical devices.
Evaluation is one of the key steps in the medical device life cycle, and we can help you evaluate your medical devices in accordance with national and global standards. Our familiarity with these standards makes for a seamless and trustworthy evaluation process.
We have a strong team of professionals in diversified domains, building on our 25 years of expertise in non-clinical medical device testing.
We have experience working with multiple regulatory bodies worldwide.
Our senior toxicologists are American board-certified.
Our scientists participate in developing the standards related to ISO 10993, ISO 18562 and more.
We have a presence in more than 100 countries.
Related standards
ISO 17664:2021 (Part 1 and 2)
ANSI/AAMI ST98:2022
ISO 17665-1:2006
ISO 11737-1:2018 and ISO 11737-2:2019
ANSI/AAMI ST72:2019
USP<788>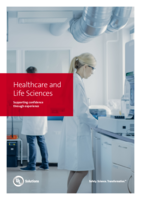 Medical Testing Services Overview Brochure (English)
7.72 MB
UL Solutions non-clinical services infosheet
521.82 KB
X
Get connected with our sales team
Thanks for your interest in our products and services. Let's collect some information so we can connect you with the right person.