Photovoltaic (PV) cables are an integral part of renewable energy infrastructure. There are different global regulatory requirements, and each specifies which cables are appropriate cable to use. To help you access the global market, UL Solutions can provide type-test reports and certification for these cables according to the following standards: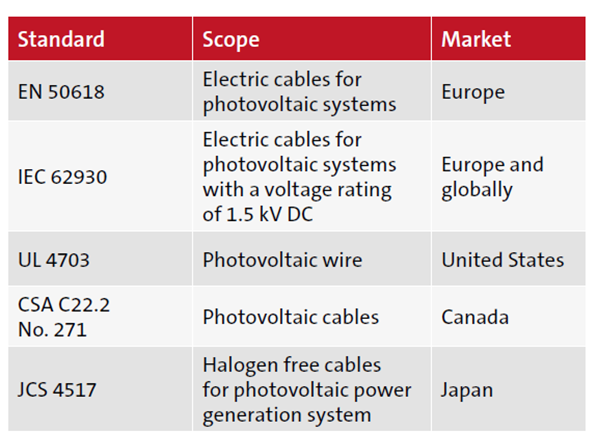 EN 50618 requires flexible (Class 5) halogen-free cables, from 1.5 mm2 to 240 mm2. The new IEC 62930 has a larger scope that covers both stranded (from 16 mm2) and flexible stranded (from 1.5 mm2) cables up to 400 mm2, as well as halogen-free cables and cables that may contain halogens.
How UL Solutions can help
UL Solutions can offer testing and certification solutions and services around market access to help evaluate a product for compliance to UL Standards as well as international standards:
Certification to North American standards
Certification to EN standards
S-Mark Certification Agency Service to JCS standards
Type testing*
Research testing*
Performance testing*
*Testing in accordance with one or more standards described above.
With our state-of-the-art testing, industry and engineering expertise and our global footprint, UL Solutions is well-positioned to deliver comprehensive compliance services for your global market access needs. Let us help assess your product's compliance to international standards, reduce supply chain risks. Once tested and certified, UL Solutions will list your PV cables on UL Product iQ®, a database where you can find a product's or component's UL Solutions certification information, locate UL Solutions guide information or search for alternative certified products.
Wire and Cable Solutions - Brochure
621.6 KB