Overview
Brazilian INMETRO certification, implemented by the National Institute of Metrology, Quality and Technology (INMETRO), is a mandatory program that ensures that products comply with safety and quality standards in Brazil. It covers a wide range of products and involves rigorous testing, assessment and inspection procedures. By obtaining the INMETRO certification, manufacturers demonstrate their commitment to meeting Brazil's regulatory requirements, enhancing consumer confidence and achieving legal compliance. The nationally recognized certification can enhance product competitiveness in both domestic and international markets.
Ordinance 384:2020
As of Dec. 18, 2020, Ordinance 384 has replaced Ordinance 54. The ordinance involves increased requirements for audited processes, including all items from ISO 13485 and items related to the project of the product — for instance, the risk management analysis at a manufacturer's facility.
The new ordinance will not impact certificates issued under Ordinance 54 unless INMETRO identifies a change to the project with a critical impact on the device's safety. In that case, the current certificate would be canceled, requiring a new certification process under the new ordinance, 384:2020. The certificates issued by INMETRO Ordinance 384:2020 have indefinite validity, requiring only annual certification maintenance. INMETRO Ordinance 384:2020 allows the use of the quality management system (QMS) audit report in addition to the valid certificate, which, after analysis, can be used to reduce the manufacturer's audit time. This is a great advantage of this program and contributes to the speed of the process.
INMETRO Ed. 3.1 of IEC 60601
Under RDC No. 549:2021 and Instruction IN-116:2021, Edition 3.1 of IEC 60601-1 is mandatory in Brazil for INMETRO certification.
INMETRO certification process
UL Solutions can provide comprehensive support, leading you through the certification process and ensuring that your product undergoes thorough testing to determine whether it meets all the necessary requirements for successful marketing and sales in Brazil. Testing at or by an International Laboratory Accreditation Cooperation (ILAC)-accredited laboratory like UL Solutions to applicable IEC 60601-based Brazilian Association of Technical Standards (ABNT) Norma Brasileira Regulamentadora (NBR) standards can help you with:
Device verification, including a review of technical documentation
Quality system audit based on ISO 13485, where an INMETRO auditor confirms the manufacturer's production process's compliance
Witnessed routine production tests conducted on 100% of the products bearing INMETRO certification
Yearly surveillance audits
Why UL Solutions for INMETRO certification?
We are an ILAC-accredited laboratory. We offer complete testing and test reports that meet Brazilian and other countries' requirements based on the IEC/NBR 60601 collateral and particular standards, including electromagnetic compatibility (EMC) and software evaluations as required by INMETRO.
We offer a wide range of services to help you confirm your compliance with Brazilian market regulations for medical devices. As an INMETRO-accredited CB specializing in electrical and non-electrical medical devices, we offer our customers the benefit of combining INMETRO factory audits with other audits (ISO 13485/MDSAP), reducing costs and complexity.
We can provide test reports that meet Brazilian and other countries' requirements, and we have experts on the ground in Brazil who are active in relevant committees and can help you predict changes in legislation and interpret requirements.
We are also authorized and accredited to perform audits as part of the Medical Device Single Audit Program (MDSAP). Through MDSAP participation, you can gain entry into multiple markets while fulfilling regulatory obligations set by various authorities, including ANVISA in Brazil.
Impartiality statement: As a notified body, MDSAP-Recognized Auditing Organization and ISO 17000 series-accredited certification body, UL Solutions cannot participate in the design, manufacture, installation or distribution of the products we certify, nor can we provide consultancy services related to those products. In addition, we cannot provide certification services to companies that have been provided with consultancy services from other companies in the UL family. We also cannot link our activities to the activities of organizations that provide consultancy services. If you require such services, please use an internet search engine to identify relevant providers.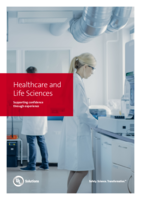 Medical Testing Services Overview Brochure (English)
7.72 MB
X
Get connected with our sales team
Thanks for your interest in our products and services. Let's collect some information so we can connect you with the right person.