UL Solutions' certification services for the Medical Devices Single Audit Program (MDSAP) help manufacturers demonstrate compliance of their quality management system (QMS) to ISO 13485:2016, as well as the medical device regulatory requirements in five major medical device industry jurisdictions (U.S., Canada, Australia, Japan and Brazil), all with a single QMS certificate.
What is MDSAP?
The Medical Device Single Audit Program (MDSAP) is a standard set of requirements for auditing organizations (Certification Bodies) that perform regulatory audits of medical device manufacturers' QMS. The audits must be conducted by an approved auditing organization (AO) like UL Solutions.
What is the relationship between MDSAP and ISO 13485 Certification?
MDSAP certificate combines the requirements of ISO 13485:2016 standard with the medical device regulatory requirements of the five member countries. In Canada, the MDSAP certificate has replaced the ISO 13485 certificate in the device license application process.
Who are the MDSAP participating regulatory authorities?
Australia – The Therapeutic Goods Administration (TGA)
Brazil – Agência Nacional de Vigilância Sanitária (ANVISA)
Canada – Health Canada (HC)
Japan – The Ministry of Health, Labour and Welfare, and the Japanese Pharmaceuticals and Medical Devices Agency (HMLW and PMDA)
United States – U.S. Food and Drug Administration (FDA)
Other regulatory authorities may opt to become participants in the future. In addition, MDSAP currently has five affiliate member countries: Argentina, Indonesia, Israel, the Republic of Korea and Singapore.
MDSAP benefits for medical device manufacturers
MDSAP is expected to significantly reduce the number of audits from different regulatory bodies that are otherwise required to demonstrate a manufacturer's continued compliance with the QMS requirements of each MDSAP regulatory agency, saving time and reducing interruptions to manufacturing operations. Specific benefits of MDSAP include:
Broader acceptance of audit reports among participating regulators.
More transparent and consistent oversight by regulators, including follow-up on audit findings.
Use of MDSAP audit reports by regulatory authorities in the review of certain specific regulatory approval applications and incident reports.
ISO 13485:2016 certification for your company's QMS compliance through the MDSAP, how member countries use MDSAP:
Australia – The TGA currently uses MDSAP audit reports and certificates as part of the evidence that is assessed for compliance with medical device conformity assessment procedures and market authorization requirements, unless the medical device is otherwise excluded or exempt from these requirements or if current policies restrict the use of MDSAP audit reports.
Brazil – ANVISA currently utilizes MDSAP audit reports in their certification decision for Brazilian GMP ANVISA certificates (ANVISA inspection is not required).
Canada – MDSAP certification is required to obtain a new (or maintaining or amend an existing) Class II, III or IV medical device license.
Japan – When an MDSAP audit report is submitted at the timing of premarket or periodical post-market QMS inspection application, Japan's Ministry of Health, Version 018 2022-08-22 Labour and Welfare (MHLW) and Pharmaceuticals and Medical Devices Agency (PMDA) will use the report:

To exempt a manufacturing site, etc., from on-site inspection (exceptions exist), and/or
To allow a marketing authorization holder (MAH) to substitute a considerable part of the documents required for the inspection with the report.

United States – U.S. Food and Drug Administration's (FDA) Center for Devices and Radiological Health will accept the MDSAP audit reports as a substitute for FDA routine inspections.
UL Solutions MMS program requirements
Medical management system documentation
609.52 KB
Medical Device Single Audit Program process
Similar to other management system audit programs, MDSAP is based on a three-year audit cycle conducted in accordance with the requirements of ISO/IEC 17021:
Stage 1 initial certification audit – Review of documentation and overall preparedness. Typically includes a review of the planning documentation.
Stage 2 initial certification audit – Evaluate QMS compliance to ISO 13485, as well as other requirements of MDSAP-participating regulatory authorities.
Surveillance audits – A surveillance audit is conducted annually to also assess any changes in the manufacturer's products or QMS processes since the initial certification audit.
Recertification audit – Conducted in the third year to evaluate a manufacturer's QMS for its continued suitability and effectiveness in meeting QMS requirements under MDSAP.
Impartiality statement: As an ISO 17000 series accredited Certification Body, MDSAP Recognized Auditing Organization and a notified body subcontractor, we do not participate in the design, manufacture, installation or distribution of the products we certify nor do we participate in the design of quality management systems we certify and we do not provide consultancy services related to those products or services. In addition, UL Solutions does not certify quality management systems that have been designed by other companies in the UL Solutions family. We also do not link our certification activities to the activities of organizations that provide product or quality management consulting services. If you require such services, please use an internet search engine to identify relevant providers.
Why choose UL Solutions
UL Solutions is a global leader in applied safety science.
As a UKAS-accredited Registrar under ISO 17021, UL Solutions provides QMS registration to multiple programs. Under UKAS, we offer audits to ISO 13485 and combined audits to ISO 13485 and ISO 9001.
All our auditors are full-time UL Solutions employees providing consistent audit experiences and support throughout the life of your QMS.
Our experienced regulatory auditors and assessors are part of our 15,000 mission-driven employees working in more than 40 countries to serve customers in over 100 countries.
The UL Certification Marks serve as a recognized symbol of trust globally and reflect an unwavering commitment to advancing our safety mission.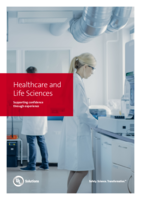 Medical Testing Services Overview Brochure (English)
7.72 MB
X
Get connected with our sales team
Thanks for your interest in our products and services. Let's collect some information so we can connect you with the right person.