Overview
We have the flexibility of using an existing test method or a customized test procedure to evaluate new and innovative construction designs as well as various fire suppression techniques. The test data can identify specific levels of fire risk, evaluate possible solutions and substantiate performance acceptance.
Benefits
As the complexity of structures, materials and building contents increases, you need a precise understanding of the risks you face in the event of a fire and catastrophic loss. We can help you gain valuable and practical insights into fire safety and prevention. This knowledge, in turn, helps you manage risks more effectively and make informed business decisions to ensure business continuity.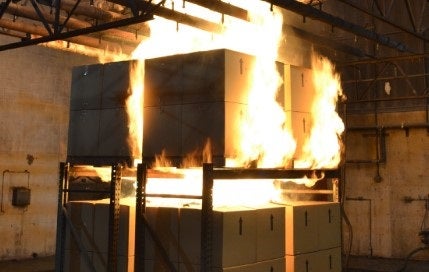 Why UL
Since 1894, we have developed standards, conducted fire safety testing, granted product certification and performed research programs. Our technical expertise, testing capabilities and portfolio of product certifications, together with our global reach, enables us to be a full-service provider. Our fire suppression team works with you to optimize resources and customize evaluations to achieve timely and individualized solutions.
Our services support the fire suppression industry's need for reliable, accurate test results and certifications. The testing process is streamlined to control costs and accelerate time-to-market for you, with no compromises in integrity or scientific excellence. In today's fast-moving business environment, our fire suppression team adapts to stay at the forefront of fire safety advancements.
We provide authorities having jurisdiction (AHJs), insurance companies, architects, designers and building owners with the information they need to verify fire suppression product performance, reliability and suitability.