Overview
Factory automation uses control equipment to operate different industrial processes or machinery. Factory control systems increase manufacturing productivity and can simultaneously decrease production costs by improving quality, lowering labor expenses, and reducing risk to workers.
Certification by a trusted, independent third party can help ensure that you are safely integrating your products into industrial processes and preventing potential hazards. With decades of experience navigating the complex world of industrial machinery, we can serve as your independent third-party certifier for safety and compliance.
Service
We offer certifications and guidance on the following components:
Factory automation equipment

Industrial machinery

Automated guided vehicles

Cabinets and boxes

Industrial control panels and accessories

Elevator equipment

Fire pump controllers

Lifting equipment

Robotics and welding equipment
We provide certification of industrial control panels to UL 508A, the Standard for Industrial Control Panels. We also offer certification and guidance to cover a wide variety of industrial products according to end-application needs.
In addition to certifying to U.S. and Canadian requirements, we can also offer informative reports and advisory services on various International Electrotechnical Commission (IEC) standards.
Manufacturers with in-house testing capabilities may qualify to perform testing at their facilities under UL's Data Acceptance Program (DAP). Such testing can help reduce certification process costs and time.
Why UL
Leading factory control system manufacturers around the world choose us to help them obtain the necessary certifications for country-specific compliance. Our wide range of safety, performance and compliance services provide the reliable credentials and assurance necessary for gaining global market access and differentiation for industrial control products, including industrial control panels, programmable logic controllers and combination motor controllers. We can also ease the transition to IEC standards for industrial control equipment.
When you work with us, we'll assist you at every stage of your product's development to accelerate market acceptance and deployment. Our goal is to help your business bring safe industrial control equipment to your customers quickly, easily and efficiently.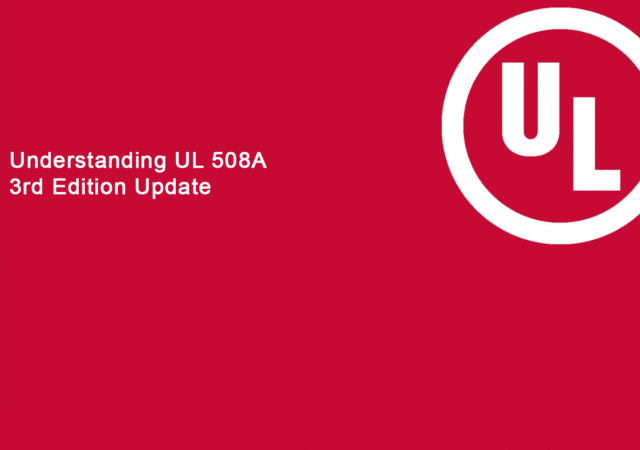 Webinar: Understanding UL 508A 3rd Edition Update
Hear UL's Principal Engineer for Industrial Control Panels, John Kovacik, and gain an insider's look at the detailed changes relevant to the new UL 508A 3rd Edition.
Watch our webinar

Avoid Design Pitfalls by Streamlining Enclosure Certification
Enclosure manufacturers that optimize their design process from the beginning are able to save time and money for their company.

Designing for Safety Compliance in Industrial Control Panels
This comprehensive on-demand eLearning course focuses on how to construct General Use Industrial Control Panels in accordance with the Standard for Industrial Control Panels, UL 508A, 2nd Edition.