THE CONTENT OF THIS WEBINAR IS FOR GENERAL INFORMATION PURPOSES ONLY AND IS NOT INTENDED TO CONVEY LEGAL OR OTHER PROFESSIONAL ADVICE.
Watch now: Things to Know About IEC 60601-1 Amendment 2
We will share details of the changes, possible areas of concern and which collaterals have undergone major changes. We will also share key points to consider when using 62368-1 devices in your design, such as a means of patient protection.
Webinar date: July 14, 2022
Speaker: Pamela Gwynn, principal engineer
The IEC published amendment 2 to IEC 60601-1, the standards for the basic safety and essential performance of medical electrical equipment, in August 2020. With updates to the base standard published, the amendments to the collateral standards quickly followed.
While many of the updates to the base standard consist of corrections or clarifications to existing requirements, some of the updates require effort on the part of manufacturers to upgrade from the previous version. This includes updates to:
Risk management standard ISO 14971:2019

Usability standard IEC 62366-1:2015 + AMD 1:2020

Software standard IEC 62304:2006 + AMD1: 2015
Clause 8 updates allow IEC 62368-1:2018 compliant devices to provide means of operator protection.
File available to download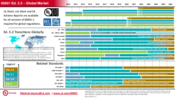 60601-1 Edition 3.2 Adoption Schedule
381.95 KB
Transitioning to IEC 60601-1 amendment 2 Infosheet (English)
459.6 KB
Attend an upcoming webinar
Ready to elevate your industry IQ with insights and news from experts? Register for one of our upcoming events.
View upcoming webinars
X
Get connected with our sales team
Thanks for your interest in our products and services. Let's collect some information so we can connect you with the right person.