Lehmann&Voss&Co, a leading provider of high performance thermoplastic compounds has increased customer satisfaction, received global leads and gained efficiencies in their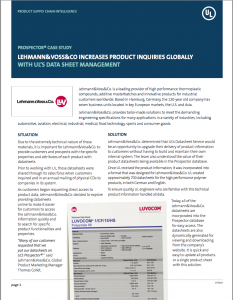 Gain Efficiencies and Increase Customer Satisfaction with UL's DataSheet Services
internal processes by leveraging UL's datasheet services. After standardizing and tailoring their datasheets with UL's datasheet services, Lehmann&Voss&Co noticed an overall increase in customer satisfaction with the information provided and increased global inquiries for their products. The company has also been able to eliminate more manual datasheet delivery processes.  
UL's datasheet services standardizes and delivers company datasheets, ensuring data is available for the right audience and improving customer experiences. This solution eliminates manual data management from your work flow, saving you time and money.
Read more about how Lehmann&Voss&Co achieved these results in this case study.
Additional resources: