大型组织、小型公司和市政当局都在朝着一个统一的目标努力:实现零废弃物。UL Solutions 能够检验公司的这方面努力,并通过业内首批适用于零废弃物和废弃物转移声明的标准之一,为这些努力提供可信度。
全面的废弃物转移验证计划
在向循环经济转型的道路上,废弃物产生和废弃物减少已经成为关键问题。根据 Statista 的报告,到 2050年,全球产生的固体废弃物预计增加近 70%,达到 34 亿公吨,只有不到 20% 的废弃物会被妥善处置或回收,因此人们对零废弃物战略和验证的兴趣一直在不断增长。 
各种规模的企业都在寻求降低与废弃物有关的风险。对于寻求可持续发展的企业及其利益相关者来说,可持续废弃物管理和验证变得至关重要,因为这些做法能给地方经济、全球社会和环境带来直接利益。实现零废弃物是实现可持续发展的重要一步。它不仅能够满足目前的需求,而且还不会危及后代的发展。
UL Solutions 废弃物转移验证计划的重点是监控和衡量未成为组织最终产品的材料流。我们提供废弃物填埋转移声明验证,对采用环境负责和创新方式处理废弃物的公司进行认可。创新处理的方法例如: 
通过焚化进行能源生产 
再利用 
回收 
堆肥
未转移的材料被视为已弃置并被送往废弃物填埋场或被焚化且未进行能量回收。 
废弃物零填埋环境声明验证
UL 2799A《零废弃物分级环境声明验证程序(ECVP)》要求通过废弃物焚烧转能以外的方法实现至少 90% 的转移,才能获得三个废弃物零填埋称号之一: 
银级——90–94% 转移。
金级——95–99% 转移。
铂金级——100% 转移。
每一项环境声明验证均经过清晰的定义、细致的审查和彻底的评估,从而使企业及其客户能够理解该重要成就的环境意义。
根据 UL 2799《废弃物零填埋环境声明验证程序》标准,未实现 90% 以上转移的公司也将获得废弃物填埋转移声明。
零废弃物或低废弃物工厂的优势
零废弃物或低废弃物工厂的优势包括:
降低废弃物处理的相关成本
降低对有限填埋空间的依赖性
降低范围 3 温室气体排放
成为对环境负责的企业公民
在 UL Solutions 废弃物零填埋计划中达到合规的工厂可在我们的 SPOT 可持续发展数据库中列名,从而支持您为了提高透明度所做的努力。客户有权在其宣传和营销材料上使用 UL 环境声明验证(ECV)标志,提升信誉,并助力您的工厂在竞争激烈的市场中脱颖而出。
UL Solutions 还提供服务支持公司执行和推广废弃物减量声明。我们可以执行就绪度评估、开发优化废弃物减量、再利用和回收流程的计划,并且验证有关废弃物或材料可回收性、回收物质含量及回收计划的声明。
UL Solutions 如何提供帮助
UL Solutions 废弃物零填埋验证助力企业将环境管理转化为真正的市场领导力。我们协助开发了超过 80 种不同的环境测试和审核程序,以验证环境声明。我们有能力协助世界各地的公司进行可信的废弃物转移成果第三方验证。
相关标准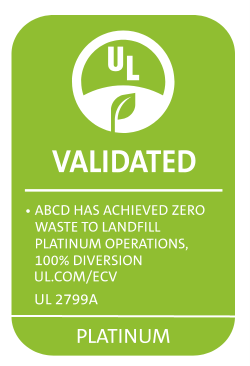 Get recognized. Spread the word.
Once the waste diversion claims are validated, companies can use the UL Environmental Claim Validation Mark on relevant marketing materials.
Facilities that achieve compliance with UL Solutions Zero Waste to Landfill program are featured by name in our SPOT sustainability database to support your efforts to promote transparency. Customers are entitled to use the UL Environmental Claim Validation (ECV) Mark in their promotional and marketing materials, which provides extra credibility and can help differentiate your facility in a competitive marketplace.
UL Solutions also offers supportive services to help companies implement and promote their waste reduction claims. We conduct readiness assessments, develop programs to optimize processes for waste reduction, reuse and recycling; and validate claims for recyclability, recycled content and take-back programs for waste or reclaimed materials.
Benefits of environmentally responsible waste management
Benefits of operating a zero- or low-waste facility include:
Reduced costs associated with the disposal of waste.
Reduced reliance on limited landfill space.
Reduced Scope 3 Greenhouse Gas Emissions.
Being an environmentally responsible corporate citizen.
How UL Solutions can help
UL Solutions Zero Waste to Landfill Validation empowers businesses to transform their environmental stewardship into authentic market leadership. We have contributed to the development of more than 80 different environmental testing and auditing procedures to validate environmental claims. We are well-positioned to help all companies worldwide secure credible, third-party validation of waste diversion achievements.
Related standards
Landfill Waste Diversion Claim Validation
1.53 MB