Overview
Today's hazard challenges require yesterday's experience and tomorrow's insight. With more than 100 years of experience working with all stakeholders in the HazLoc industry, you can rely on us to enable you to achieve global market access and peace of mind.
Leverage our relationships and brand recognition with local certification staff to help understand local regulations and obtain local certification marks using your UL, C-UL, ATEX, International Electrotechnical Commission Explosive (IECEx) or National Institute of Metrology Standardization and Industrial Quality (INMETRO) certifications.
HazLoc experts are committed to safely serving our customers during COVID-19
Whether in the lab or by utilizing remote technology, we continue to certify products for global market access – helping to strengthen your business continuity.
Hazardous Locations Video
The hazardous locations industry is continually challenged to design and produce safe, reliable, energy efficient and innovative products for use in potentially explosive atmospheres.

To help facilitate quicker turnaround time on projects for customers, our lab has been designed with automation implemented. We have upgraded and added capabilities to five new test stations that make this a truly state-of-the-art lab. Watch this video to see how we help our customers get to market faster.
We provide the following global HazLoc areas of focus:
UL, C-UL, ATEX, IECEx and Global Market Access
Equipment testing, certification and repair facility services, including IECEx, ATEX, INMETRO, and UL/C-UL conformity assessment schemes for onshore and offshore HazLoc equipment
Flammable and combustible fluids equipment, including IECEE, IECEx, ATEX and UL/c-UL conformity assessment schemes for gas and oil equipment
Offshore oil and gas applications, including IECEx, ATEX, INMETRO, and UL/C-UL conformity assessment schemes for HazLoc equipment in the factory or in the field
Personnel competency, including IECEx Certificate of Personnel Competence (CoPC) Scheme
Production quality assessment, including IECEx, ATEX, and INMETRO quality assessment reports (QARs) and production quality assurance notifications (PQANs)
Safety science research, including research that regularly drives advancements in national and international codes and standards
Technical education and training, including private workshops in customer facilities and public workshops at one of UL's offices or other convenient public venues
The HazLoc industry stakeholders that are supported by these series include:
Equipment manufacturers, including but not limited to gas detectors, heaters, industrial and process controls, luminaires, motors, programmable logic controllers, robotics, sensors, signaling equipment, wearable technologies and wireless communication
End users, including oil and gas (both onshore and offshore), chemical, agricultural, energy, transportation, pharmaceutical and mining
Inspection and regulatory community, including electrical inspectors, fire marshals, and health and safety regulators (International Association of Electrical Inspectors (IAEI), International Association of Fire Fighters (IAFF), Health Service Executive (HSE), Occupational Safety and Health Administration (OSHA), United States Coast Guard (USCG) and Bureau of Safety and Environmental Enforcement (BSEE))
Codes and standards development organizations, including Brazilian National Standards Organization (ABNT), American National Standards Institute (ANSI), Bureau of Indian Standards (BIS), National Standard of Canada (CAN), Guo Biao (GB), International Electrotechnical Commission (IEC), International Society of Automation (ISA), Japanese Industrial Standard (JIS), Korean Industrial Standards (KS), National Fire Protection Association (NFPA), European Committee for Electrotechnical Standardization (CENELEC) and UL
Why UL
We drive global research and standards to continually advance and meet ever-evolving product safety, performance and interoperability needs. Our global network of technical experts and state-of-the-art facilities, along with our long-standing relationships with regulatory authorities, partner laboratories and industry technical leaders, helps manufacturers gain the compliance credentials they need to compete in a more complex global supply chain. Leverage our global brand acceptance and trust to add value to your innovations.
Single-source provider
Our global family of certification staff around the globe can help save you time and money with a single, local point of contact for your global certification needs.
Knowledge and speed
We have technical expertise versed in all protection methods with comprehensive industry knowledge that translates into actionable business efficiencies for our customers to speed time to market. Engineers perform Quality Audits bringing a higher level of technical competency to the audits. With a U.S. based certification officer (CO) on staff, certification time is reduced.
Global Market Access
Leverage UL's active participation and leadership in the global standards writing process. You can benefit with faster time to a global marketplace with the UL certification process, not only do we understand the requirements – we helped develop them. In fact, we participate in more than 50 standards writing committees, such as: TC31 (IECEx), Standards Technical Panels (STPs) (North America), NFPA, American Petroleum Institute (API), and BSEE and Code of Federal Regulations (CFR) committees. UL can also help streamline the certification of custom-built Hazardous Location (HazLoc) equipment, including control panels, for global market access by including UL, C-UL, ATEX and IECEx certifications.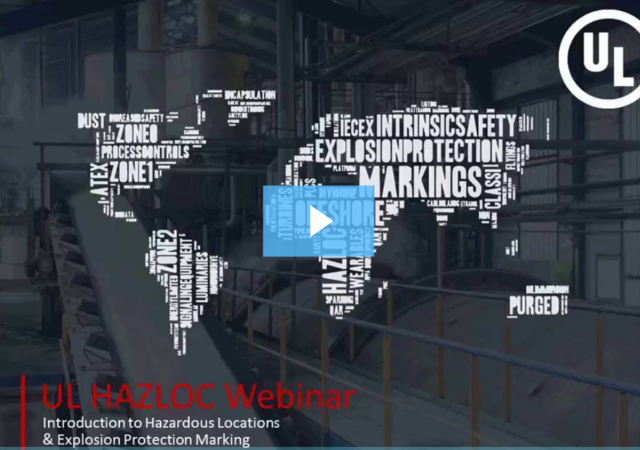 Webinar: For Accelerated Global Market Access – Understand Your Hazloc Markings
Navigating the complex landscape of global hazardous locations and explosive atmospheres is a challenge.
Watch our webinar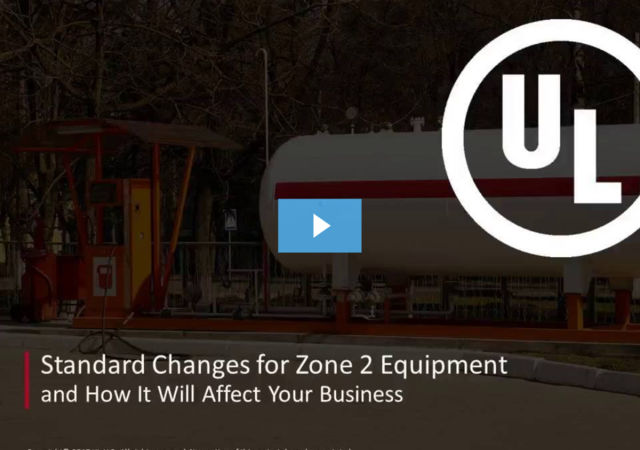 Webinar: Standard Changes for Zone 2 Equipment
Potentially explosive atmospheres requirements evolve continuously and keeping up to speed can be challenging.
Watch our webinar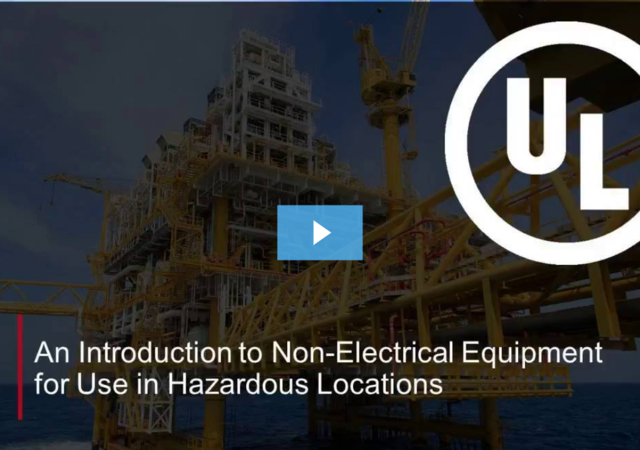 Webinar: Non-Electrical Equipment for Use in Hazardous Location – An Introduction
New Standards have been published recently for non-electrical equipment for use in potentially explosive atmospheres.
Watch our webinar