Our environmental claim validation capability  
While many of today's manufacturers are working to enhance products' environmental health attributes, the increasing number of eco-labels has blurred the language used to communicate environmental safety to consumers. As your third-party product safety science partner, we can help you demonstrate that your products are as green as they say they are.
The UL Environmental Claim Validation helps manufacturers communicate their products' environmentally preferable attributes clearly and credibly, equipping them with a powerful tool for differentiation in an increasingly cluttered marketplace. Environmental claim validations from UL Solutions include:
Recycled content
Validates the post-consumer, pre-consumer (post-industrial) or total recycled content of a product by means of auditing.
Byproduct synergy
Validates supply chain localization, material optimization, waste minimization and virgin material substitution achievements through active dialogue and working across facilities from diverse industries.
Rapidly renewable content
Validates that a product contains material that has a harvest cycle of less than 10 years. Examples of raw materials with a short harvest cycle include bamboo, corn and cork.
Recyclability
Evaluates a product's recyclability through testing or auditing.
Paper-based products recyclability
Validates the recyclability of paper-based products through conducting repulpability tests and calculating recyclability rates based on the fiber content in sample products.
Volatile organic compound (VOC) content
Tests the VOC content of products in accordance with standard test methods and South Coast Air Quality Management District (SCAQMD) rules. Note these test are only conducted on liquid or aqueous solutions, such as paints, adhesives, sealants, coatings and other similar products.
Reclamation program/facility
Validates claims associated with reclamation programs or centers that a manufacturer might have to reclaim used products/materials by means of auditing.
Mold resistance
Tests certain products/materials for resistance to microbial growth in accordance with standard test methods, such as ASTM D3273, ASTM C1338 and ASTM G-21.
Landfill waste diversion
Validates a company's waste diversion claims to a variety of levels through auditing.
Energy-saving power strips
Evaluates the energy savings of a power strip through testing.
Biobased content
Validates that a product contains biobased content through testing. Examples of biobased content include polylactic acid (PLA), crop residues and wood residues, among others.
Formaldehyde-free
UL Solutions validates claims that a product does not contain formaldehyde, or formaldehyde precursors, using a combination of auditing raw material inputs and testing chemical emissions from the product. Qualifying products must also maintain UL GREENGUARD Gold certification to ensure no other harmful chemicals are emitted into indoor air.
Particulate, VOCs or mold and bacteria filtration efficacy for air filters
Evaluates and ultimately validates the performance claims regarding the percentage reduction of particulate, VOC, mold and bacteria levels for air filters.
Innovative claims
UL Solutions sometimes provides validation of environmental claims that are new to market or do not have an existing UL Solutions' protocol. Please contact 888.485.4733 for questions about claims not found on this page.
Benefits of environmental claim validation and compliance 
With UL Solutions' environmental claim validations, products get independent third-party confirmation of their compliance with various green codes, standards and procurement policies, including the LEED® Green Building Rating System, IgCC, GSA Advantage!®, ASHRAE 189.1 and more. This helps product visibility among key specifiers while driving marketplace demand.
Because these environmental claim validations are backed by UL Solutions, one of the world's most trusted names in product safety and certification, customers are empowered to make more informed purchasing decisions that help combat greenwashing.
Why UL Solutions for environmental claim validation 
UL Solutions is one of the world's most trusted names in product safety and certification and delivers environmental claim validations that help manufacturers and brands demonstrate the sustainable attributes of their products to fulfill green building requirements.
"For us, the value UL Solutions brings is to help us have trust in the recycle streams we're utilizing, and then also convey that trust to our customers."

Bob McKay
Sustainability Marketing Manager, SABIC
Download our brochures and whitepaper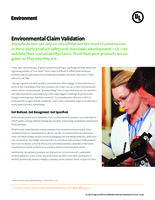 Environmental Claim Validation info sheet
360.71 KB
Neither Boastful Nor Bashful: Making Effective Sustainability Claims
5.15 MB