Northbrook, IL, - May 15, 2013 - The following is a notification from UL to consumers, retailers, and distributors that the decorative lighting string identified below bears a counterfeit UL Mark for the United States and may pose a fire or shock hazard.  The decorative lighting string does not comply with UL's safety requirements and is not eligible to bear the UL Mark.
Name of Product: 100 Candy Corn Light Set
Hazard: The decorative lighting string insulation is missing flame retardant elements and can become brittle over time posing a fire or shock hazard.
Identification:
On the product: The cord has gold colored holographic label consisting of the UL Mark and the following:

DECORATIVE LIGHTING STRING
T-5,214 ISSUE NO. T-5,214
FOR INDOOR AND OUTDOOR USE
The cord also has a white tag with the following information:
E316855 Made in China
Model HCH-1002(0.34)120V, 60 Hz, 0.34A, 42.5 Watts 0512
On the packaging:
100 Candy Corn Light Set
INDOOR/OUTDOOR
STRING TO STRING
LIGHTED LENGTH:  25.5 FT (7.77M)
TOTAL LENGTH: 28FT (8.53M)
Distributed by:
SPIRIT
6826 Black Horse Pike
Egg Harbor Twp., NJ 08234-4197
MADE IN CHINA
http://www.spirithalloween.com/
Photos of the product: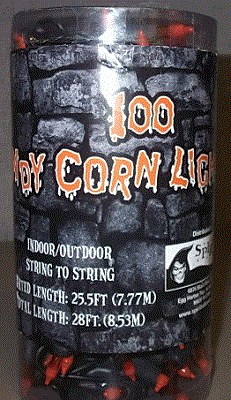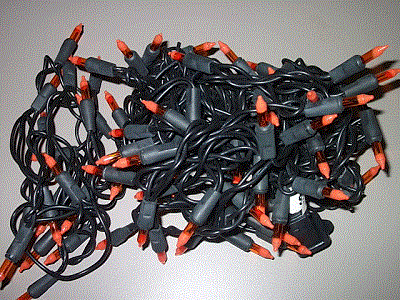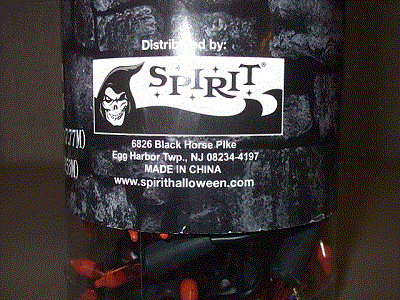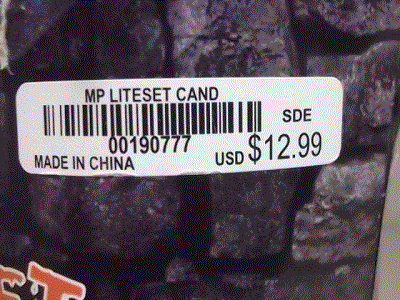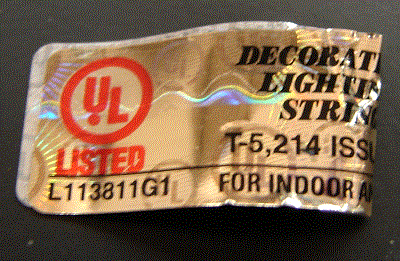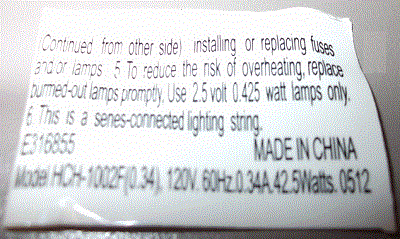 Known to be sold at: Spirit Halloween, http://www.spririthalloween.com/ . May have been sold at other locations.