NORTHBROOK, Ill., May 19, 2015 -- The following is a notification from UL that the protective garments including coveralls and vests identified below bear counterfeit UL Marks. The clothing has not been evaluated by UL to the appropriate National Fire Protection Association (NFPA) Safety Standard NFPA 2112. It is unknown if these garments comply with any safety requirements.
Name of Product: Zimpex Flame Resistant Garments
Identification:  The products bear counterfeit UL Classification Marks and the following text markings (misspellings below are as they appear on the actual labels):
THE GARMENT IS FLAM RESISTANT
WARNING
THIS FLAME RESISTANT GARMENT MEETS
THE REQUIREMENTS OF NFPA 2112, STANDARD
ON FLAME-RESISTANT GARMENTS FOR
PROTECTION OF INDUSTRIAL PERSONNEL
AGAINST FLASH FIRE, 2007 EDITION
PROTECTIVE CLOTHING FOR PROTECTION
OF INDUSTRIAL PERSONNEL AGAINST
FLASH FIRE IN ACCORDANCE WITH
NFPA 2112 2007 EDITION
NFPA 2113 REQUIRES UPPEPR
AND LOWER BODY COVERAGE.
THIS GARMENT RESISTS IGNTION WHEN EXPOSED
TO FLAME OR ELECTRIC ARC AND WILL NOT CONTINUE
TO BURN WHEN REMOVED FROM THE IGNITION SOURCE.
THIS GARMENT IS NOT DESIGNED FOR EXTENDED
EXPOSURE TO FLAME OR HEAT OR FOR EXPOSURE
TO CHEMICALS, NOT LIQUIDS OR STEAM.
IT SHOULD NOT BE USED FOR FIRE ENTRY,
FIRE FIGHTING OR OTHER ACTIVITES INVOLVING
EXTENDED EXPOSURE TO FLAME OR HEAT.
THE USER IS RESPONSIBLE TO DETERMINE
THAT THIS GARMENT IS APPROPRIATE FOR
THE INTENDED USE AND COMPLIES WITH
ALL LAWS AND REGULATORY STANDARDS.
THE USER ASSUMES ALL RISKS ASSOCIATED
WITH THE USE OF THIS PRODUCT.
FR-INDUSTRIES SHALL NOT BE LIABLE
FOR ANY LOSS, INJURY OR DEATH ARISING
OUT OF THE USE OF THIS PRODUCT
DO NOT REMOVE THIS LABEL
ZIMPEX.INC
FLAME RESISTANT WORK WEAR
PROTECTIVE CLOTHING FOR PROTECTION
OF INDUSTRIAL PERSONNEL AGAINST
FLASH FIRE IN ACCORDANCE WITH
NFPA 2112-2012
XL
88% COTTON 12% NYLON
ARC RATING
10 ATPV
FABRIC MADE IN CHINA
GARMENT MADE IN CHINA
RN 127176
ZIMPEX.INC.BAKERSFIELD
CA.93314
FLAME RESISTANT WORK WEAR
PROTECTIVE CLOTHING FOR PROTECTION
OF INDUSTRIAL PERSONNEL AGAINST
FLASH FIRE IN ACCORDANCE WTIH
NFPA 2112-2012
M
                             2

 2
Meets ANSI/ISEA 107-2004 Class 2
Meetts ASTM F1506
NFPA 70E/ HRC2
88% COTTON 12% NYLON
ARCR.ATING
10 ATPV
FABRIC MADE IN CHINA
GARMENT MADE IN CHINA
RN127176
ZIMPEX.INC BAKERSFIELD
CA.93314
Picture of counterfeit UL label on inside of garment: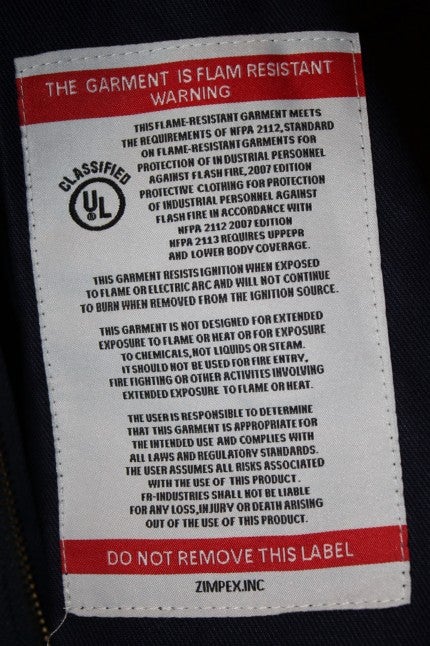 Picture of counterfeit UL label on collar of coveralls: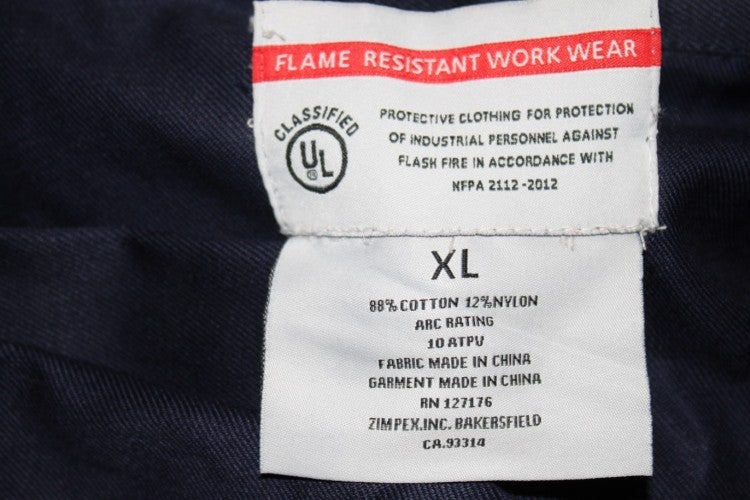 Picture of counterfeit UL label on collar of vest: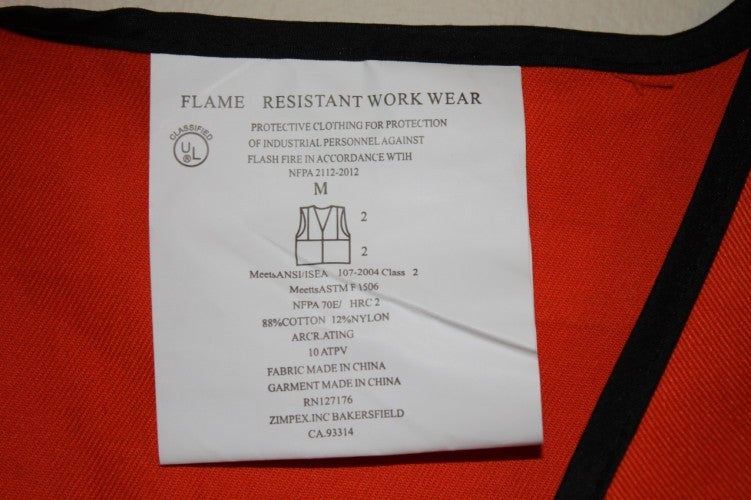 Distributor: Known to be distributed by Zimpex Inc., 309 Sonoma Vine Ct., Bakersfield, CA 93314, USA