Offshore wind energy has grown exponentially in the past decade and is now a well-established, mature industry. To date, however, more than 99% of the installed offshore wind project capacity has been in bottom-fixed projects in water depths up to 60 meters (m).
The International Energy Agency's study, "Offshore Wind Outlook 2019," revealed that there is enough offshore wind resource to cover the current global power demand many times over. However, the study also discovered that about 80% of this potential is found in water depths deeper than 60 m, which is past the current technological limitations of the bottom-fixed wind industry. Considering that only about 50 turbines will have been fully commissioned by the end of 2023, according to ForeSEE's Global Offshore Wind Farm Database, the floating offshore wind industry will need to grow exponentially to achieve its full potential.
However, reaching rapid growth will require careful consideration of the proposed technology to help facilitate the delivery of successful projects. This article will discuss the current state of development for the floaters, which, together with moorings, in UL Solutions' experience, can make up 40% of capital expenditure (capex), as well as the criteria that UL Solutions considers when selecting floater technology.
Types of floater structures
Floater structures are designed to support the operation of the wind turbine generators (WTG) and associated electrical infrastructure while maintaining stability and resisting the environmental and WTG loading applied for the entire life of the structure.
Three dominant floating WTG support structure typologies, adapted from the oil and gas industry, are typically considered for floating wind projects. The typologies differ principally on the method of stability employed, as follows:
Semi-submersible (semi-sub) and barge/pontoon – These platforms float semi-submerged on the sea's surface, and they rely on distributed waterplane buoyancy and ballast for stabilization. This floater type has the most cumulative installed capacity to date.
Spar – A spar is a cylindrical ballast-stabilized structure that gains stability due to the center of gravity being lower than the center of buoyancy. To achieve this, the lower part of the spar is heavy while the upper part is lighter, which raises the center of buoyancy.
Tension-leg platform (TLP) – The name of this structure refers to the semi-submerged buoyant structure anchored to the ground with tensioned mooring lines that provide stability.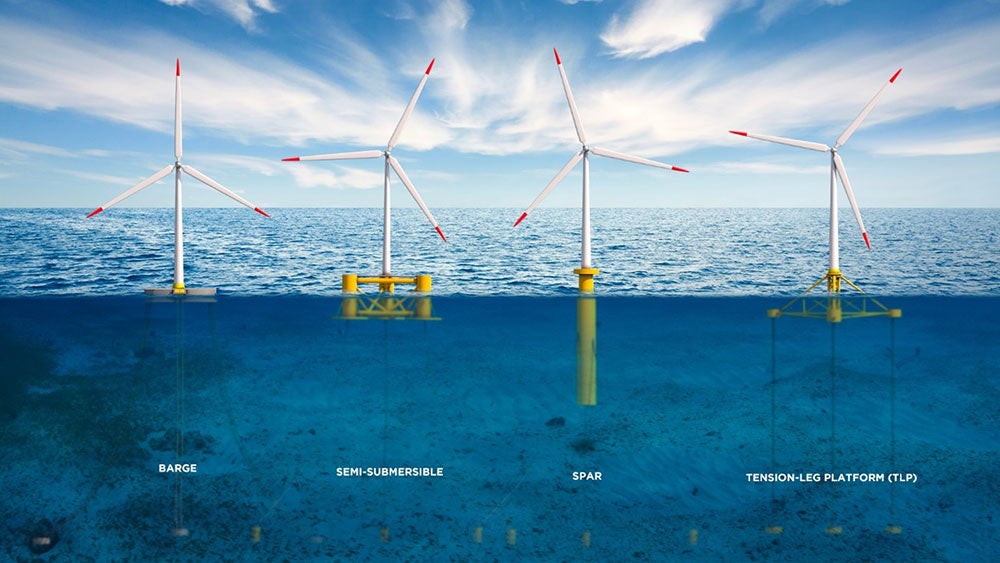 Choosing a floater type 
Each of the floater solutions presented has particular advantages and disadvantages. Local site-specific conditions, as well as commercial and practical considerations, determine the most suitable sub-structure.
Technology readiness level (TRL) – The current stage of the concept on the pathway to full-scale commercialization.
Capex – Cost for fabrication (weight, materials use, complexity, etc.) and installation, i.e., vessel size and complexity of anchoring and mooring systems.
Fabrication – Ease of manufacturing, such as modularity, the requirement for specialist labor, fabrication complexity, and fabrication area requirements.
Installation/decommissioning – Vessel requirements (towed to installation site with small vessels, or are heavy lift vessels needed), mooring complexity (footprint, components, ease of installation/decommissioning), and port requirements. 
Operation – Accessibility (towed to port), materials used, and WTG stability.
Each of the above is important and can be expanded in more detail. However, diving deeper into one of the critical criteria, TRL, we note that as opposed to bottom-fixed foundations, floaters require significantly more investment for development, laboratory and prototype testing. Thus, floater technology supply is following a path more similar to that of original equipment manufacturers (OEM), where the intellectual property for the design of a floater belongs to the company who developed it, and often they have patented their design.
More than 40 different floater concepts are currently available in the offshore wind industry according to a 2020 report by The Carbon Trust, and UL Solutions own records. These can be distinguished based on their TRL, which has ten different levels grouped into the following five main stages:
Pre-demonstration projects – Floaters at the following TRL: initial concept, proof of concept, numerical modeling and tank testing.
Demonstration projects – Concepts that have reached scaled testing (<1 MW), small-scale demonstration (1 MW-5 MW), and large-scale demonstration (>5 MW).
Pilot projects (10 MW-50 MW) – These small array projects, with typically 2 WTGs-5 WTGs, aim to understand the behavior of the floaters in operational conditions over the longer term. Their objective is to learn from the challenges encountered and modify the floater for future projects to avoid similar issues.
Pre-commercial projects (50 MW-200 MW) – These projects serve as a stepping-stone stage between pilot and full commercial projects — testing the supply chain's capability to manufacture and install multiple floaters and realize cost reductions for commercial scale projects.
Commercial-scale projects (>200 MW) – Large-scale projects that bring costs down through efficiencies in project development and can become investment-grade assets.
Different concepts are at various stages of development, and due to the amount of interest in floating wind power, new concepts and projects are constantly being developed, which is beneficial to further de-risk floating wind and bring cost reductions. However, there are currently no concepts at commercial stages, with the only concepts that have reached pre-commercial stage being WindFloat (at Kinkardine) and Equinor Spar (at Hywind Tampen). That being said, a large number of other concepts have progressed to demonstration stages, with a few due to reach the Pilot Project stage in 2023 (such as the Ideol Damping Pool at EolMed and SBM Offshore at Provence Grand Large) and others likely to reach this stage in the next 2 years.
A high TRL demonstrates that the floater is ready for use, has benefited from a long operational track record, and there have been opportunities to improve all development stages (design, fabrication, installation and operation) to reduce costs and risks of issues developing. Floaters with a lower TRL are not considered inferior from a technological point of view. Indeed some floater concepts may introduce innovative solutions to existing challenges in the industry. However, these solutions need to be tested through the standard development process before they are selected for larger-scale projects.
Although many concepts are currently in development, and there is the possibility that some concepts will skip some of the stages outlined previously, the industry may consolidate a smaller number suitable for different markets and site conditions. However, given the large number of floating wind projects in the development process and those that will soon start, it is the author's opinion that there may be a shortage of floater suppliers able to service all projects. This potential shortage may be due to a demanding workload and lack of engineering resources or because some developers have already partnered with or acquired (partially or fully) floater suppliers. This may introduce commercial constraints to available floater solutions for projects. This situation may present an opportunity for concepts with lower TRL to fill a need, so these floaters should not be discounted during technology selection.
UL Solutions understands a holistic approach is needed when selecting floater technology for early development projects. We consider the technical, logistical and operational aspects and the commercial availability of floater concepts in the industry relative to the project specifics and timeline.
Learn more about our services for the offshore wind energy industry.