Our science is your advantage
UL is now UL Solutions. We transform safety, security and sustainability challenges into opportunities for the world's leading companies. With our expertise in safety science, businesses can scale, bring new products to market, and innovate safely and with confidence.
UL Solutions is one of three organizations, united by a shared mission – working for a safer world.
The nonprofit public safety work of our enterprise will be carried out through two distinct organizations:
UL Research Institutes continues its rigorous, independent research into ongoing and emerging human-safety risks.
UL Standards & Engagement will translate data and safety science research into actionable, rigorous safety standards and drives advocacy campaigns focused on improving public safety.
Inspired by science. Designed for business.
The UL Solutions brand is designed to signal a bold new chapter in our 128-year history and expresses our promise to bring together expertise in both science and business to offer customers a partnership that transforms their challenges into opportunities.
We're proud to bring the recognizable UL monogram with us while also taking the opportunity to reimagine our presence. In doing so, our identity continues to convey safety and trust, while also expressing our unwavering commitment to applied safety science.
The UL Solutions logo features a Möbius-inspired graphic that captures our commitment to applied safety science and its power to continuously transform business.
Inspired by forms in science and mathematics, the Mobius evokes scientific experimentation and discovery, while symbolizing continuity and infinity. Its dimensional quality speaks to the dynamic approach to science that makes UL Solutions a transformative partner. The logo modernizes our signature color with enhancements, featuring a brighter, more dynamic red that conveys both trust and innovation in conjunction with the new shape. Rich and commanding, it nods to the bold advancements made possible by the depth of our experience and expertise. The rendering delivers energy and impact and is made for motion and digital.
Serving at the horizon line of science and discovery, UL Solutions is uniquely poised to partner with customers to solve the ever-emerging safety challenges businesses face in the drive to grow and bring new innovations into our lives.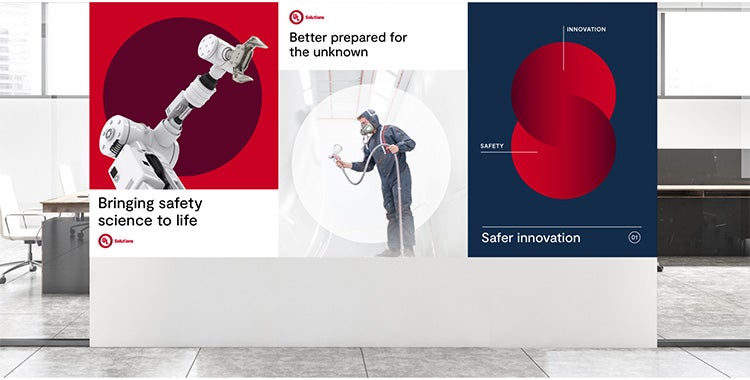 About UL Solutions
A global leader in applied safety science, UL Solutions transforms safety, security, and sustainability challenges into opportunities for customers in more than 100 countries. UL Solutions delivers testing, inspection and certification services, together with software products and advisory offerings, that support our customers' product innovation and business growth.
The UL Certification Marks serve as a recognized symbol of trust in our customers' products and reflect an unwavering commitment to advancing our safety mission. 
We help our customers innovate, launch new products and services, navigate global markets and complex supply chains, and grow sustainably and responsibly into the future.
From the adoption of electrification to the enablement of 5G and new mobility, we collectively look toward new frontiers, working for a safer world.​ Our science is your advantage.
Learn more about UL Solutions
"We love science and believe in the possibility and promise of innovation. We have spent more than a century partnering with our customers at the forefront of emerging technologies, applying safety science to help them win in the marketplace. We imagine a safe world. And with curiosity, science and determination, we help to make it attainable."

Jennifer Scanlon, President & CEO of UL Solutions