Defining a circular economy
Until recently, few people had heard the term circular economy and fewer still understood the business opportunities offered by embracing one. A circular economy takes a step forward from the traditional take-make-dispose linear production cycle toward one that promotes product design emphasizing resource reduction, extended use, reuse and recycling or composting and biodegradability while meeting performance, safety and health requirements.
While a circular economy seems smart from a social responsibility standpoint and certainly provides opportunities for a business to build upon its positive reputation, many may wonder how circularity solves tough business challenges like resource scarcity and cost increases, compliance challenges and customer demands for environmental transparency.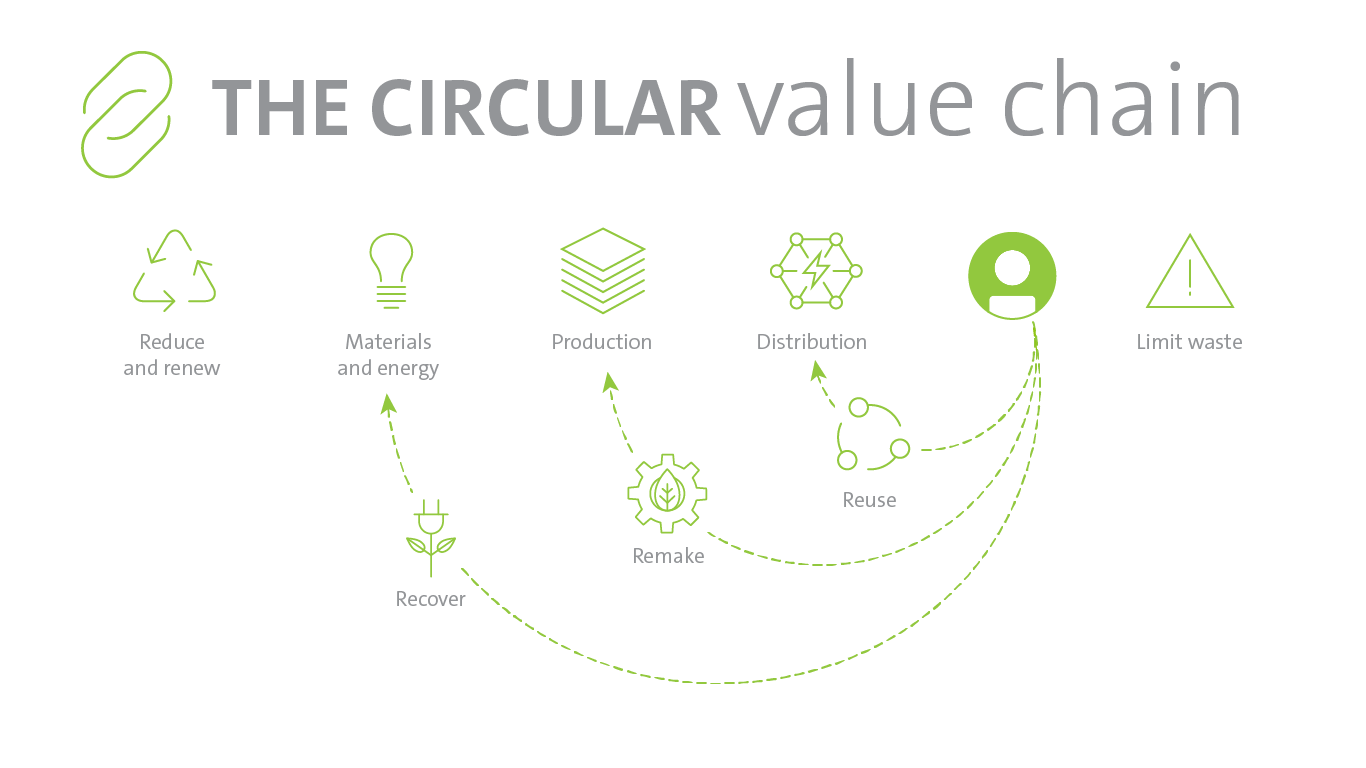 Business benefits of a circular economy
It helps to look at these diverse dilemmas like an entrepreneur. An entrepreneur sees unmet needs, pain points, or even new market space as an opportunity to create solutions that make the competition irrelevant. An entrepreneur keeps the big picture in mind and seeks to disrupt the status quo.
Entrepreneurs constantly look for opportunities to learn and grow. Entrepreneurs search for problems and create solutions that add value to the customer. Looking through this lens allows us to see how companies that create value by using circular production models earn business advantage.
UL Solutions understands how to bring the benefits of a circular production model to your business. We introduced the world's first certification to measure a company's circular economy initiatives to UL 3600. As a leading voice in circular economy principles and standards setting, our experts provide  unequaled expertise to circular economy conversations and unparalleled insights into your circularity program design challenges.
Circular economy examples of obstacles and opportunities
Here are a few circular economy examples where companies either overcame obstacles and cut costs or ignored circular opportunities and incurred them:

Cost control
One retailer saved nearly $2 million (USD) by revising a waste handler vendor contract to recycle more.
A manufacturer discovered $100,000 annual savings by redesigning a shop floor process and eliminating waste.
Compliance risks
Several retailers in California were fined millions for improper disposal of hazardous or e-waste in 2017.
Major retailers were also fined millions or prohibited from selling product misleadingly labeled biodegradable or otherwise environmentally preferrable by consumer protection regulators around the world.
Regulators in the European Union, China and municipalities in the U.S. are requiring action on incorporation of recycled content, other alternative-to-prime material, and elimination of hazards and waste.
Institutional investors are increasingly demanding environmental, social and governance (ESG) performance data from corporations.
Corporate circularity leadership
Businesses adopting more sustainable and circular strategies are becoming more resilient amidst emerging global megatrends.
Businesses can differentiate their offerings by appealing to customers with requirements for sustainable options.
Companies must consider the costs – both actual and those associated with lost savings opportunities – of not adopting a circular operations model. To succeed at circularity, we must rethink old operating models and embrace evolved processes that prioritize a reduce, recycle and reuse mentality.
Your UL Solutions resources for circular economy sustainability
When you call on our Circular Economy experts, you  choose from an array of services to build, measure and communicate your circular business model and optimize operations management processes so you can put all the benefits a circular economy offers within reach.
Learn how to make more sustainable circular resource recoveries with our Circular Economy services:
UL 3600 Circularity Facts Certification
UL 2700 Waste Diversion/Zero Waste To Landfill Validation
Recycled Content / Closed Loop / Ocean Bound Plastic / Percent Reuse, Refurbished or Other Alternative Source Material (like Biobased) Validations
Circularity Strategy Journey Mapping
UL Solutions testing and traceability services also enable you to meet compliance and market requirements while driving down costs due to returns or recalls and making visible the durability-circularity connection.
What's more, circularity-related interventions often go hand-in-hand with strategies to drive out carbon-related impacts.
Circular economy and circular products certification
The elements of more circular business models and economies include product innovations and process efficiencies many companies are putting in place today.
UL Solutions helped develop sustainability solutions for products and processes including:
Advisory and performance management services that help companies start or optimize circularity programs
Certifying products, facilities and companies to the standards
Validating closed-loop recycling
Measuring waste diversion efforts
Turbo Waste™ data management solutions to help you manage your wastes and discover new waste reduction opportunities
UL 2799 Environmental Claim Validation Procedure for Zero Waste to Landfill
UL 2809 Environmental Claim Validation Procedure for Recycled Content
UL 3600 Measuring and Reporting Circular Economy Aspects of Products, Sites and Organizations
Certify reclaimed resources
Wouldn't it be wonderful if every product ever made had another life? A world without waste is not only within reach, it's required to curb climate change and to win space in consumer's minds as a responsible steward of sustainability in a resource-limited world.
UL Solutions leads the way on this new environmental frontier with expertise in product life cycles and complex supply chains. Our data-driven, science-based approach helps companies certify their reclaimed resources as safe and durable so consumers can be confident in their safety and sustainability. Our expertise extends to product performance and sustainability of recycled plastics, which is a key area of circularity.
As a core tenet of our mission, our quest to find more sustainable ways to work and live led us to establish the world's first zero waste to landfill standard, UL 2799. We also introduced the first Standard for circularity of products, companies and facilities, UL 3600 Measuring and Reporting Circular Economy Aspects of Products, Sites and Organizations.
Count on us to help you relentlessly pursue what possible in our resource-restricted world and reclaim the value that's been there all along.
Circular economy webcasts