Overview
The elements of more circular business models and economies include the product innovations and process efficiencies many companies are putting into place today. We set standards and offer sustainability certification for products using recycled content, minimizing waste, achieving zero-waste-to-landfill, and implementing closed loop recycling. Our new Circularity Facts™ Program combines all these sustainable activities into one measure which demonstrates a company's complete circular economy story through a Circularity Facts report.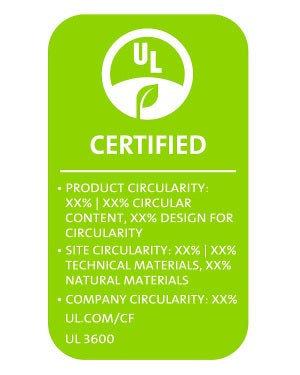 Benefits
We offer certification to UL 3600, Outline of Investigation for Measuring and Reporting Circular Economy Aspects of Products, Sites and Organizations. Companies that pursue certification to UL 3600 will have their material flows evaluated across three dimensions — product, facility and enterprise — and the results will be reported in a Circularity Facts Report. The report serves as a transparency tool that shows a visual representation of a company's circularity efforts, and it can grow with a company as it expands the scope of its own circularity thinking and program.
Why UL Solutions
Our sustainability certifications are recognized by buyers and building specification and purchasing organizations around the world and are backed by certification experience stretching back to 1894. Look for third-party certification by UL Solutions to be assured that a product's sustainable claims have been tested and verified to our science-based Standards.