Operating a data center is a continuous and long-term commitment. Well-designed data centers should be resilient with no downtime, fully utilized with optimized capacity and energy-efficient to meet ever-growing market and regulatory demands.  
Our comprehensive solutions help you optimize your data centers by integrating multiple disciplines, including power conversion and distribution, air conditioning, lighting, power cables, backup power, servers, IT cabinets and racks.  
The pandemic has increased data center infrastructure usage across commercial and consumer sectors. In addition, 5G networks are already bringing new challenges for DC edge computing. Your team may be struggling to keep up with the continual development of new technologies and the acceleration of data demand, plus increased pressure to move toward more sustainable data centers.
UL Solutions' experts have the technical knowledge and insights that can empower you to adapt to these changes. We can help you refine processes and establish holistic programs to build more resilient data centers. 
Commissioning approvals
UL Solutions' long-term work with building and electrical inspectors, fire marshals, first responders and other code authorities can be a critical to creating alignment between codes and regulations of specific municipalities. 
Quality and immersion
UL Solutions' lastest programs help improve the quality of data center operations by qualifying the integrators and certifying immersion cooling equipment.
Safety from the ground up
Products and systems that bear the UL Mark meet safety, energy and other attributes accompanying the certification.
460.86 KB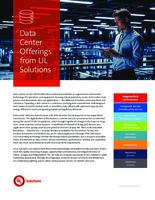 Data Center Phase 2 Infosheet
2.83 MB