UVC testing for certification and performance
In the current global situation, questions surrounding sanitation, germicidal properties, and UVC devices are more in focus than ever before. Safety considerations around UVC lighting are critical when so many new products are entering the market.
NEW: Position paper on UVC-C germicidal devices
Consumer UVC germicidal devices are entering the market rapidly because of an increased demand for sanitizing and germicidal capabilities in the face of COVID-19. But are they all safe? Read our latest position paper to learn more.
Can UL help me achieve safety certification for my UVC product?
UL can certify eligible UVC (180-280 nm = UVC short-wave) devices for safety using UL Standards for the product type. Where the Standard does not already include personal injury requirements for UVC, ANSI/IES RP-27 or          IEC 62471 for photobiological assessments will apply.
Safety certifications address risks of electric shock, fire and personal injury but safety certifications do not address efficacy claims.
Please refer to the chart below to see which UVC products in consumer, commercial, and healthcare applications are eligible for safety certifications. To download the chart, click here. For a consumer-oriented version of the chart, click here.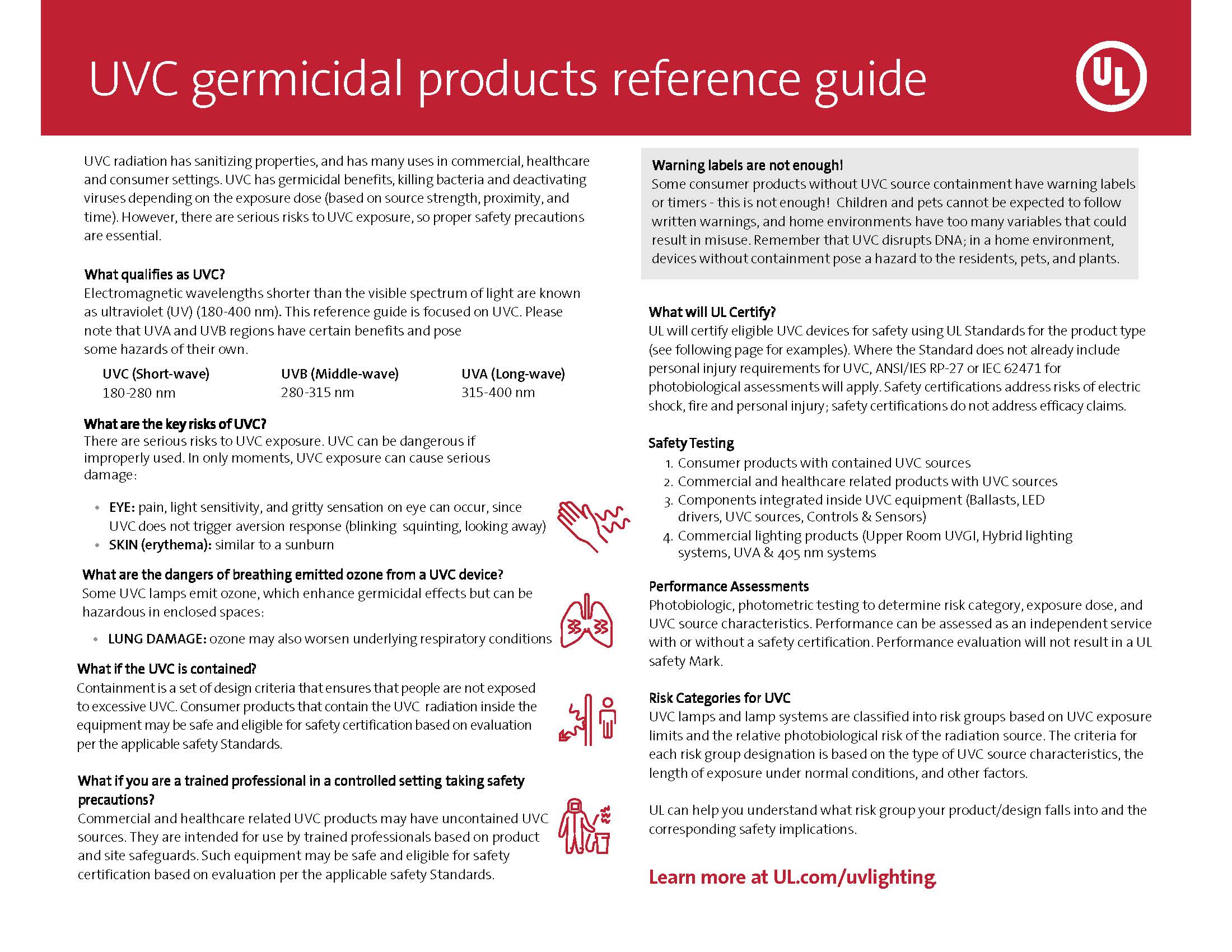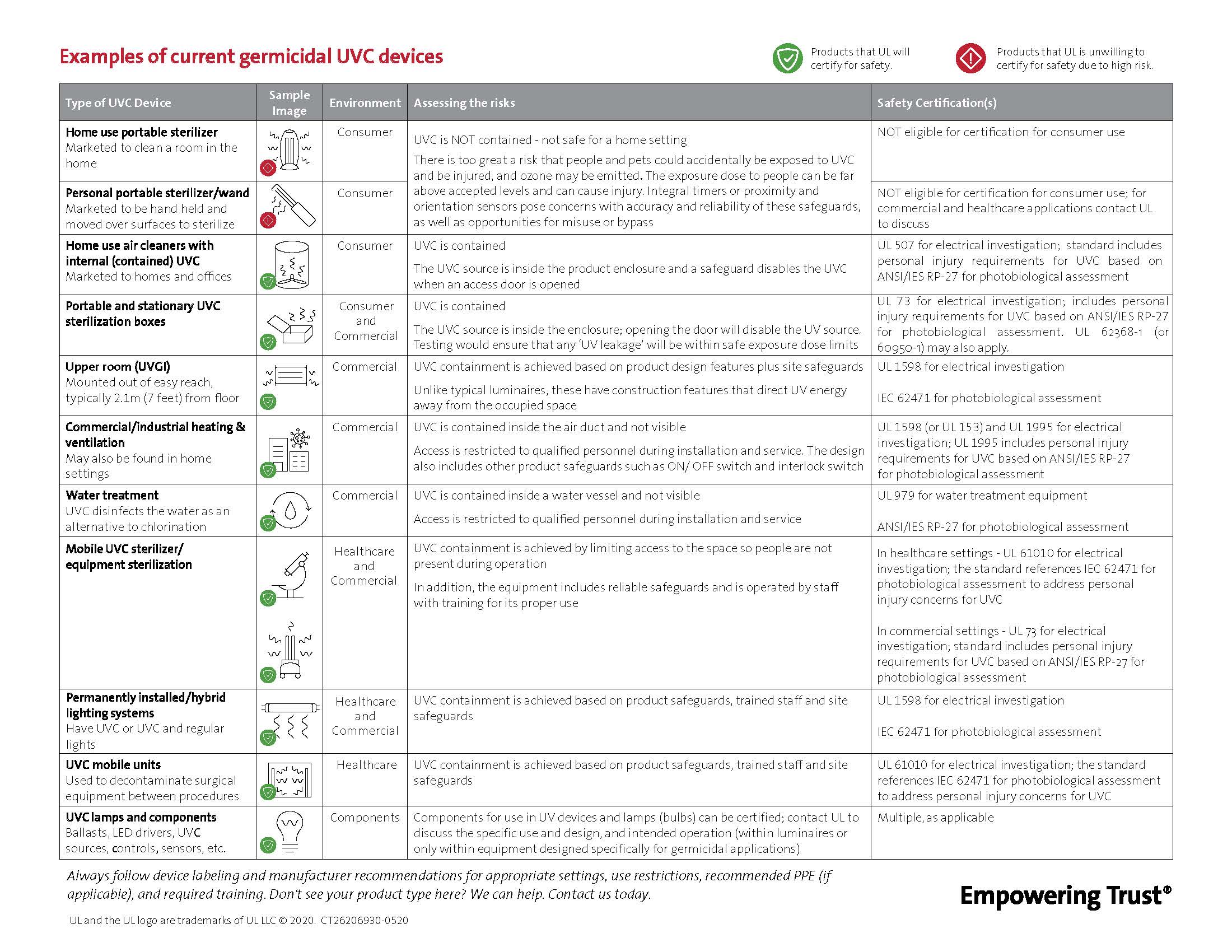 Can UL help me measure UVC performance?
UL can help you assess your risk category and test the output of the UVC spectrum for your products. We have solutions to move your business forward and support your efforts in the current global conditions.
A combined bundle of tests, including photobiologic, photometric and ingress testing, and elements of LM-79 is being offered and can be executed by our open and fully functional laboratories. Contact us to discuss whether you may qualify for a discount for this special bundle of services.
All products are eligible for performance testing. Performance can be assessed with or without a safety certification and will not include a UL Mark.
Benefits of UVC safety certification 
Work with UL to ensure that your products meet the requirements to safely use UVC light, with proper labels to warn users of the dangers of exposure and photobiological assessment to address personal injury concerns for UVC.
Consumer products with contained UVC sources
Commercial/healthcare products with UVC sources
Components integrated inside UVC equipment (ballasts, LED drivers, UVC light sources, controls and sensors)
Commercial lighting products with UVC sources (Upper Room UVGI, hybrid lighting systems, UVA and 405 nm systems
Benefits of UVC performance testing 
Together we will determine what can be evaluated and how to arrange for testing — our laboratories are fully operational to meet your needs. Some of the benefits of performance testing are:
Help to ensure you have addressed risks to eyes and skin from exposure to UVC light.
Confirm the UVC output from your devices with measurable radiance and irradiance levels.
Ease the path toward global market access by addressing requirements of IEC 62471. 
Why UL
While the evolving COVID-19 situation has presented new challenges, UL is well prepared to support our customers through response, reopening and recovery.
UL remains committed to serving your needs in this unusual time. Please know that business continuity is a top priority for our team, and we are focused on continuing to provide the services you need for UVC lighting and beyond. 
"[Our UVC] project was a great example of the cooperative and collaborative relationship our two organizations have built.  My compliments to UL for taking the lead on this important issue."

Reed Bradford
Cooper Lighting Solutions