Authored by: Christopher Jensen, Senior Regulatory Engineer and Jonathan Roberts, Senior Regulatory Engineer.  
Workspaces have evolved over the last few decades. Office buildings built in the middle half of the 20th century were designed with individual offices for privacy and efficiency. The end of the last century saw a shift in office design to a new open-office concept. This new concept was touted as fostering a collaborative working environment and eliminating wasted space. By the beginning of the 21st century cubicles were being replaced with open office plans without barriers between desks. With this evolution in open office design personal privacy was slowly eroded.  
Today there has been a shift in office design to bring back some of the privacy of individual office designs. Prefabricated modular booths and modular rooms – sometimes referred to as office pods – are being installed in open offices to provide a private space that an employee can utilize for phone calls and meetings. Modular booths and modular rooms differ from traditional office cubicles in that they create an enclosed space. While traditional office cubicles provide some separation between employees, they do not provide any sound dampening and privacy. 
Recognizing the productivity gains that a quiet, distraction-free space within an open office can deliver has driven the popularity of office pods. These prefabricated modular booths and modular rooms are intended to provide a quiet and more private space within offices with an open floor plan. Since many employers are recognizing the advantages of these modular booths or rooms, they are becoming more and more prevalent in the workplace.
Inspection Challenges 
Modular booths and rooms are constructed at an offsite location or factory and consist of walls and a ceiling with or without an integrated floor and may include integral electrical wiring, ventilation and furnishings. These items may be individual components that are assembled on site or may be delivered as a complete unit. Modular booths and rooms are convenient and easy to install, but they present challenges for code authorities for inspection and determination of code compliance. With conventional office construction, a code authority can inspect the construction in accordance with the applicable construction code, typically with a building permit being required. When the office is of modular construction, the owner may not file for a building permit and the code authority is not able to inspect the concealed wiring and construction and must rely on a third-party certification to determine compliance. The arrangement and location of modular booths and rooms can potentially obstruct required means of egress or fire protection systems. There may also be requirements for classification of interior wall and ceiling finishes to comply with the model fire and building codes. 
Determining code compliance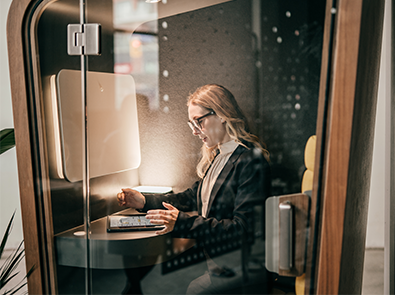 With these concerns in mind UL Certifies (Lists) modular booths and modular rooms under the product category for Furniture, Powered and Nonpowered, IYNE. The base standard used to investigate products in this category is UL 962, the Standard for Household and Commercial Furnishings. The UL guide information and Certifications (Listings) can be viewed on UL Product iQTM; enter IYNE at the search field. Product iQ is free to use, but does require a simple one-time registration. 
UL 962 includes specific safety and performance requirements for modular booths and modular rooms. These requirements address fire sprinkler protection, ceiling support tests, flame spread and smoke developed indices, and door swing and locking arrangements.  
To address the need for any required fire sprinkler regulations UL 962 requires modular booths and rooms with a ceiling to employ one of the following to accommodate fire sprinkler protection: 
Open-grid ceiling system designed to allow the existing fire sprinkler system to protect the interior of the booth or room. 
Drop-out ceiling system complying with the UL 723S, the Outline of Investigation for Drop-Out Ceilings Installed Beneath Automatic Sprinklers.  

Self-contained fire extinguishing system suitable for the intended use. 

Be designed to accept a sprinkler head drop from the building fire sprinkler system. 
Interior finish material in modular rooms and booths are tested in accordance with UL 723 for flame spread and smoke developed indices. The modular booth or room shall have a maximum flame-spread index (FSI) of 200 and smoke developed index (SDI) of 450. If the smoked developed index is over 450, the product must be marked "SMOKE DEVELOPED INDEX OVER 450." The maximum FSI and SDI applies to any upholstered surfaces within the booth.  
A modular room or booth that is intended to be occupied in an enclosed space and that is provided with a door shall not have any locking mechanism on the outside unless it can be unlocked from the inside. The door must swing outward or slide. If a lock is provided on the inside of the door, there must be a means to release the lock in case of an emergency. 
UL 962 also contains requirements for evaluating the concealed wiring, electrical equipment (such as luminaires and receptacles) and HVAC equipment. Modular rooms and booths can be either cord and plug connected or permanently wired. A permanently wired modular booth or room will be provided with a splice compartment, junction box or length of raceway to make connections. A modular booth or room intended to be connected to the power-supply source by means of a flexible cord and plug must have a flexible cord and an attachment plug for connection to the supply source.  
The UL 962 Standard also requires that modular booths and rooms be provided with detailed installation instructions pertaining to the risk of fire, electric shock or injury to persons associated with the use of the modular booth or room. Those risks may relate to the operation, user-maintenance, loading, storage and, as applicable, grounding or double-insulation. The instructions must also provide guidance for the minimum clearances to fire sprinklers in modular rooms or booths with an open-grid ceiling system. Installation instructions for modular rooms or booths with a drop-out panel or adjustable open-grid ceiling system will state that a modular room or booth must only be used where the location is provided with standard-response sprinklers. The instructions also include any additional details provided for the drop-out ceiling panels and their specific installation. When a rigid ceiling is installed in a modular room or booth designed to accept a sprinkler drop from the buildings fire sprinkler system, the instructions will indicate to contact the building and fire marshal before installation to obtain the requirements necessary for inclusion of the fire suppression system. 
The use of modular booths and modular rooms is on the rise as a cost-effective means to provide a quiet haven within the often-distracting environment of the modern office. When code officials encounter these modular structurers within commercial spaces, confirmation of compliance with UL 962 by a UL Certification (Listing) Mark on these products will ensure they are properly tested and& certified (listed) for the intended use.   
For more information regarding this topic please contact ULRegulatoryServices@ul.com.