Authored by: Aldo Jimenez and Matthew Schumann
Introduction to ceiling dampers
The ceiling damper is consistently relied upon to provide a level of protection every day in commercial buildings across the world. These products allow for the installation of ducts for heating and cooling, or for air transfer openings in ceilings, which are part of a fire-resistive assembly. These particular damper types, known as ceiling dampers or ceiling radiation dampers, are expected to prevent the intrusion of heat into cavities found within fire-resistance-rated roof-ceiling or floor assemblies, but unlike a smoke or combination fire-smoke damper installed within a HVAC system, no expectation exists that a ceiling damper will be investigated for limiting the migration of smoke. 
However, this limitation does not minimize the role of the ceiling damper, as protection of the membrane penetration is extremely important. The gypsum or acoustical tile ceiling forms a protective membrane on the underside of the fire-resistive-rated assembly that protects the joists or trusses used to support the floor or roof above from flame and heat. The hourly rating of the complete roof-ceiling or floor-ceiling is indicative of the time duration for which the floor or roof will support the published load rating, prevent passage of flame and will limit the temperature rise through the assembly. The temperature rise is limited to an average of 250 degrees Fahrenheit above ambient or a limiting temperature of 325 degrees Fahrenheit above ambient at any location on the unexposed roof or floor surface. Thus, the ceiling damper in its specific application provides much of the same service as a firestopping collar for a through penetrating plastic pipe in that it returns the surface to the expected fire resistance rating. Hence, ceiling dampers are tied to the concept of membrane penetration in much the same way as what we expect of through-penetration firestopping. This concept of preventing the transmission of heat through the membrane and into the void cavities in a floor-ceiling or roof-ceiling assembly led to the development of UL 555C, the Standard for Safety for Ceiling Dampers. To learn more detail about the history of ceiling dampers, please see the references section below. 
Certification and product compliance – pre-existing state 
The pre-existing state prior to 2010 for static ceiling dampers consisted of a standard test program composed of up to four tests depending on the damper operation, either a spring-type closing design or a gravity-type closing design. Both damper types were required to comply with performance requirements including fire endurance tests, closing reliability and salt-spray exposure testing. Spring-operated ceiling dampers were also intended to be subjected to a spring closing force test. These tests are intended to ensure that dampers close when required without interruption, are built from properly coated, galvanized or painted steels, and when equipped, that the spring is strong enough to snap a damper closed. The fire endurance tests offers one of two options, depending on the design of a damper. If a ceiling damper or air diffuser is intended to be used in fire-resistance rated assemblies previously tested with a hinged door sheet-metal damper, the fire testing is to be conducted as prescribed in UL 555C. Those ceiling dampers or air diffusers intended for use in a specific fire resistance rated floor/ceiling assembly which has not been previously evaluated with a hinged-door-type damper (similar to a hinged metal blade damper), UL 555C requires that these assemblies be evaluated in accordance with the fire test method contained in UL 263, the Standard for Fire Tests of Building Construction and Materials. 
The outcome of successful evaluation and testing for a ceiling damper, ceiling air diffuser or air terminal unit is the inclusion of the product on a UL Certification Card in Product iQ™. The outcome of successful evaluation and testing for a ceiling damper, ceiling air diffuser or air terminal unit is the inclusion of the product on a UL Certification Card in Product iQ. The outcome of successful evaluation and testing for a ceiling damper, ceiling air diffuser or air terminal unit is the inclusion of the product on a UL Certification Card in Product iQ. When the ceiling damper is tested for use in a specific UL fire resistance design through a UL 263 fire test, the ceiling damper model and manufacturer will be specified in the UL published fire resistance design. Ceiling dampers tested and certified in accordance with UL 555C fire test method may only be used in a UL fire resistance design when the design specifically permits their usage either in lieu of a hinged metal blade or hinged door type damper. Unlike their fire or combination fire/smoke damper cousins, ceiling or ceiling radiation dampers tested via either method do not have an assigned hourly rating. These damper types are specifically considered to be assembly components for use in fire resistive assemblies with the UL fire resistance design's specified hourly ratings. The result is that when a ceiling damper is specified, the installation and use must match the description in the design or the hourly rating indicated may no longer be applicable. The first takeaway in this scenario is that ceiling dampers, ceiling air diffusers or air terminal units are not certified for independent use; they are always intended to be used as part of a specified fire resistive assembly and have no independent hourly rating as a result. The second takeaway is that until recently, all fire resistive assemblies with one of these devices was intended for use in static systems where no air movement occurred. 
The UL 555C Standard is one of three standards that are actively maintained by the UL 555 Standards Technical Panel (STP). Like STPs for other product standards, the 555 STP consists of a variety of members representing the manufacturing, testing and certification, public safety and general user interest areas who collaborate on damper-related test methods exclusively. While the first and second editions of UL 555C only offered the option of testing a product designed for use in static applications, other UL Standards – UL 555 for fire dampers and UL 555S for smoke dampers – address testing and certification of dampers for use in either static or dynamic systems to acknowledge the breadth of applications that exist for these products.  One key difference between dampers installed in static systems and dampers installed in dynamic systems concerns the ability of a damper to operate in a system with air constantly moving at a minimum velocity, pressure and temperature. Product certifications, installation instructions and product labeling also differ with each product type, based along these two test and product use divisions.
The static versus dynamic discussion eventually carried over to ceiling damper products which resulted in proposals submitted to the 555 STP to include an option for testing of ceiling damper products under a dynamic airflow option.  These proposals were eventually vetted by the STP committee and ultimately added to the standard once the STP had consensus on the testing method and acceptance criteria. The dynamic testing option made its first appearance in the third edition of UL 555C with revisions dated May 4, 2010. This test option remained in the subsequent fourth edition of UL 555C published in 2014 and through revisions added in 2017.
What led to the development of testing and certification program revisions?
A research and development project was initiated in 2018 as an important step for developing a testing program to support the dynamic ceiling damper testing option in the Standard. This research assessed the impact of changes to UL's longstanding certification programs for ceiling dampers and fire resistance rated floor-ceiling and roof-ceiling designs utilizing these products. This effort was sparked by a company approaching UL about being the first to earn UL certification for a ceiling damper with a dynamic rating. This project helped this manufacturer successfully test their products, develop the methods to determine accurate and consistent pass/fail data, and ultimately revise the UL published standards to accommodate this certification option.
A senior member of the technical staff then undertook the project in collaboration with the customer and through laboratory trials, the customer and UL collaborated to identify the test equipment needed to conduct the test, the methods of instrumentation to check test conditions and finally, how to design the experiment for successful results in accordance with the requirements of the Standard. UL worked through concepts including air movement, air exhaust and how to provide movement of air while conducting a horizontal fire endurance test in which temperatures are expected to come close to 1800 degrees Fahrenheit.  The other aspects outside of the laboratory trials involved efforts to develop documents for data collection, reporting and certification with other UL technical staff including regional lead reviewers and the principal designated engineer for the category. All aspects of the previously completed laboratory and documentation work led to a successful series of fire resistance tests conducted over the winter of 2019 and dynamic closure tests conducted in the spring of 2020. After almost three years of collaboration and effort, our customer – Metal Fab Inc. –  successfully earned UL certification for a dynamic ceiling damper for use in a specific fire resistance design, the first product of its kind to achieve UL certification. After 10 years, the appropriate clauses of UL 555C were finally put to work and the concept of a dynamic ceiling damper in a fire resistive assembly was realized.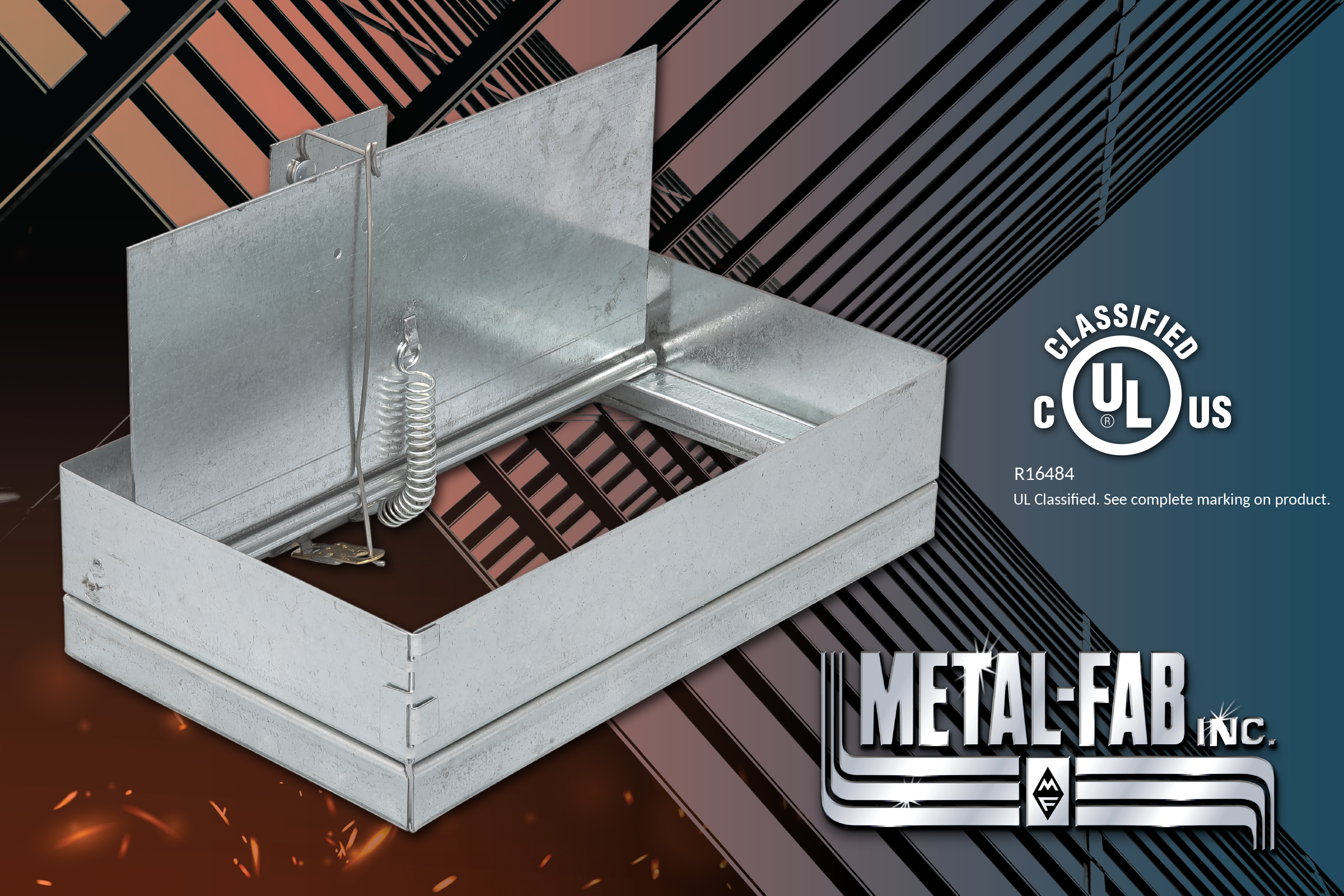 Conclusion
The history of ceiling dampers and the deliberate march to certification of dynamic ceiling dampers are examples of the work and effort that goes into every UL product certification.  For the value of the UL Certification Mark and the value of the efforts such as those shown by Metal Fab Inc. and many other UL customers, we should always consider the following when choosing a ceiling damper and a UL Fire Resistance Design:
No substitutions are permitted. Each UL fire resistance design will list only those models and manufacturers which are permitted in the specific design when the design does not indicate use of a hinged blade metal damper.

Ceiling dampers now indicate on their published UL Certifications available through Product IQ if they are for use in static systems or for use in dynamic systems.  Dynamic rated ceiling dampers are rated similarly to dynamic fire or smoke dampers for consistency reasons and to avoid the introduction of new terminology.

Ceiling dampers are not rated independently, they are components of a larger assembly and should be installed following the manufacturer's installation instructions and the description found in each Design.

It must have a UL Certified Mark or UL Classified Mark on the product; no mark means no certification and the product should not be used. 
UL takes pride in taking on new technical challenges. We have the technology, know-how and infrastructure to develop new testing methodologies or adapt existing methodologies to new technologies to help support client innovation and their desire to bring products to market. The example described in this article is only one example of how UL endeavors every day to tackle new products and new concepts for clients. While this example focuses on UL 555C and a particular set of test requirements, how can we help you with yours?
It's easy to specify or verify dynamic ceiling damper UL Certifications using the Product iQ search tool by searching product category CABS. Product iQ is free, with a one-time registration.
References
Additional history on ceiling dampers 

The first edition of UL 555C for ceiling dampers was developed and was published in December 1992. The new UL 555C provided a method for UL to test and certify ceiling dampers separately, focusing on key performance characteristics important for these dampers and move them away from testing and certification methods used for other fire and smoke dampers. UL 555C established performance criteria for these products, which continued to develop through subsequent editions until we reached the fourth edition published in December of 2014. The UL 555C Standard does maintain ties to the fire and smoke damper products as UL 555C is one of three damper Standards maintained by UL's Standards Technical Panel 555. 

The typical product submittal regarding ceiling dampers involves testing and classification of the ceiling damper for use in static systems. Specifically, the damper was not required to close or actuate under a dynamic airflow condition in the air duct or transfer opening. The UL Guide Information for fire-resistive assemblies in UL Product iQ relates that, unless otherwise indicated in the individual designs, the ratings established by UL were developed with no air movement during testing, and the air movement is effectively stopped when the fire starts. The concept of dynamic operation was not considered for many years after the publishing of UL 555C in 1992, but the concept was eventually included in the Standard. The result was that all ceiling dampers certified by UL from the first edition until mid-2020 were certified following the static requirements in the Standard and were not suitable for use in a system with dynamic airflow. This was due to the lack of a dynamic testing method available in UL 555C prior to the publication of the third edition with revisions dated May 4, 2010.