Authored by: Luke C. Woods, Principal Engineer - Fire Resistance and Containment
UL certified fire door assemblies and their components are considered opening protective systems and are a critical part of the passive fire protective features of buildings. Certified fire door assemblies are fire tested in a laboratory to determine compliance with applicable model codes and standards and are installed in accordance with applicable building and fire codes, installation standards and the manufacturer's installation instructions. The most common fire test standards utilized for evaluating and certifying these products and assemblies are UL 10C, Positive Pressure Fire Tests of Door Assemblies, and UL 63, Outline of Investigation for Fire Door Frames.
Sometimes fire doors utilized in the building space may need some level of field review for various reasons or conditions. This may be due to missing certification labels, modifications to the original fire door assemblies or other field scenarios. UL offers both fire door Inspection, fire door field inspection and fire door field evaluation services. This article explains the differences and highlights the benefits of these UL services.
Fire Door Inspection
 For UL's fire door inspection program, a trained and experienced UL representative inspects installed fire doors to satisfy the annual inspection requirements in the 2018 International Fire Code (IFC). These inspection and maintenance requirements are found in Section 705.2 of the IFC which also make reference to NFPA 80, Standard for Fire Doors and Other Opening Protectives. UL delivers a report at the conclusion of the inspection that identifies any observed deficiencies in accordance with Chapter 5 of NFPA 80.  With a fire door inspection, there is no application of a label or judgment made by UL on any alterations or modifications made to the door or frame. 
UL inspections do not field certify any modifications or additions of components, such as locking hardware, to the fire door assembly that could have an impact on the fire door performance and potentially jeopardize its fire protective performance. Instead, UL offers a field evaluation service to address this situation.
Fire Door Field Inspection
UL's fire door field inspection program consists of a trained and experienced UL Field Engineer who subjects a non-labeled door or frame to a comprehensive review as if the product was still in the factory.  A UL Field Inspection is only applicable to products which are no older than one year and are currently covered by a UL Certification and the accompanying UL Follow-up Service Program.  If the door or frame is determined to comply with the UL Follow-up Service program, the UL Field Engineer permits the door manufacturer's representative to apply the company's label to the door or frame under UL witness.  This service is limited to manufacturers only.   At the conclusion of the field inspection, an inspection report is provided to the inspection sponsor. 
Fire Door Field Evaluation
UL's fire door field evaluation program consists of a trained and experienced UL representative surveying a specific non-labeled or modified labeled fire door assembly to determine if the door continues to be compliant with the certification requirements and the model building and fire codes adopted by the governing jurisdiction.  The evaluation process includes an inspection of the fire door assembly construction to determine operability of components and the assembly along with situational non-destructive testing.  If the fire door assembly is found to be compliant with UL certification requirements, a UL Field Evaluation Engineer applies  the UL Field Evaluated Label to the product. This procedure for field evaluation and field application of an approved testing laboratory label is in accordance with the requirements of NFPA 80, Section 5.1.4 on field labeling.
This service is delivered only by a UL Field Evaluation Engineer. Fire door ratings are not, and should not be adjusted, e.g., increased or decreased from the original rating, via a field evaluation.  The field evaluation report will disclose any findings that may have prevented the application of a UL Field Evaluated Mark to any part of the assembly.  A second evaluation is usually conducted to verify that discrepancies in the initial report have been properly corrected. If corrected, a UL Field Evaluated Label may then be applied, and another report issued. Both the customer and the Authority Having Jurisdiction (AHJ) receive copies of these reports.  
In summary, it is important to understand the differences, scope and limitations of actual fire tests conducted in an approved laboratory and those conducted as field inspections or field evaluations. Each of these service offerings should be delivered by a trained and experienced representative of the certification organization. These accredited programs exist to accommodate field concerns regarding the installation and maintenance of a fire door assembly and should not be considered an alternate for laboratory testing, manufacturing surveillance and accredited third-party certification that is covered by the definition for "listed" in International Code Council ( ICC) and National Fire Protection Association (NFPA) model code definitions.
The primary aspects of these UL programs are summarized below:
UL uses only full-time qualified engineering staff to complete UL inspections and field evaluations.

For these programs, UL's field engineers utilize their own technical knowledge as well as the technical knowledge of the UL fire door testing and certification engineering team.

UL field inspection activities for fire doors utilize established UL methods for product surveillance, ensuring the inspection and review is consistent with the Follow-Up Service extended by UL at UL Certified fire door manufacturer locations around the globe. 

Destructive inspection and testing are not conducted in association with these field programs, as it could void a product's certification and jeopardize the fire protective performance of a door assembly.

Field Evaluated labels applied to the door assemblies align with the UL certification allowances.  This means that ratings and applications will be consistent with what is permitted by model building and fire codes, UL Standards and product certification requirements used for fire door and fire door frame manufacturers. 

UL will only apply Field Evaluated Labels for the hourly rating of the fire door assembly or component(s) based on the published UL certification information.  For example, if the field evaluation determines the non-labeled fire door assembly is a UL certified 90-minute fire door, the UL Field representative will apply a UL Field Evaluated label for 90 minutes only.  Fire door ratings should not be adjusted through field evaluation. 

It is challenging to evaluate wood fire doors properly in the field.  UL will only field evaluate a wood fire door when there is a similar wood UL certified door bearing a UL Mark also present in that building and the details of the door(s) are determined to be the same.

UL's field evaluation service is the appropriate option to evaluate modifications or changes to a fire door assembly due to change of hardware, wall construction, etc. 

UL's field inspection service permits the application of a company's own label to the door and frame only if the product fully complies with the factory follow-up service.  

Programs result in a written report that summarizes the results of the inspection or field evaluation and can be added to the fire protection record inventory of the building.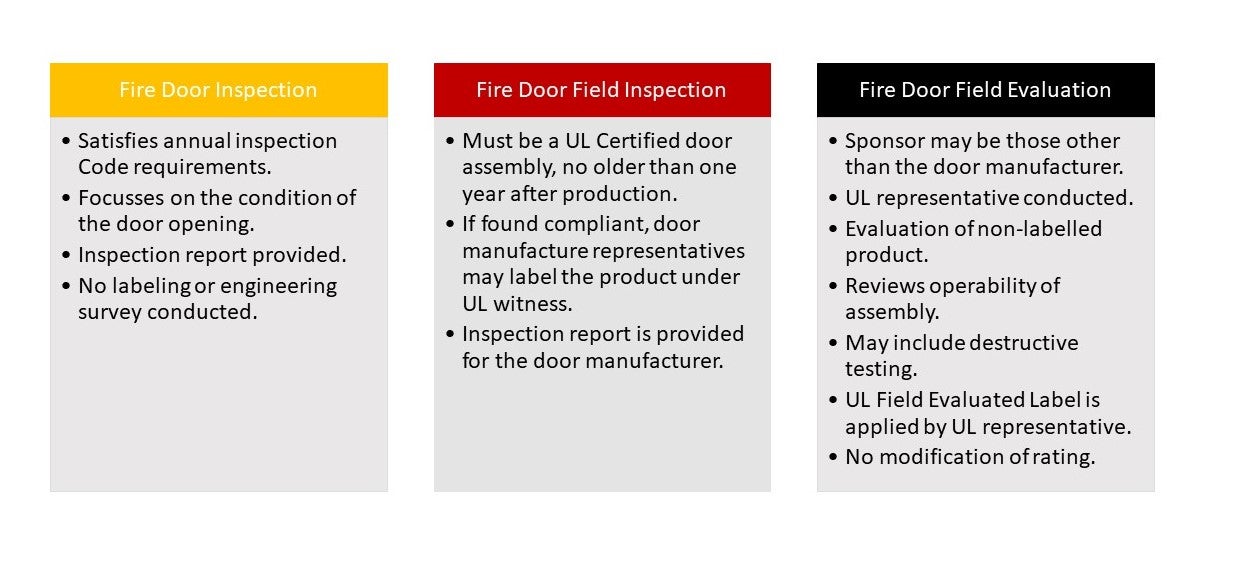 More information on this topic, please visit our page on fire door inspections.